With every new reboot comes a predictable backlash from older fans, complaining about changes to the original. In the case of The Chilling Adventures of Sabrina, they have a lot to choose from. The Netflix show swaps cheesy sitcom punchlines for Satanist feuds and feminist commentary, but for the most part, it's being welcomed with open arms. People are hyped for the new Sabrina, with one caveat: Sabrina's cat, Salem. Because in this version, he doesn't talk.
Introduced as a more traditional (ie. non-talking) witch's familiar in the early Sabrina comics, Salem was reimagined as a wisecracking comedy sidekick for ABC's Sabrina the Teenage Witch. His absurd and often nihilistic sense of humor made him an obvious target for millennial nostalgia, so a lot of fans are disappointed that he has such a minor role in The Chilling Adventures.
why bother doing a sabrina reboot if you're not going to let salem talk??? pic.twitter.com/lG9N8CCl8L

— hannah ✨ (@hannahcatbrk) October 25, 2018
While Salem's previous incarnation was a man cursed to live as a cat for 100 years, the Chilling Adventures version is a demon who shapeshifts into a cat so he can act as Sabrina's familiar. His job is to keep Sabrina safe from harm, and he basically acts like a normal cat unless he needs to fight off an enemy or call for help like Lassie. He doesn't talk, he doesn't really have a personality, and in his true form, he looks like this: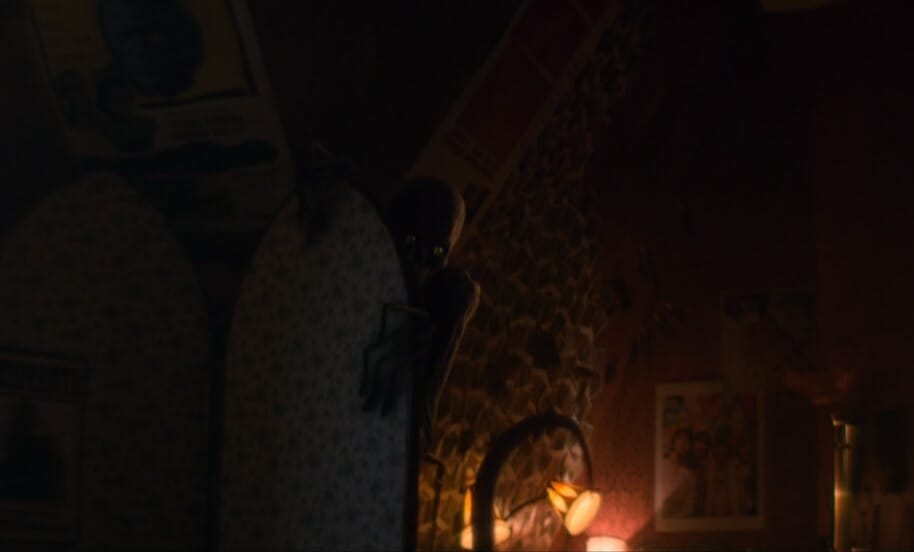 Unlike the animatronic Salem of the '90s, voiced by comedian Nick Bakay, the Netflix one is played by a posse of five cat performers. This turned out to be a problem on-set because lead actress Kiernan Shipka found out that she's allergic after picking one of them up. She broke out in hives, which explains why we see so few scenes of her and Salem actually interacting on-screen. Showrunner Roberto Aguirre-Sacasa even considered turning Salem into a dog, but eventually decided against it.
Real cats are a better fit for the slick production values of Chilling Adventures, avoiding the clunkiness of an animatronic sidekick. However, this may also explain why Salem no longer talks, because it's hard to make a real cat look like it's having a real conversation. Not unless you really push the boat out on the CGI budget, anyway.
Sabrina's creators do understand Salem's popularity, with one of the cat actors even walking the red carpet at the show's premiere. But thanks to Kiernan Shipka's cat allergy, we probably shouldn't expect Salem to suddenly have a bigger role in season 2.
Update 9:53am, Oct. 31: Speaking to Indiewire, showrunner Robert Aguirre-Sacasa explained that he thought a talking Salem would be too silly for the show's spooky tone. "It felt like if you have a talking cat, it would almost inherently be funny and be a comedy." However, Aguirre-Sacasa noted, "That isn't to say that Salem won't talk in the future."