If you're not a longtime Marvel fan, the last Black Panther credits scene may be a little confusing. While the first scene (T'Challa speaking to the United Nations) is pretty self-explanatory, the second one introduces a new character who ties into the next Avengers movie.
The scene sees Shuri meet up with a white guy with one arm, living in Wakandan village. That man is Bucky Barnes (Sebastian Stan), Captain America's best friend who just survived one of the darkest character arcs in the Marvel Cinematic Universe. During World War II, he was captured by the fascist cult HYDRA, who brainwashed him into becoming an assassin called the Winter Soldier. Between missions, they froze him in a medical coma and repeatedly wiped his memory, leading to serious brain damage. (Oh, and he also had a robot arm.)
Bucky's Black Panther cameo reveals that Shuri solved some of his problems, providing a bridge between Captain America: Civil War and Avengers: Infinity War this summer. During Civil War, he was still susceptible to HYDRA's brainwashing. To protect himself and others, he chose to be frozen in a Wakandan stasis pod until someone could find a solution. Apparently that someone was Shuri.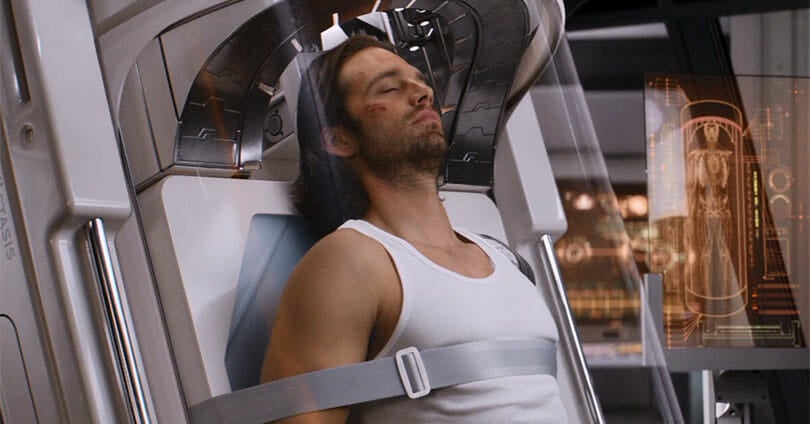 The kids are an important detail in this scene. If Shuri trusts Bucky not to harm the children by accident, that means he's truly on the road to recovery. Also, spending time with normal people (as opposed to superheroes and assassins) may help him deal with his trauma.
Considering Bucky's final scene in Civil War, a lot of fans wondered if he'd have a role in Black Panther. Speaking to Entertainment Tonight, director Ryan Coogler explained why he kept Bucky for the post-credits teaser.
"Our film wasn't about Bucky, obviously, [so] we didn't feel like it would be right to deal with him in this context. But we thought it'd be cool for the fans that stayed 'til the end to check in on this character that they love."
What Bucky's Black Panther scene means for Avengers: Infinity War
Bucky will return in Avengers: Infinity War in May, alongside several Wakandan characters including Shuri, Okoye, M'Baku, and obviously T'Challa. While we don't know what role they'll play, Shuri shared a new clue about the next chapter in Bucky's story.
Shuri refers to him as "White Wolf" in the post-credits scene, a nickname previously given to another Marvel Comics character. The original White Wolf was born to white American parents but raised in Wakanda and styled himself as T'Challa's rival. Since Bucky owes his recovery to Shuri, he may have a new loyalty to Wakanda. This fits surprisingly well with his role as Captain America's sidekick because Cap became an international fugitive in Civil War. Intriguingly, the Infinity War trailer includes a scene where T'Challa gives Cap a Wakandan shield, replacing the original red, white and blue model.