The short-lived Marvel series Agent Carter is now available to stream on Hulu—and it couldn't have appeared at a better time.
The past several weeks have been an almost constant avalanche of stories that reveal—again and again—systematic workplace sexual misconduct, and there are no signs of it stopping. Even in just the span of a few days, we've seen a wave of allegations, firings, and resignations of powerful men who multiple women say sexually harassed or sexually assaulted them.
These are important stories, and they need to be told. But for many of us, they're also a lot to process day in and day out. Fortunately for those in need of the TV equivalent of comfort food, Hulu announced this week that it has obtained the exclusive streaming rights to a number of Disney and ABC properties that originally aired on ABC and Freeform. Some of the shows, like cult favorites Bunheads and Cougar Town, won't be available to stream until next month or next year, but Agent Carter was out almost immediately.
It's telling how quickly word spread about its arrival.
https://twitter.com/moryan/status/935961008245497859
Every episode of #AgentCarter is now on Hulu! https://t.co/8QnHqMcON4 pic.twitter.com/bYqqfgLPhu

— Eric Goldman (@TheEricGoldman) November 29, 2017
In case you missed the news… You can now watch both seasons of #AgentCarter on @hulu !!! #SaveAgentCarter pic.twitter.com/1Nt3UD1PC2

— RenewAgentCarter (@RenewAgntCarter) November 29, 2017
Agent Carter is streaming on Hulu! This is not a drill!

cc @FilmFatale_NYC pic.twitter.com/ot7wdhBhDC

— Jenét Where are the girls and babies? Morrow (@JenetAllDay) November 29, 2017
It's been close to two years since we last saw Peggy Carter, a secret agent at the Strategic Scientific Reserve (an organization which would eventually become part of S.H.I.E.L.D.), who we first met in Captain America: The First Avenger. Peggy Carter—portrayed by Hayley Atwell in film and TV—commanded the screen whenever she was on it, whether she was opposite Chris Evans' Cap, a friend such as Howard Stark or his butler Edwin Jarvis, or an adversary. It only lasted two short seasons on ABC, where it functioned to bridge the Marvel Cinematic Universe gap in ABC's schedule during the Agents of S.H.I.E.L.D. winter hiatus, but in that time it gathered a cult following of fans who mourned its exit and attempted to save it from cancellation.
Now that Agent Carter is finally available to stream (it was previously only available to rent or buy on a variety of services), old audiences can watch the episodes again and new viewers can discover just why fans fell in love with Peggy in the first place.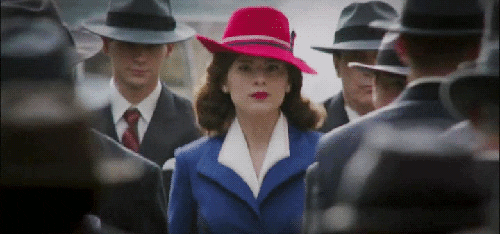 It is only 18 episodes
Hundreds of TV shows are produced and released every year, and we only have a limited amount of time to watch them. It's hard enough to keep up with the TV shows your friends and colleagues are buzzing about on top of discovering older shows and rewatching your favorites, so when you decide to pick up a series for the first time the episode count is certainly a factor. It's not necessarily a fair one, but with so much TV out there to explore (on top of other media) some people might be more willing to commit to a shorter beloved series than one with several seasons to watch before catching up.
It's especially cruel that Agent Carter's lack of longevity might work in its favor. It aired 18 episodes (eight during season 1 and 10 during season 2) during its run, and the second season wasn't originally a guaranteed thing. They were each designed to tell a more or less complete story that contained enough MCU Easter eggs to please Marvel fans but wasn't complex enough to confuse fans who discovered the show organically. At 18 episodes, it's not unrealistic for someone to casually watch it in a week or two. 
Unfortunately, Agent Carter ends on a bit of a cliffhanger so if you come out of season 2 wanting more you'll end up disappointed. But it's still well worth watching.
Agent Carter shines (but not without some valid criticism)
Taking place in post-WWII New York and Los Angeles, Agent Carter embraces the highs and lows of what it's like for Peggy Carter, a brilliant woman who's overqualified at her job, to exist within the confines of 1940s sexism and a severely male-dominated workplace.
She's the only female agent at the S.S.R. (while the agency's other female employees all work as telephone operators), but is often treated like a secretary to the point where her colleagues would ask her to make the lunch order. She's seriously underestimated, but she constantly strives to do what's right, even when it can conflict with orders from her bosses.
Some of the show's female antagonists and villains, such as season 1's Dottie Underwood—a graduate of what could become the Black Widow program—and season 2's Whitney Frost, demonstrate how much women can be products of misogyny. Dottie was isolated and trained to be a killer by men, and Whitney Frost, discouraged from becoming a scientist, used the powers she gained by absorbing Zero Matter to get revenge on the men who have kept her down for much of her life. The owner of the boarding house where Peggy lives for part of the show even had rigid and sexist rules about how her girls acted and operated in the building.
Peggy doesn't need protecting, and while she doesn't demand respect from her colleagues (at the end of season 1 she witnesses one of her superiors take credit for her actions), her actions prove she's earned it.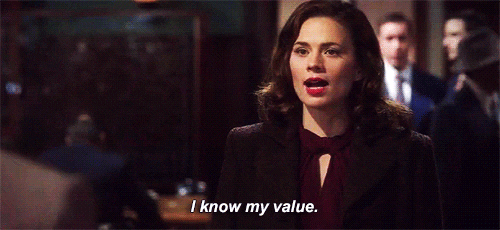 However, one of the main criticisms consistently lobbied at Agent Carter throughout its run is that while it's a feminist show, it's one that, like many parts of the MCU, is largely white. The first season lacks characters of color in any major roles, and by doing it painted an inaccurate picture of what 1940s New York looked like. Agent Carter existed in a world where superheroes, aliens, demigods, and Inhumans existed, but critics found it astounding that it also existed in a city and time without a single black person.
The show attempted to rectify that criticism by casting Reggie Austin to play Dr. Jason Wilkes in season 2 and had him as a potential love interest for Peggy Carter, but the storyline's execution was uneven and messy on-screen, drawing even more criticism from fans.
It's extremely timely right now
Although Agent Carter took place and was filmed long before the fallout we're experiencing in Hollywood, media, politics, academia, the arts, and other industries, its overarching message couldn't be more relevant.
Marvel One-Shot: Agent Carter, the 2013 Iron Man 3 Blu-ray extra that served as the inspiration for Agent Carter, showcased that first hand. In the short, Peggy handled an operation that should have taken three to five agents on her own. But the villain in her story wasn't just the guards who were protecting a deadly weapon. It was her boss who berated her in front of her fellow agents, who used her relationship with Captain America to attack her, and her completely underutilization at work.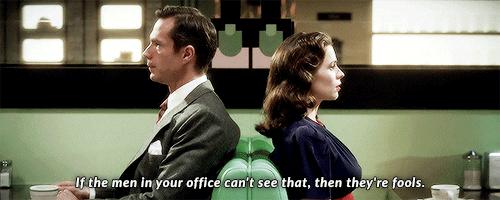 The workplace sexism that takes place in Agent Carter is much more in-your-face and overt than it is nowadays, but like the canceled-too-soon Good Girls Revolt, it doesn't shy away from the reality of what it once was.
Many of the men in Peggy's life are sexist. Villains, superior officers, friends, and potential love interests are characterized by many of the beliefs of the day. Some don't think that Peggy can do a man's job. Some know that she can but try to stifle her full potential because they want to protect her. Others severely underestimate her, often to their own detriment. And as Wonder Woman demonstrated earlier this year, there's something satisfying about watching Agent Carter kick a lot of ass.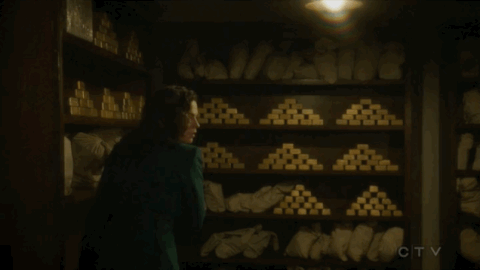 Seeing Peggy Carter beat several henchmen with nothing more than a suitcase and her limbs? Check. Stabbing a customer with a fork after he slapped the backside of a friend? Check. Risking everything to save the world? Check. Giving Peggy Carter, a character who was very much Captain America's equal, her due? Check.
Peggy faces sexism straight in the face, and although she alone cannot change it, she's able to take it head on. What isn't heroic about that?
Can fans try to #SaveAgentCarter again?
In the wake of Agent Carter's cancellation last year, fans urged Netflix to revive it for a third season after it resurrected Arrested Development and other shows from the brink of their TV deaths. Unfortunately Netflix said no to the idea because it already had several comic book series on its plate and wouldn't be able to completely own Agent Carter.
"They also have some output deal complexities," Netflix chief content officer Ted Sarandos told Entertainment Weekly last year. "So when you pick it up, being able to pick it up globally is difficult even after it's canceled. Some of those output partners still had it on the air, so they would argue its covered by their output [deals]. Unfortunately, it was a business decision more than a creative one."
As far as we know that's still the case, and the only difference is that Agent Carter is now available on Hulu. Since that push to save Agent Carter, Hulu has debuted the Marvel series Runaways, which brings a different kind of superhero show to its service. Hulu doesn't have anywhere near as many shows on its plate as Netflix does, and the streaming service has its own history of saving TV shows from cancellation (mainly Fox's The Mindy Project). Another factor would be bringing the cast and crew back together. (For what it's worth, Atwell said last year that she would do "whatever it takes" to get Agent Carter back on the air.)
Crazier things have happened on TV. But even if Agent Carter never films another episode, it's definitely worth a watch.