On August 12, 2017, hundreds of white nationalists descended onto Charlottesville, Virginia, armed with tiki torches and the motto "You will not replace us" ringing loudly through the college town's terrorized streets. A poster for their Unite the Right rally teased a litany of prominent racists who would be making appearances on-site.
Beneath neo-Nazi Richard Spencer, a former BuzzFeed employee named Anthime Gionet held second billing. It was an event meant to unify all facets of the radicalized and so-called "alt" right.
Two years later, the 31-year-old is a recovering alt-right troll. Gionet, known online as "Baked Alaska," was invited to the 2016 Republican National Convention through his employer at the time, Breitbart, and proudly live-streamed directly from the Charlottesville streets where he referred to the counter-protesters as the real racists.
Today, in one of his recent YouTube videos, Gionet recounts how he "left the alt-right"—and he tells the Daily Dot that his politics have changed.
"I was brainwashed, I felt like I was part of a cult," Gionet says. He makes these claims in his video response to the New Zealand mosque shooting and directly links the shooter's actions to the radicalization he experienced through the alt-right. Gionet says he doesn't want to be associated with a movement capable of such grotesque acts of violence.
Whether his public pivot is sincere is another matter. The online personality known for edgy rap songs and live-streamed antics—think Jackass leader Johnny Knoxville with less charm and more racism—isn't just walking away; he's trying to warn others. It's, at least partly, a reaction to internet sanctions. And while some of his former neo-Nazi cohorts went underground to safe spaces for radicalization like 8chan and Gab, he's trying to win hearts and minds in the public sphere.
Gone are the days of the Periscope streams where his audience was bolstered by his nearly 200,000 Twitter followers. Gionet's last three YouTube videos average 16,000 views each, and he's still going by his infamous alias.
In a sea of far-right personalities who have been "de-platformed" or booted from mainstream social networks (in Gionet's case, Twitch and Twitter), he's not the only one struggling to stay relevant. But it's unclear to what degree these bans are actually curbing hate speech.
Gionet, like most of his contemporaries, didn't just disappear.
…
In the lead-up to and aftermath of the 2016 presidential election, wannabe influencers like Gionet found their way to fame through small-scale operations. They would strap an iPhone to a monopod, walk around political events, and call that journalism. At a time when public trust of the press was at a low, their brash commentary struck a chord with people who felt frequently disenfranchised by the media.
He'd complain about corporate acts of inclusivity at Starbucks. He'd complain about "white genocide" in reaction to Netflix's after-school special series Dear White People. He'd make anti-Semitic comments and get booted from mainstream Republican shindigs. He attended another alt-right rally held at the Lincoln Memorial. This made him an agent of chaos and change, and Gionet's rants became trending national hashtags.
During the Unite the Right rally, Gionet was maced in an altercation. Rumors circled that he maced himself as an act to demonstrate the violent attacks that the "left" was allegedly willing to commit. These claims were never confirmed, and the identity of the person who maced him was never discovered either. "Keep streaming," Gionet says while on all fours in a video from the incident, his face covered in milk to neutralize the burn.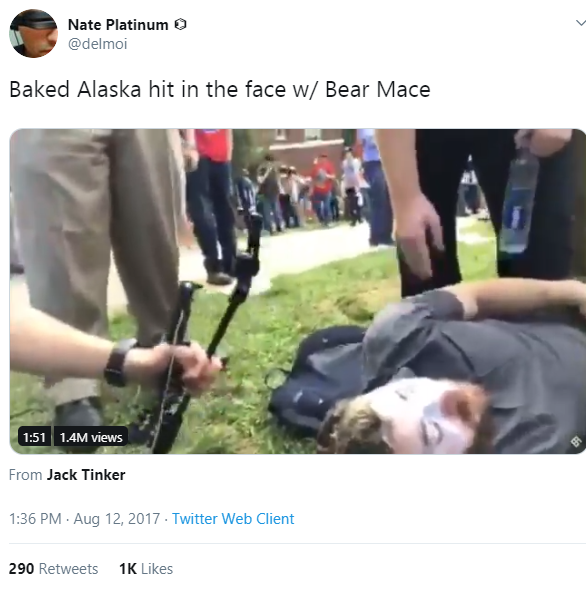 The heyday of these opportunists has already come and gone. A few months after the Charlottesville rally, in November 2017, Gionet was banned from Twitter in a major policy update for the company. Spencer, the neo-Nazi leader, had his verification on Twitter removed the same week. Gionet's main platform, Periscope—Twitter's live streaming feature—was no longer available to him.
Gionet was hardly the last far-right personality to face being removed from a platform after multiple complaints against them. But a pivotal tactic in the radical right provocateur's arsenal is to participate in activities that would have them removed from a specific platform and then claim that being removed from that platform was a violation of their First Amendment rights. It'd stir outrage among their fans. Rinse and repeat.
These voices have become less noisy since the continued crackdown.
"The alt-right has learned to exploit deplatforming to convince their adherents that they can't possibly rejoin mainstream society."
In July 2016, alt-right pundit Milo Yiannopoulos was permanently banned from Twitter after coordinating a targeted harassment campaign against actress Leslie Jones. Yiannopoulos' tirade against Jones started in response to the female-lead Ghostbusters 2016 remake. After comments made on pedophilia, Yiannopoulos left far-right publisher Breitbart disgracefully and had his book deal canceled. In recent months, he's had several tour stops canceled, leaving him further in debt. (Disclosure: Milo Yiannopoulous was the founder of the Kernel, a publication the Daily Dot acquired in January 2014.)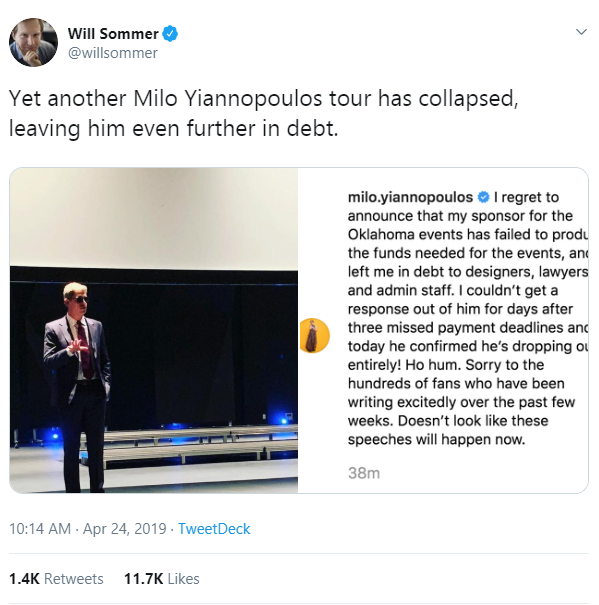 After years of toeing the line, conspiracy cheerleader Alex Jones was banned from Twitter in August 2018, and so was his InfoWars YouTube channel. Laura Loomer received her Twitter ban after espousing anti-Muslim falsehoods surrounding Rep. Ilhan Omar (D-Minn.) in November 2018. Trump stan Jacob Wohl was suspended from Twitter after it was discovered that he had created several fake accounts to circulate conspiracies in February 2019.
Wohl and Loomer collaborated at the Conservative Political Action Conference (CPAC) in National Harbor, Maryland, this year to host what ended up being the most mocked event of the conference. Reporters and others in attendance can be heard audibly cackling in footage of the event: a press conference inside the Gaylord Hotel, where Loomer and Wohl made accusations that Omar married her brother in order for him to be able to stay in the country.
It was a desperate, Islamophobic, and pathetic stunt. Reporters were criticized in media circles for giving them attention, but by shining a light at these scattering roaches the public saw just how incompetent, fruitless, and uncool the alt-right's prominent talking heads really are. It's a fate that Gionet is running from.
…
Gionet has had an odd career trajectory.
He got his online moniker because he's from Alaska and often smoked marijuana. Warped Tour founder Kevin Lyman gave him the name, back when Gionet was a marketing intern around 2010. ("Baked Alaska" is also a rich, meringue-topped dessert of ice cream and cake. These days, a Google search for "Baked Alaska" will return more than 50 rows of image results of the food before it shows a picture of Gionet.)
He told Business Insider that he interned for two record labels, Warner and Capitol, and leveraged his moniker into a sort of Riff Raff-esque redneck rapper. It was his first play for internet stardom. When that didn't pan out, he took a social media gig with BuzzFeed.
The internet personality started to gain prominence for his viral humor. He became a manager for a Yiannopoulos book tour. He worked with fellow fringe conspiracy theorist Mike Cernovich, but the two had a falling out over Gionet's anti-Semitic tweets.
In his spare time, he wrote a book about the alt-right, which was quickly removed from stores as it featured a copyrighted character—Pepe the Frog—prominently on its cover.
READ MORE:
Following further bans and suspensions from sites where he could earn revenue such as Patreon, PayPal, and GoFundMe, Gionet seems to be at the end of his rope. At this point, a TikTok account is almost all he has left. He's used the popular lip-sync app to parody the "Hit or Miss" trend and compare himself to Fortnite characters while playing R. Kelly songs.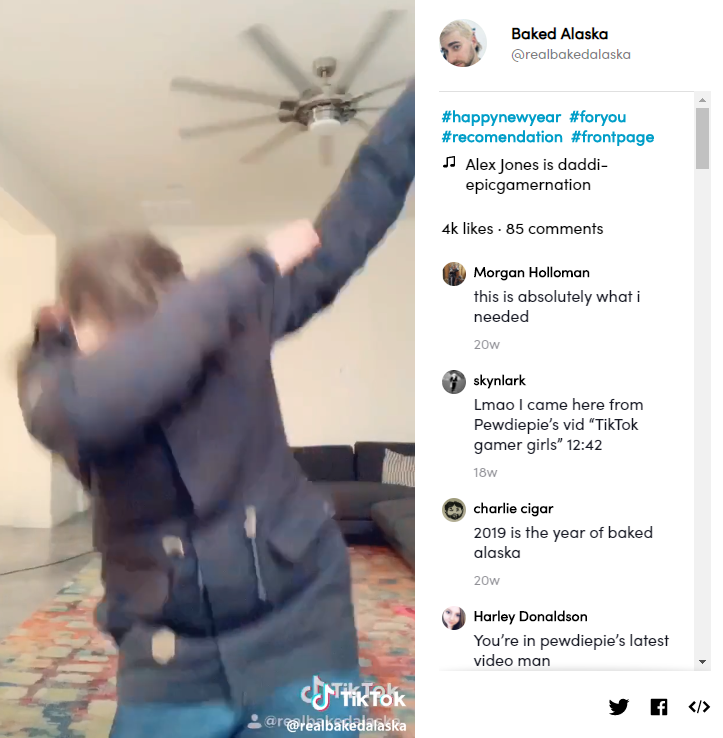 Gionet's latest content features him publicly denouncing the alt-right and making music videos that align themselves with the "Yang Gang," the online collective that supports 2020 presidential candidate Democrat Andrew Yang. He no longer trumpets Trump online.
When the Daily Dot questioned if Gionet's content could be removed from TikTok if it ventured into the realm of his old alt-right ideology, a spokesperson from TikTok emphasized the company's community guidelines and terms of service. TikTok specifically pointed us toward the "discrimination or hate speech" language, showing that certain content could get Gionet booted from TikTok as well if he returned to his old ideologies.
His TikTok content isn't as popular as the old stuff. One of his most-watched videos is still his 2016 "MAGA Anthem," a rap song Gionet made in support of Trump and building the border wall between the U.S. and Mexico. Gionet rose to prominence based on videos like this, and he's trying to recapture the energy with content that denounces the alt-right and might appeal to a new audience. He's mostly failing.
Asked about his old followers' reaction to his new public persona, Gionet tells the Dot, "I think the YouTube comments from my former fans answer this pretty clearly. Go ahead and scroll through the comment section of my latest videos and you'll see it all there."
Comments from Gionet's recent videos are plagued with unforgiving insults. "Baked 'Whatever's popular' Alaska," one says. "Antifa you guys can have this one," another says, referencing the left-wing movement.
"I will do what I can to tell my story and try to educate kids from getting involved in extremism."
Other commenters use it as an opportunity to directly call out Gionet's opportunism. "Baked praying to God for that sweet CNN interview about how he overcame white supremacy to make himself somewhat relevant again," one says. "Lmao Baked is reverting to his BuzzFeed programming," another writes.
In 2019, Gionet says that he publicly "left the alt-right," and as it stands, he's denouncing extremism and inflammatory rhetoric, especially the radical right ideologies that influenced the gunman who killed 49 people at a New Zealand mosque in March.
He says he defines himself by what he's not. He says he's not a Democrat or a Republican. But his politics remain murky.
Gionet once broadcasted himself unknowingly hitting on a 13-year-old girl and saying the phrase "Grab her by the pussy" in front of her. In his "MAGA Anthem" video, Alaska explicitly displays the "OK" hand gesture which has been co-opted by white supremacists in the past few years. In one of his latest videos, however, Alaska says that the New Zealand shooter, who flashed the same symbol in court, is a product of far-right radicalization.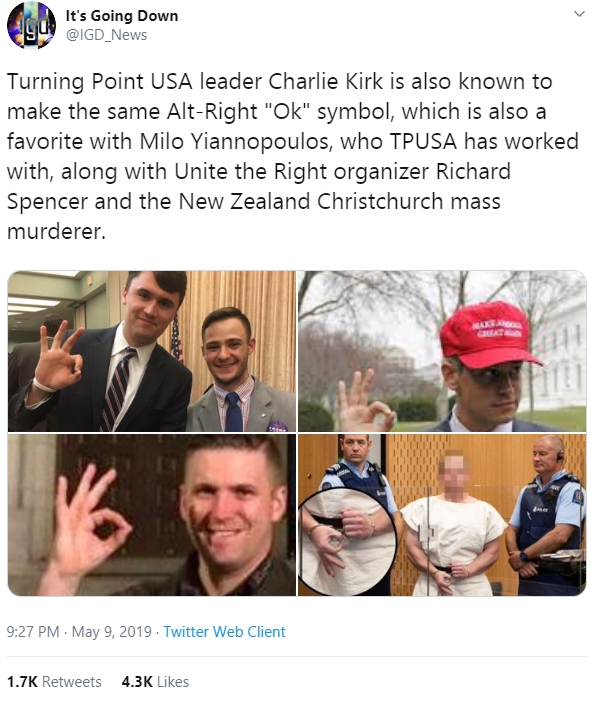 …
When it comes to hate speech, the tech giants are still figuring out how to best fight back. Services such as Patreon and Facebook have banned individuals who espouse racism. Even Uber once justified Gionet being ejected from its ride-hailing service due to his racist remarks. But judging by the persistence of other online personalities who have remained aligned with the alt-right, simply removing them from mainstream platforms isn't enough.
"I would argue that deplatforming is a bad strategy. For one thing, it's counterproductive. These guys thrive on persecution narratives," says Ben Burgis, author of the book Give Them An Argument: Logic for the Left. Regarding "corporate deplatforming," where individuals are banned from a social network, Burgis says this tactic "could just easily be aimed at troublemakers on the left who advocate unionization drives or social democratic policies that are bad for these corporations' bottom lines."
David Neiwert, author of Alt-America: The Rise of the Radical Right in the Age of Trump has a different perspective on the matter. "In the end, deplatforming works. The point of deplatforming isn't to punish the bad actors by denying them a voice—because no one is owed a voice by any of these platforms, and as businesses, they have the right to decide whether they want to provide venues for people who actively destroy the marketplace of ideas while hiding behind the shield it provides them.
"Milo Yiannopoulos is a good example of this; he may now be able to claim martyrdom in the manner of Gionet, but it's to a tiny audience. He's become irrelevant."
Gionet doesn't think booting people with radical views from social media is an effective solution, either.
"I don't think the deplatforming approach works because the alt-right has learned to exploit deplatforming to convince their adherents that they can't possibly rejoin mainstream society," he says. His theory is that if a figure is banned from platforms for being too real or dangerous for mainstream media, the audience still follows.
But, at least in his case, that doesn't seem to have happened. That's why his sincerity when it comes to his anti-alt-right activism remains in doubt.
"In the future, I plan to set up a nonprofit called XALT, which comes from being ex-alt right and also the term exalt meaning to lift people up and restore their reputation," Gionet says. "I will do what I can to tell my story and try to educate kids from getting involved in extremism on both sides. It's incredibly easy to start watching somewhat normal YouTube videos and the algorithm can lead you to more radical content without you even realizing it."
Indeed, issues with YouTube's algorithm remain ongoing.
Gionet is attempting to escape irrelevancy through the new brand of content he is making for his remaining 28,000 YouTube subscribers. After talking to him during the reporting for this story, I'm unsure how much he cares about anything other than rehabbing his brand, though I sense remorse stemming from Charlottesville and continuing through New Zealand.
Whatever he believes, he's saying the right things publicly to make a difference. But it's hard to imagine that he or any former alt-right personality would be making such an effort had their channels for distribution not been taken away from them.
READ MORE: