If you're a fan of the cooking show Good Eats like I am, host Alton Brown often derails "unitaskers" or kitchen tools that are strictly single duty. I follow his anti-frivolous tool Gospel to the word, but there's one major exception: my GE Profile Opal Nugget Ice Maker. Find out what makes it so essential in this Nugget Ice Maker review.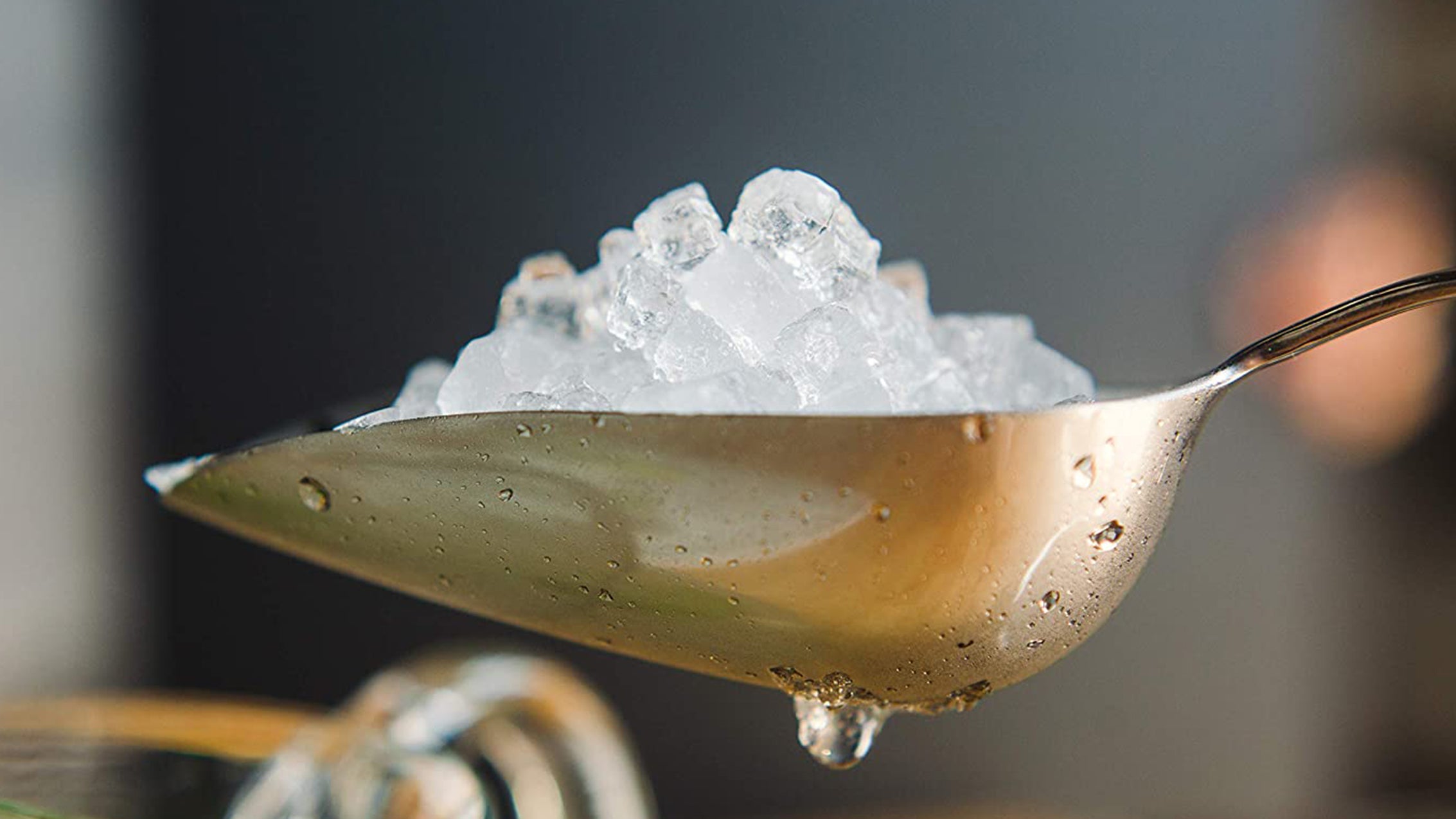 What is nugget ice?
If you've ever taken advantage of the two dollar hot dog meal at Costco or enjoyed a drive-in meal at Sonic, nugget ice is something you should be familiar with. Many ice aficionados, (aka "ice heads") lovingly refer to nugget ice as "the good ice."
What makes nugget ice so good? Well, it's certainly not a flavor thing. After all, it's just frozen water. No, what makes nugget ice rise above lesser cubes is texture. Instead of simply freezing water, nugget ice is made by compacting shaved ice into nuggets. It's a shame the machine isn't transparent, because I'd love to see just how that happens.
When describing it to the uninitiated, it feels like something physically impossible. It's soft, yet satisfying crunchy. It's lighter than air, yet slow-melting. It cools drinks faster than any other ice on earth, except maybe dry ice. And once you've had a few mouthfuls, there's no other cube on earth that will suffice.
GE Profile Opal Nugget Ice Maker: a primer
For much of its history, nugget ice wasn't available to common plebs. You had to know a guy in the ice business, or be willing to drop thousands on a fountain drink system. In July of 2015, FirstBuild ran an incredibly successful Indiegogo campaign to fund the Opal Nugget Ice Maker, raising more than 2.5 million dollars before the campaign ended.
Since then, the machine has been through a few revisions. As I write this review, I realized that even though I just got my machine in November 2020, the machine has received yet another rather sleek looking revamp.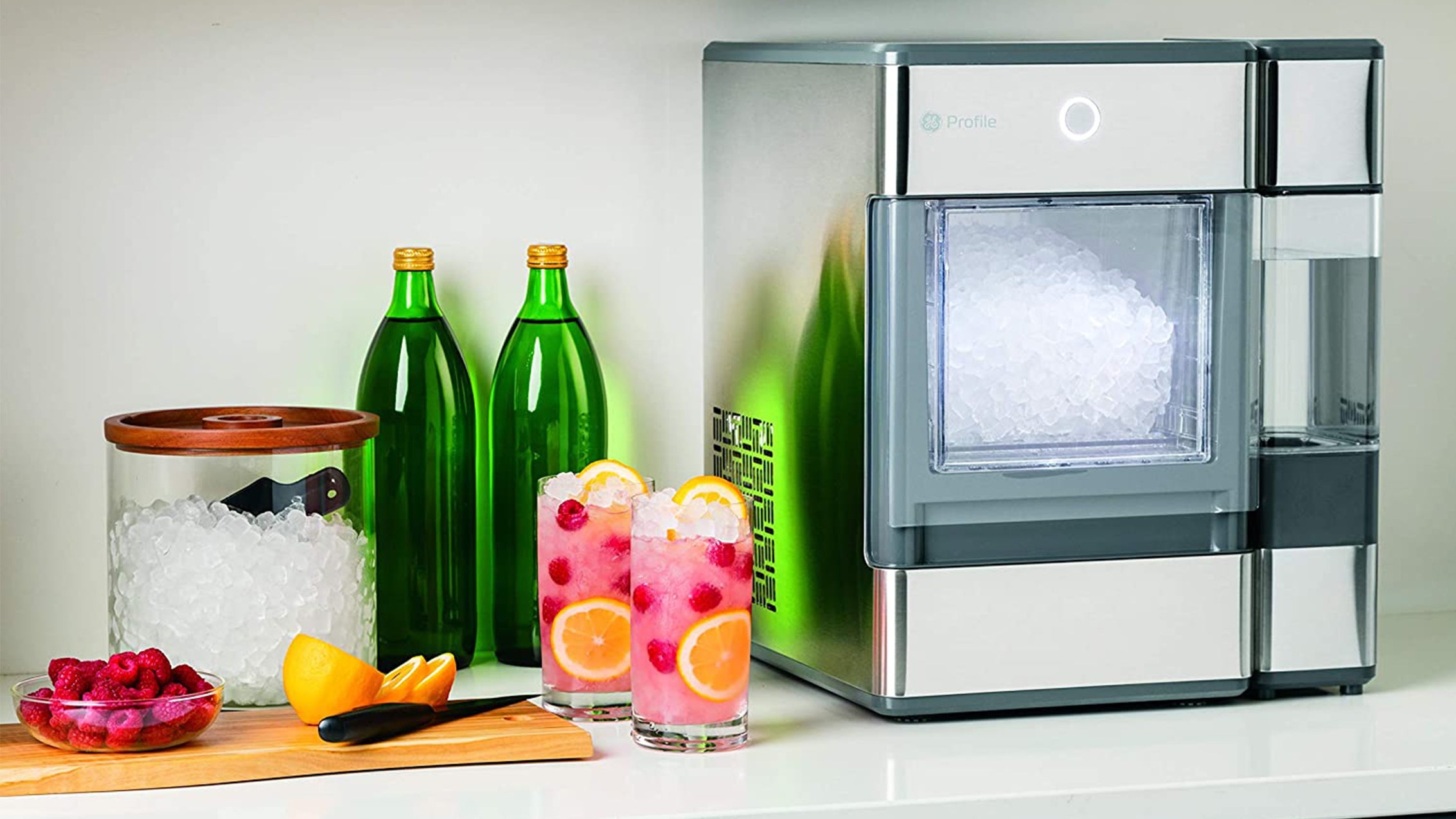 GE Profile Opal Nugget Ice Maker Specs and Features
Product dimensions: 13.4 x 16.5 x 17.5 inches
Weight: 47 lbs
Ice Bin Capacity: 3 lbs.
Cost on Amazon: $549 USD
Yes, it's a countertop ice machine. That doesn't mean it's not massive. Because this item had lived on my wishlist for ages before I broke down and bought it, a fair amount of planning went into making space for it. It didn't fit in the space between my kitchen cabinets and shelves. Instead, I got the machine its own portable kitchen island to perch on. Before buying, make sure to break out the tape measure in your kitchen or bar area.
Many commercial ice machines require a hookup to a water line, much like many built-in refrigerator ice machines. The benefit of the Opal Nugget Ice machine is that it has a detachable reservoir that you can easily fill with water. The machine has a built-in filter, but I still used filtered water, postulating that it would allow me more time to use the machine before having to do a cleaning cycle. Plus, ice, even fancy ice, is only as good as the water used to make it.
Opal claims that the machine can make up to 24 lbs of ice a day. One full-bin of ice measures about three pounds. Since my household is only me and my partner, there are few days when we've made more than one round. Considering that it takes a little less than two hours to fill the bin, I'm fairly sure the 24 lbs stat rings true.
There are few frills here. The machine has a single button for on and off. There's a tab in the back to designate the machine to either make ice or run a cleaning cycle. If the button glows white, it's making ice. If it glows blue, it means the reservoir needs water. A handy companion app even lets you schedule your machine to make ice while you sleep.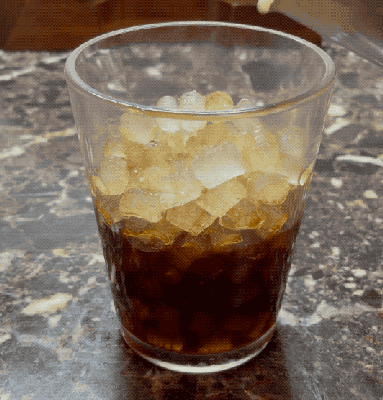 Nugget Ice Maker Review: Is it worth it?
The Opal Nugget Ice Maker couldn't be more of a unitasker. All it does is make ice. Granted, it is the best ice in the world. When I told my partner I had purchased it, they do what they always do when I purchase a frivolous appliance: nod their head and force a smile like a parent listening to a five-year-old describe how they just caught a Mewtwo (and silently contemplate finding someone more fiscally responsible).
At first, that is. Now they are the one who dashes to the kitchen first thing in the morning so that we have a bucket of ice to keep us going through the day. On one occasion, they were visibly annoyed when I forgot to set the machine to make ice when I woke up. Luckily, enough ice for an 8oz serving of liquid takes as little as half an hour. Once the machine gets going, the bin is filled in around two hours. Some days, it feels even quicker. It's surprisingly energy efficient, even when it's turned off. Once the bin is full, I turn the machine off and the ice stays fresh and solid for hours.
The machine is noisy. It's not the kind of noise that wouldn't be drowned out by say, a TV show, movie, music, or podcast. Still, it is pretty noisy. When it's on, you'll know it's on. Especially if your kitchen and living room aren't separated by any walls or doors.
Since purchasing, I haven't touched the low-tier ice my refrigerator makes. Sure, I'll use it when blanching greens or to cool down a pot of freshly cooked raspberry jam, but I'll be damned if I put it in a drink. I turn the machine on every day and use the ice to cool my water, seltzer, Coke Zero, espresso, and iced tea.
It's even helped curb my snack cravings. Most nights before bed, I would enjoy what I call a "fat kid's nightcap." It's basically a small bowl of Hot Cheetos and Rold Gold pretzel twists. For about a month, I subconsciously replaced this act of hedonism with a 16oz glass of nugget ice. The result was a win/win. One, I wasn't stuffing my face with empty starch and sodium calories. Two, I was increasing my intake of water, which is always a good thing. I never imagined a nugget ice maker to be a diet aid, but there you have it. This Nugget Ice Maker review is full of fun surprises like that.
As of January 15, 2020, the machine will run you $549. I nabbed a deal on it Black Friday week 2020 and shaved about $100 off the retail price. Even then, the price seems a little obscene when other countertop ice makers hardly scrape $200. Granted, none of those piddly gizmos make the best ice on earth. If you have a serious nugget ice addiction like me, it may be worth the investment.
If you have an interesting product you'd like to be featured in an upcoming review, reach out to jcarrillo@thedailydot.com and it just may be!
The Daily Dot may receive a payment in connection with purchases of products or services featured in this article. Click here to learn more.