It's wedding szn again, and that means it's time to wrangle up your bridal party. Asking your besties to be your bridesmaids doesn't have to be a daunting task—in fact, it should be pretty fun! Out-shine your own proposal and give your potential bridesmaids one of their own with our round-up of the best bridesmaid proposal boxes we know they'll love. From wine-themed boxes to personalized boxes, and even DIY boxes—it's sure to be a special time for you all.
One for the traditional bridesmaid: Will you?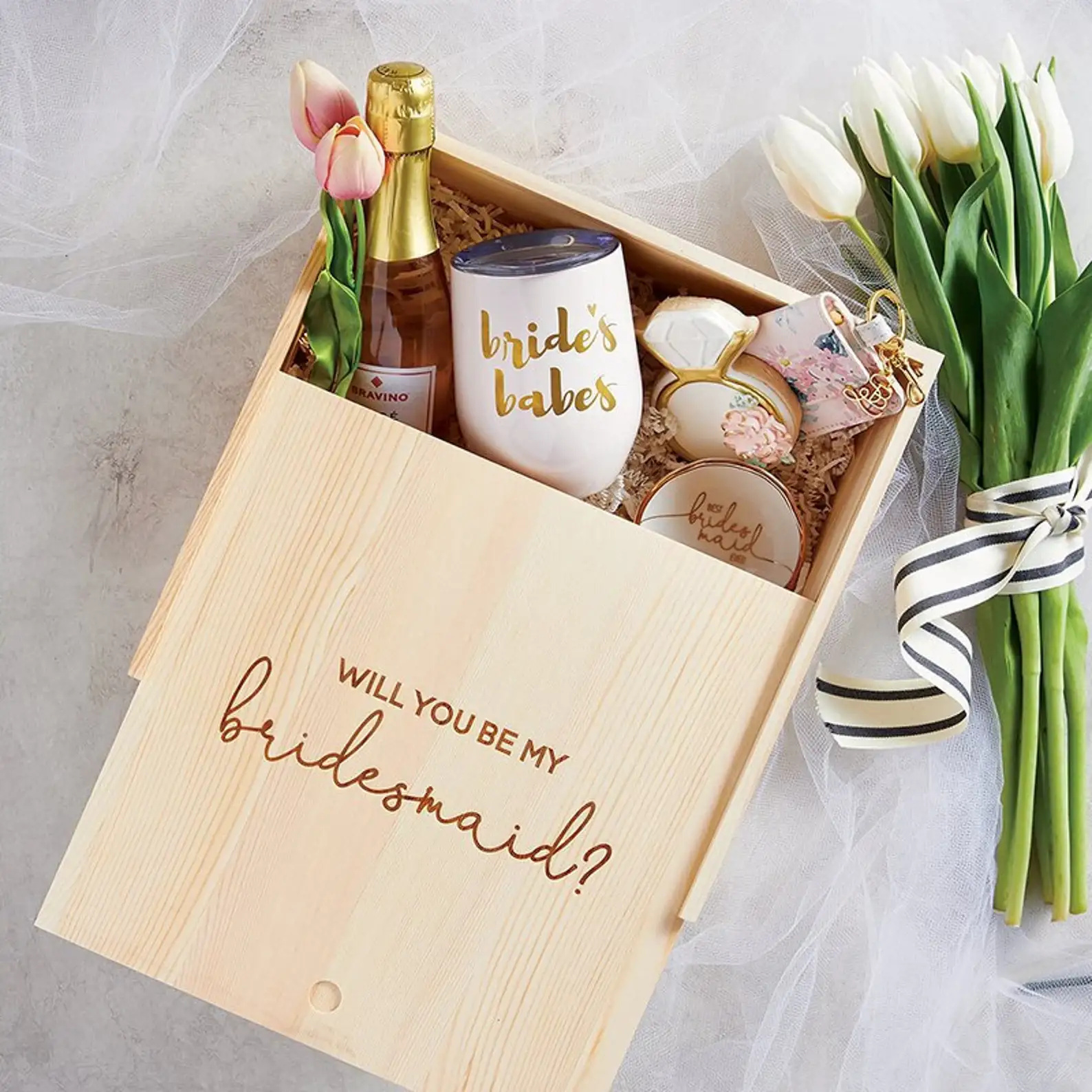 Your bridal party is going to love this thoughtful pine keepsake bridesmaid proposal box that can be used over and over again. It's handmade and can be personalized with the standard message ("Will you be my bridesmaid?") or a custom message, up to 256 characters. Bonus: you can message the seller to add gifts to your box, like bath bombs, chocolates, bracelets, and more!
Price: $29.70+
---
One that says it all: "I Do"
This bridesmaids box comes with all the classics. An embroidered silk eye mask, a small sparkling rose candle, a three-piece bath bomb set with a sweet message, and tasty champagne gummies. Oh, and you can customize your bridesmaid proposal box to add or subtract items like an artisan hand-blown wine glass, or a non-alcoholic sparkling rose. Cheers!
Price: $92+
---
One to get personal: Named Box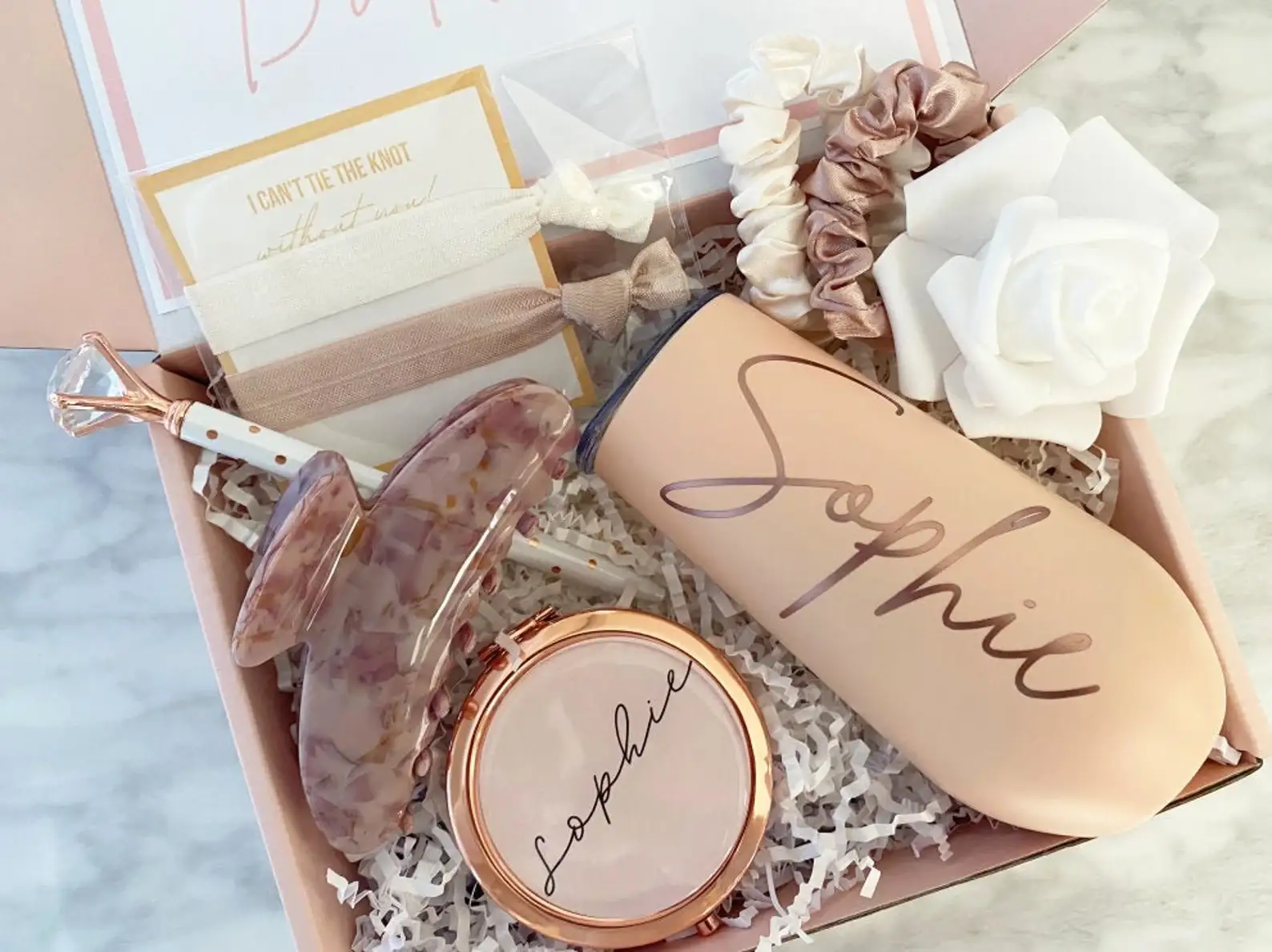 These boxes are going to light up your bridesmaids' hearts. The tops of the boxes are personalized with your bridesmaid's names and stuffed with different goodies to enjoy. There are three different tiers to choose from — basic, deluxe, and luxury. All of the boxes come with a custom white font name, personalized card, hair ties, and more. Plus, the upgraded options included treats like a silk eye mask and butterfly hair clip. Get ready for the waterworks!
Price: $46+
---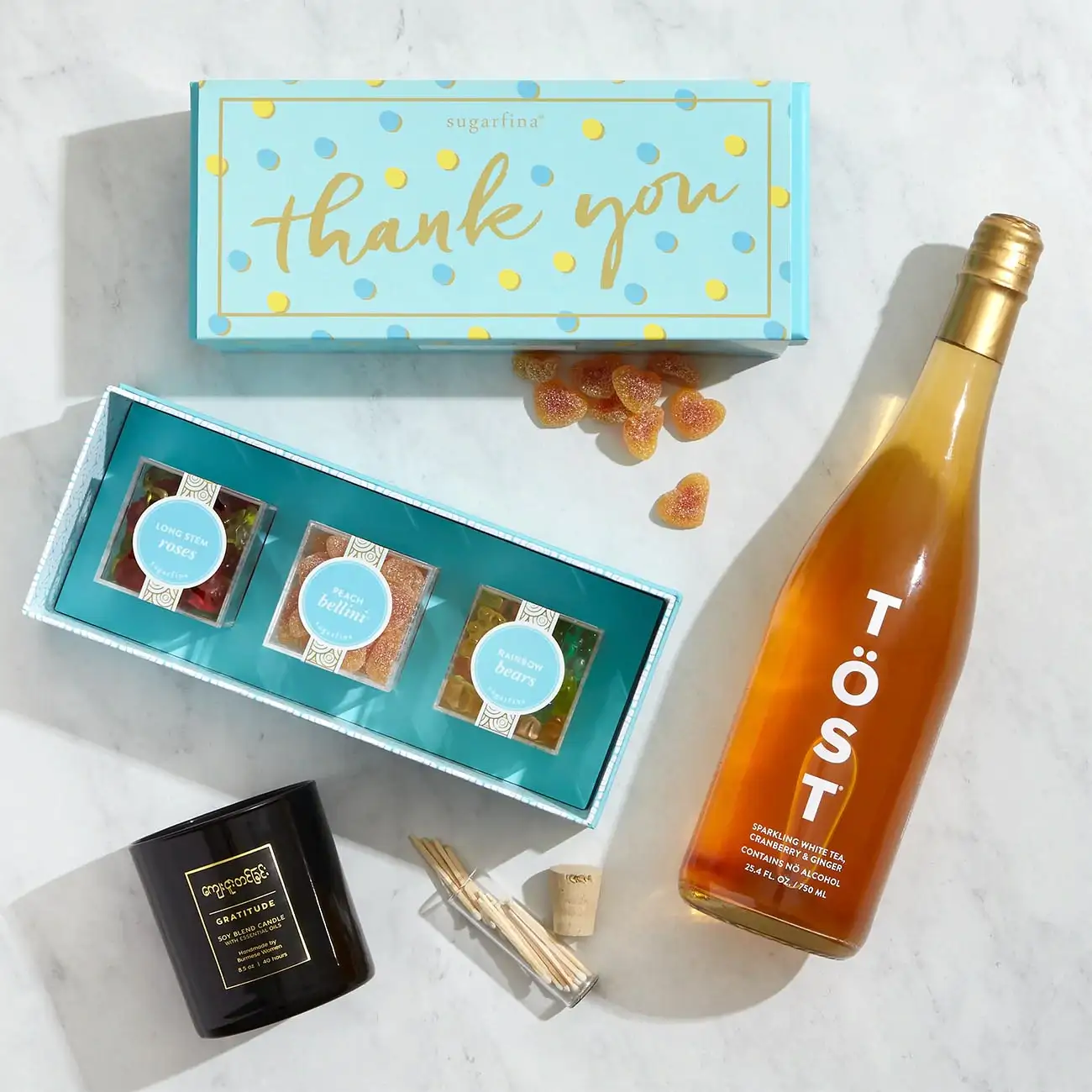 It's the perfect bridesmaid proposal box for saying thank you—it literally has it emblazoned on the front! The star of the show is the Sugarfina bento box of three gummies—long stem roses, peach bellini, and rainbow bears—a sparkling white tea, cranberry, and ginger beverage, and a gratitude candle with white-tipped mini-matches. Get ready for another round of thank yous.
Price: $87+
---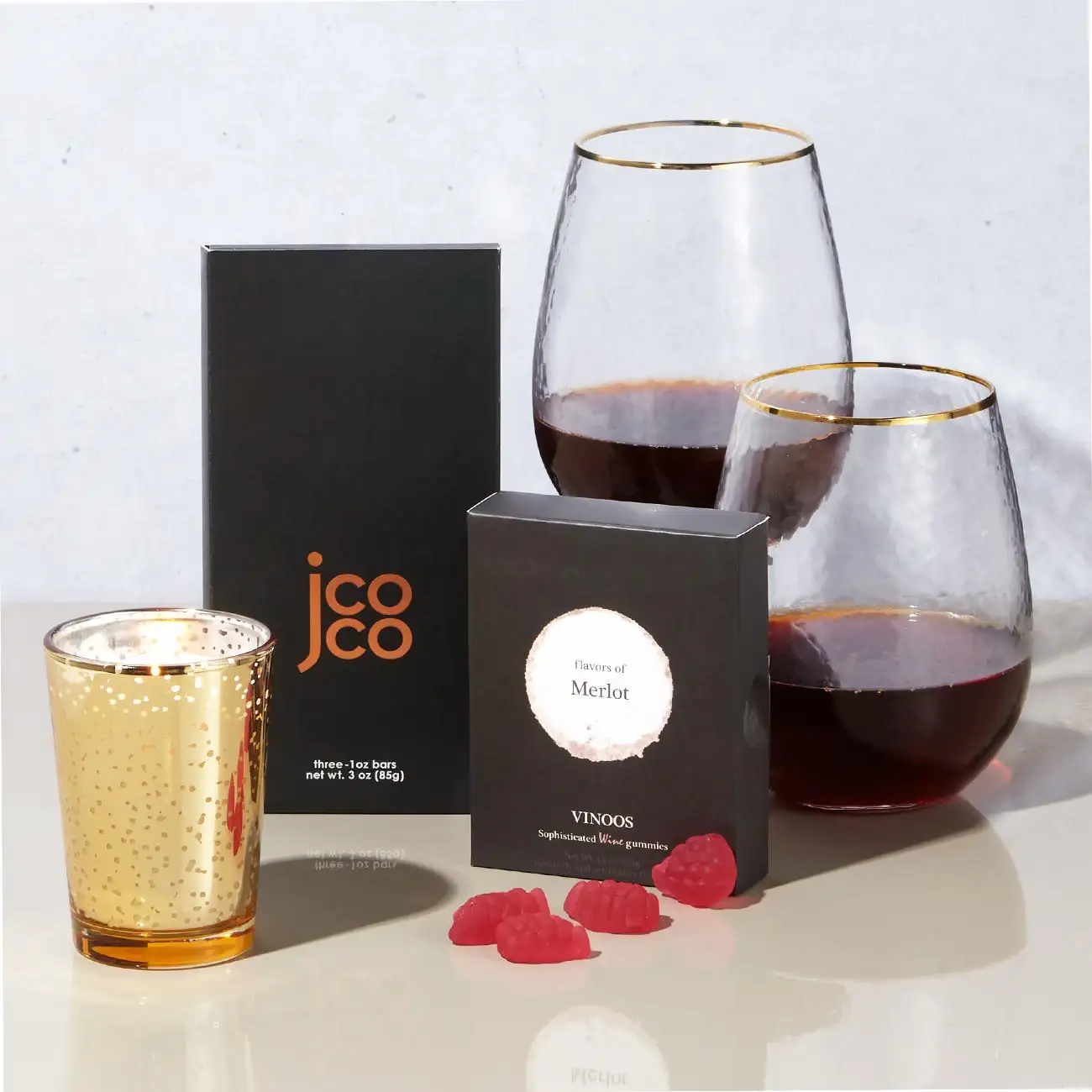 They'll be set up perfectly for their next wine night thanks to you. This one comes with two stunning gold-rimmed wine glasses (stemless), tasty wine gummies, artisan chocolates from master chocolatiers Seattle Chocolates, and a gold glass candle scented with cypress, cardamom, and peppercorn. We'll pour a glass to that!
Price: $77+
---
DIY Boxes
Okay, we love these personalized note cards and we know your bridesmaids will too. The card has minimalist, modern calligraphy writing and the front comes with a rectangle photo slot. Heads up, you'll need a laptop or computer to access the template editing system used to customize your cards!
Price: $5.39
---
For custom wine down Wednesdays: Wine Label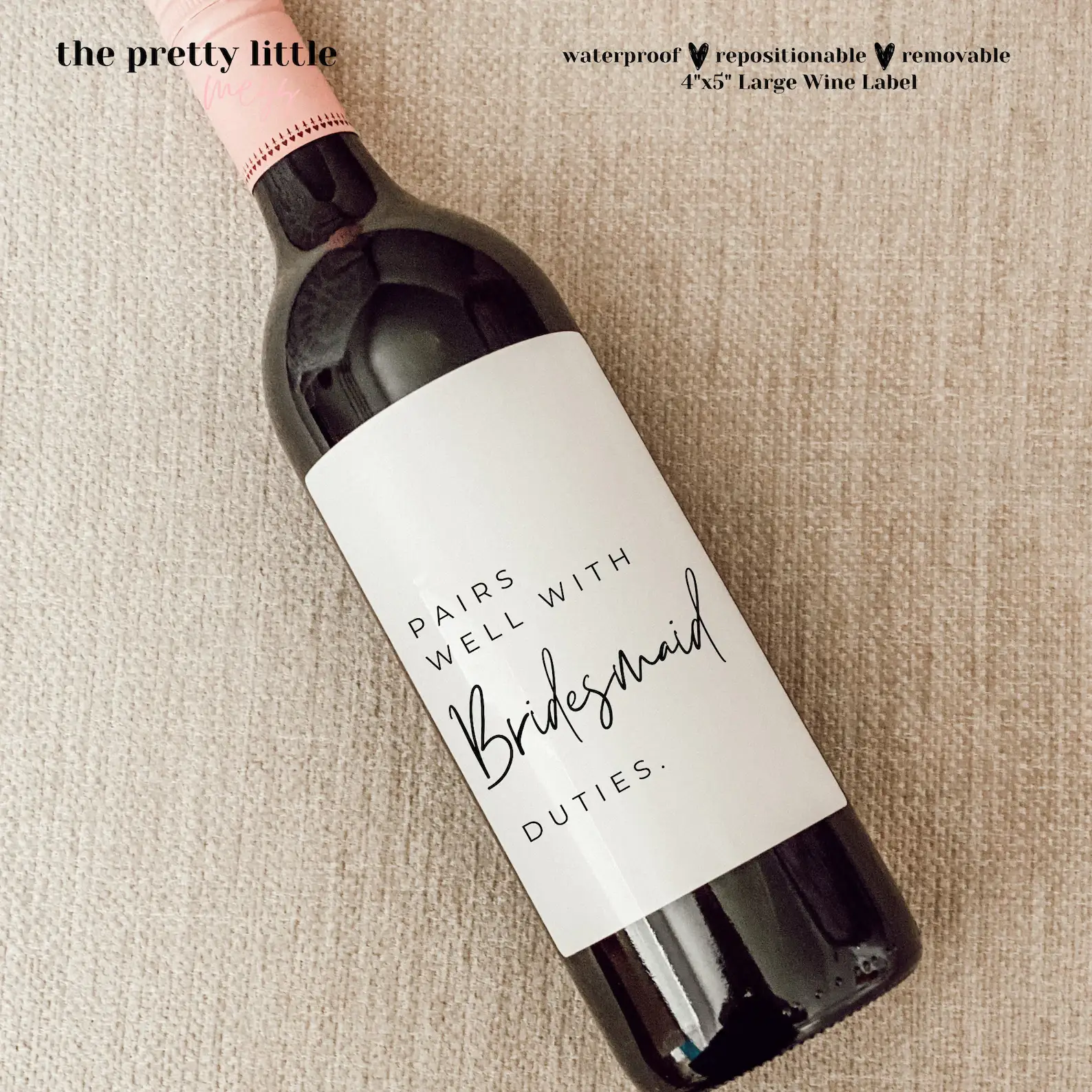 Pop bottles in style with these custom wine labels. They're perfect for hosting your bridesmaid proposal party or dinner, and can be customized to fit any bottle—from mini champagne bottles to full-sized wine bottles. There's also one for your maid of honor so they can feel extra special on proposal day.
Price: $2.50+
---
Personalized makeup bags or anything bags: Canvas Bags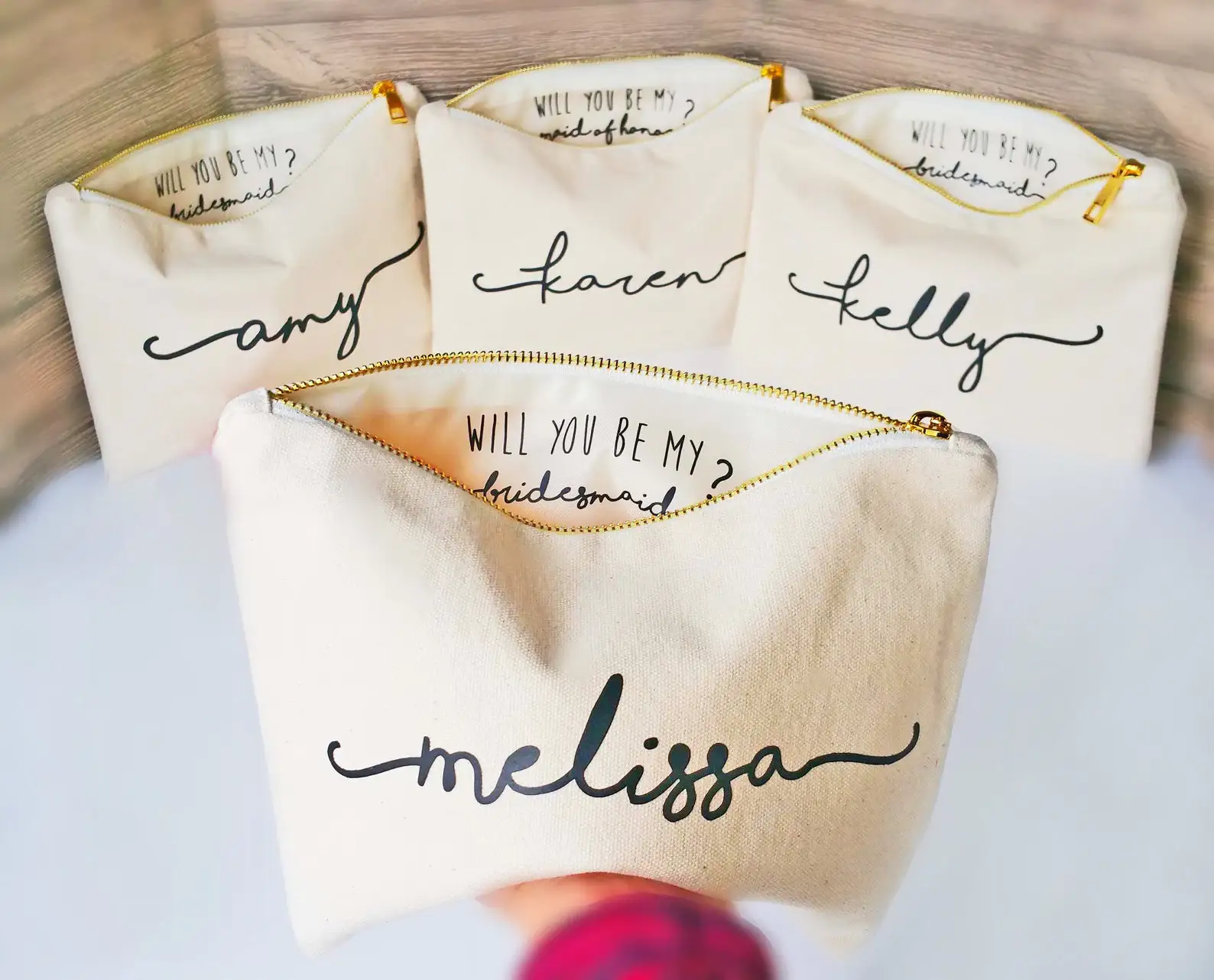 They're made out of canvas bags and have customizable zippers to close. We love that you can put your bridesmaid's name across the front, and the cute surprise waiting inside! They're the perfect addition to your bridesmaid proposal box.
Price: $11.95+
---
Stemless name champagne flutes: Plastic flutes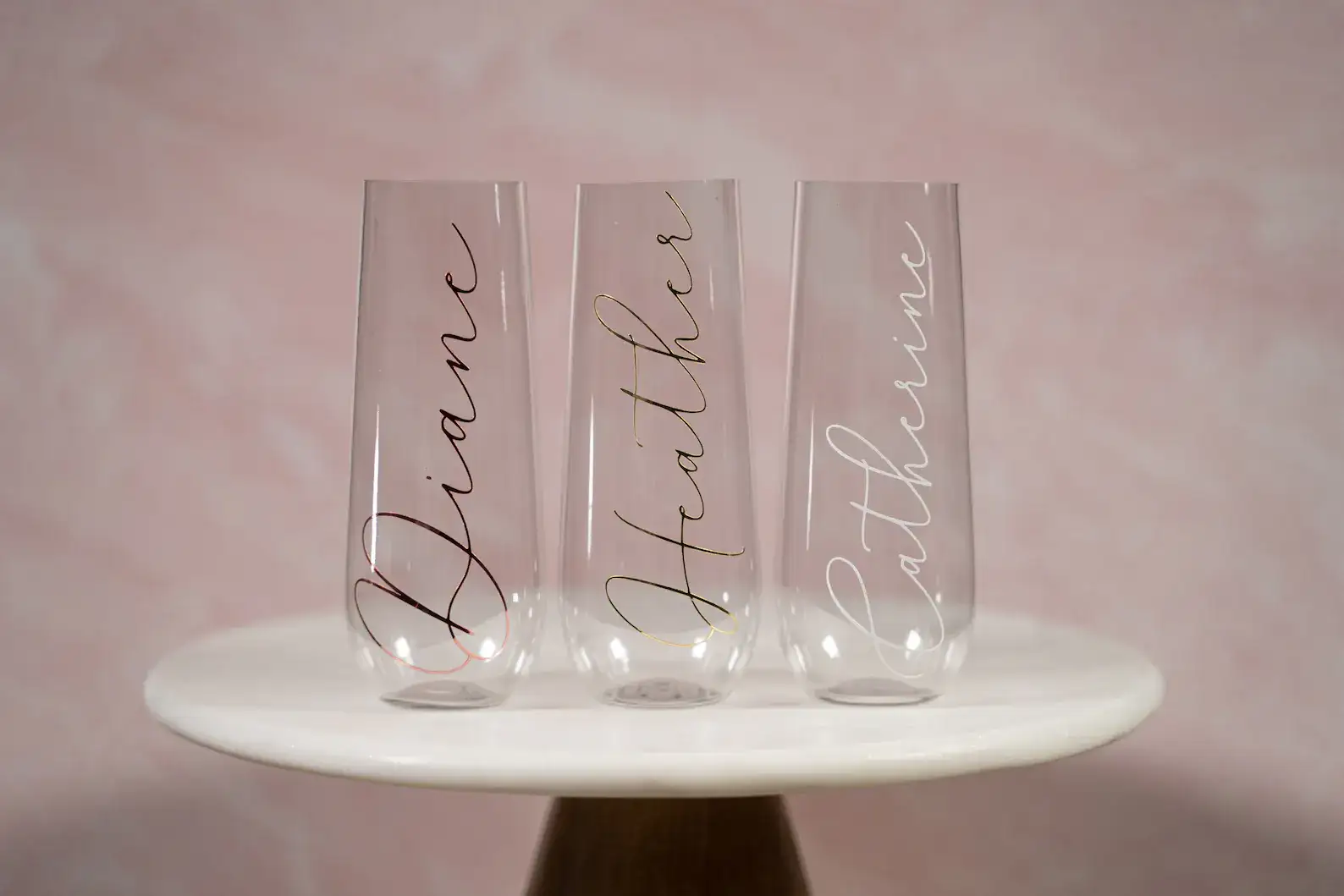 We love that these come in a plastic option, so you won't have to worry about any breakage in the bridesmaid proposal box! These have your bridesmaid's names written on the front in a minimalist script which you can customize in a bunch of different colors—like blue glitter, chrome silver, or mint glitter.
Price: $3+
*When you buy through our links, we may earn money from our affiliate partners. Learn more.