A Craigslist ad circulating on Twitter appears to show the Trump campaign hiring "excited and enthusiastic minority actors" for a Tulsa, Oklahoma rally on Saturday.
People shared the ad widely on Sunday evening and into Monday morning, but it is almost certainly fake. Since the ad went viral on Twitter, Craigslist reportedly reviewed it and has already taken it down.
"Excited and enthusiastic minority actors and actresses needed to hold signs at event in Tulsa," the ad reads. "Send headshot/resume for early consideration."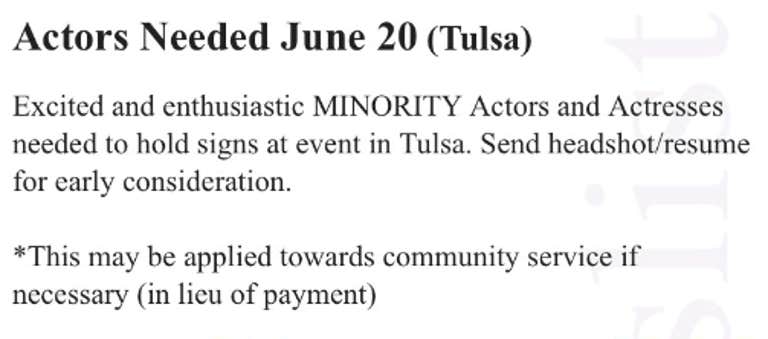 The ad set Twitter ablaze and rumors began to fly.
"These Craigslist ads have been posted before every Trump rally since 2015," one Twitter user wrote. "It's how they choose the majority of the people that sit directly behind him on stage."
Both Democrats and Republicans have long flung accusations about the other party hiring actors for rallies and protests. Most use the claim to discredit the number of attendees at an event.
In at least four other instances, similar ads on Craigslist cropped up before the president's events.
In November 2019, a Craigslist ad shared on Facebook called for actors for "protest activity" in Phoenix, Arizona. Likewise, this ad mentioned people of color, saying "minorities" were "welcome and needed." Facebook placed a "false information" warning over the ad.
Before that, Craigslist had removed another ad soliciting pro-Trump actors for a 2017 Phoenix rally after it was revealed that an 18-year-old boy created the announcement.
And in 2018, the fact-checking website Snopes found that a man with an alleged connection to "left-leaning activist groups" created an ad looking for attendees for a Trump rally in Erie, Pennsylvania.
Long story short, this isn't the first (or likely the last) time that a suspicious ad for a Trump rally has shown up on Craigslist. The Tulsa ad appears to be fake just like the last several instances, seeing as the company already removed the ad from its website.
The Daily Dot has reached out to Craigslist and will update with a response.
READ MORE: