Facebook has placed election labels on posts from both President Donald Trump and former Vice President Joe Biden.
Recent posts from both 2020 presidential rivals were given labels directing readers to "get official voting info on how to vote in the 2020 US Election at usa.gov" with a button that directs them to more information.
A label was placed on a Trump post on Tuesday about mail-in ballots. The president has repeatedly claimed, without evidence, that mail-in ballots sent out because of the coronavirus pandemic would somehow skew the election.
His posts about the topic have been fact-checked by Twitter and led to criticism for Facebook about having more lax moderation for the president's posts.
Facebook said last week that posts from politicians would soon be accompanied by the labels, according to TechCrunch.
"Mail-in voting, unless changed by the courts, will lead to the most CORRUPT ELECTION in our nation's history! #RIGGEDELECTION" the president's Facebook post on Tuesday reads.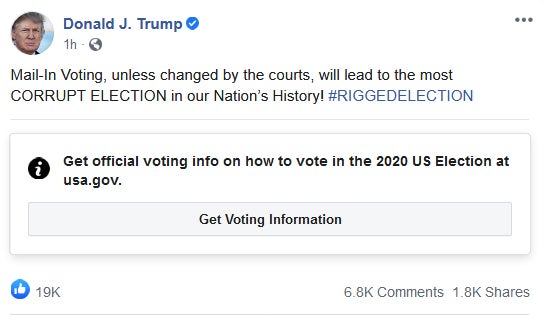 The label attached to Trump's post sends users to information about absentee voting, early voting, and mail-in ballots. It doesn't address the content or substance of Trump's tweets.
Trump posted the exact same thing on Twitter, but it has not received any kind of label. Twitter has attached labels to a number of the president's tweets, including ones for abusive behavior, manipulated media, copyright infringement, and glorifying violence. It has also fact-checked Trump.
Other posts of Trump's, including one with a video that says "you won't be safe in Joe Biden's America" and a "Faith In America" conversation, were also labeled.
Meanwhile, several posts from Biden have also received a similar election label from Facebook.
One post from Biden on Monday about contributing to his campaign got a label that directs users to general information about voting. Another post from Monday about foreign interference in the 2020 election had a label that directed users to the same website.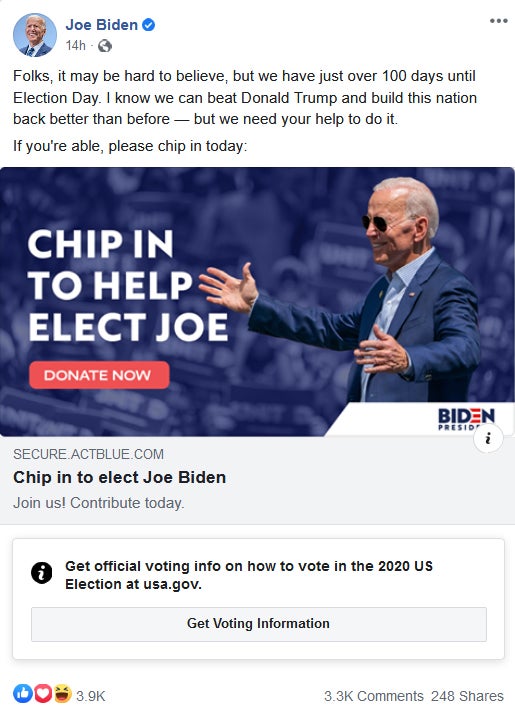 The labels are not fact-checks, but rather information about voting—a difference between other social media platforms that have marked posts from the president as inaccurate.
READ MORE: