As the bar for ridiculous selfies continues to soar higher—they've now commemorated plane crashes, mass political arrests, and funerals—it's worthwhile to consider the possibilities and implications of #Rorschcam NYC, a public art project by James Bridle.
Bridle uses open access to the New York City Department of Transportation's real-time traffic cameras to create visuals at once familiar and dizzying: Choose from a drop-down menu of intersections around the five boroughs, and live footage of that spot is tessellated into a four-paneled, kaleidoscopic pattern. Cars drive into their mirrored doubles and disappear, while people flow through the scene according to an eerie symmetry.
Since you can pull up the #Rorschcam site on your smartphone, you can also effectively spy on yourself. Novelist Robin Sloan demonstrated as much with a cutting-edge selfie: a screenshot of himself watching the surveillance feed of the very intersection he was standing in. He's the guy in red, at the end of those converging rows of plants.
Rorschcam selfie! I AM SO NEW AESTHETIC RIGHT NOW! pic.twitter.com/ZhwXIu0L40

— Robin Sloan (@robinsloan) March 11, 2014
Determined to have this uncanny experience for myself, I looked up the camera closest to my apartment and walked the few blocks east to 125th Street and Adam Clayton Powell Jr. Boulevard. Once I'd latched onto reliable Wi-Fi, it took a few moments to orient myself in the funhouse image. Then it occurred to me that I could look up and see the camera itself. Spotting it atop a streetlight on the northeast corner, I crossed to enter its field of vision.
Now I could see myself—grainy, tiny, and dressed in a drab green coat that didn't exactly make me stand out on this gray March afternoon. More than that, I was seeing myself being seen. It had to be me, because the woman with the red jacket and white shopping bag in front of me was the woman with the red jacket and white shopping bag on the screen, a few pixels away from my indistinct figure. Both of us stood almost center frame, as it were.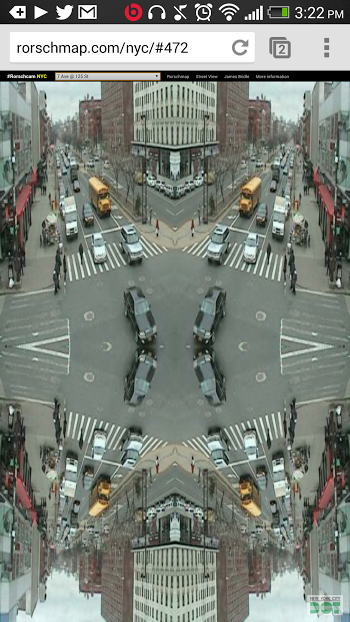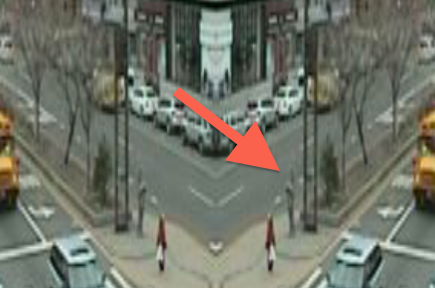 I crossed to another corner, hoping for a clear shot, but this was a busy part of town, after all. The best I did was capture myself standing between two strangers. Of the people lined up on the sidewalk, I'm second from the left, and obviously playing with a phone.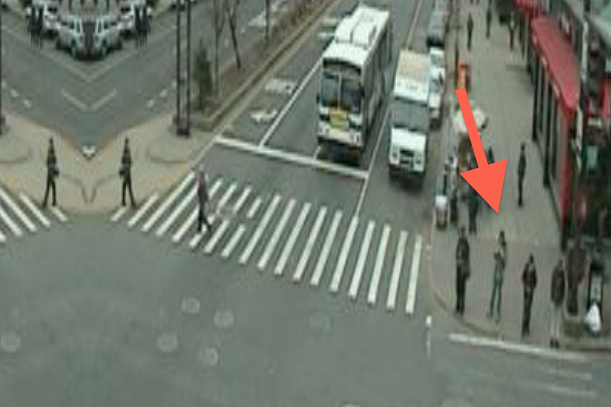 I could go on about what all this might mean for civilian privacy, and the future of public data, and how suspicious I must have seemed in doubling back and forth over a tiny sliver of Manhattan a dozen times, seemingly taking photos of everything. But honestly, all I can think about right this second is how cool parades must look on this thing.