"The fact of the matter is this is fucking America."
The man who answers the phone at the number listed for the owner of four "Reopen" websites is initially extremely guarded. He refuses to tell the Daily Dot his name and insists that he is not Brad Butcher, the person GoDaddy lists as the sites' owner—a claim that stretches credulity more as he talks.
Whoever he is, his reticence is understandable. He's been doxed. People have threatened his life. All for being the alleged owner of four URLs.
Records show that on April 14, four Reopen sites—reopennc.com, reopenfl.com, reopenmi.com, and reopenny.com—were registered to a Brad Butcher of Sebastian, Florida. All was quiet for a few days.
Then hell broke loose.
It began with a Reddit post about someone in Florida buying dozens of Reopen websites. The post posited that the domains were involved with an astroturfing campaign to end social distancing restrictions due to the coronavirus pandemic. The post went viral.
That someone definitely wasn't Brad Butcher.
It was Michael Murphy of Jacksonville, Florida. Murphy, a self-described "old hippie" told the Daily Dot that he bought up the Reopen URLs to keep them from "fringe groups."
"I'm not particularly political, but I felt like the insanity had gone too far," Murphy said. "I started scooping up these names to give them to a reputable organization."
Doxed and deluged with threatening calls and emails, Murphy quickly used a service to mask his identifying information.
The man who answered the phone number that purportedly belongs to Brad Butcher was in the midst of his own onslaught of threats. His phone rang at all hours. People yelled, cursed, and threatened to murder him.
Asked why he didn't use a service to conceal his own information, he says that Butcher, who he claims to know, "probably" tried doing that twice to no avail. Two days later, the owner of one site's identifying information has since been concealed.
But the man is surprisingly good-natured about the whole thing, however.
His guard lowering, though not enough to give his name, whether Brad Butcher or not, he chuckles. "It doesn't seem like your upper echelon," contacting him about the sites.
He says one person offered to pick him up an Egg McMuffin at a nearby McDonald's on their way to kill him.
"They offered my last meal because it was up the road on the satellite."
Speaking hypothetically, as he does throughout the conversation, he says that if he did buy the sites, it would probably be because he's concerned about the country and the economy.
"If I weren't a nobody and I had a stake in this, I would probably be on the side of thinking that a state like North Carolina might as well be reopening the business, all businesses," he says.
He insists that the sites aren't associated with any Facebook group, conservative benefactor, or organization. Only one—reopennc.com—is live; the other three redirect to it.
There you can buy T-shirts, yard signs, and stickers with messages like "Liberate," "Essential," and "Buy American."
"Let's get business open by the facts and numbers, locally. ReopenNC. Reopen North Carolina. Reopen ALL States. We are contributing to business through business. We are promoting getting business back on track, everywhere!" the site explains.
"We believe in the constitution. We believe in Business in the USA."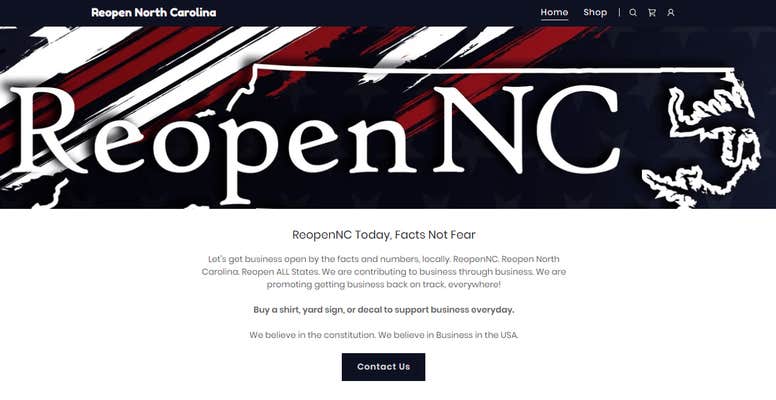 It's essentially an attempt to make some money in a crisis that has left millions unemployed.
America is, after all, a capitalist country.
Although he says he's not affiliated with a political party, the man admits he leans right. He doesn't like what he sees from Democrats, who he says are "violent and ugly" in their push to drastically change the country.
"We're misguiding our population to believe that America … capitalism is bad … I don't want to see America become a socialist country."
He thinks that the country was on the right track before the coronavirus pandemic. Now he frets that people are giving up freedom, potentially permanently. And he's worried about a depression and widespread poverty.
As to the pandemic, he isn't convinced by some of what's said about coronavirus, but he isn't a denier, either.
He believes that business closures and social distancing efforts have been successful, and that the peak happened weeks ago. (Many experts agree that the peak is past in many states, though a few project it happening in coming weeks. A resurgence is, of course, also possible.)
In his opinion, it's time to start lifting restrictions. He thinks it's crazy that people are so violently opposed to reopening businesses that they'd threaten someone's life for merely disagreeing.
"I'm not a bad person…" he says. "[The narrative being pushed is that] people that want their business open are really bloodthirsty animals—and that's really anti-American."
READ MORE: