White nationalist Nick Fuentes says he can't attend a South Florida press conference opposing big tech because he's on a "no-fly" list.
This morning, the self-described "groyper" tweeted that he isn't allowed to fly, which he called "overt political persecution."
"America is not a free country," he added.
From his verified Twitter account, he also complained that he has "been banned from nearly all social media and tech services," which he had planned to discuss at the press conference alongside Laura Loomer and other far-right figures.
His extremist compatriots hastened to express outrage over Fuentes' allegations. InfoWars contributor Paul Joseph Watson called it a "draconian thought crime system" even more severe than China's social credit score.
Meanwhile, laughter rang out from the many critics of the 22-year-old who once encouraged his supporters to kill legislators who certified President Joe Biden's win.
"He can't attend some rally because TSA stopped him from entering the airport, you love to see it," @RightWingCope tweeted, to which @EyesOnTheRight responded, "Now his friends have to rant without him in that Publix parking lot."
If Fuentes is in fact on a possible no-fly list, there could be an extremely simple, non-conspiratorial explanation. As researcher Jared Holt pointed out, in December, Fuentes bragged about being ejected from a plane, which he initially believed was because his mask didn't cover his nose.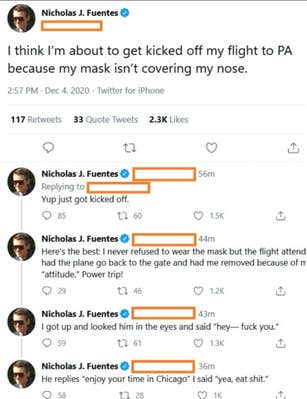 In a screenshot of Fuentes' tweets about the incident posted by Twitter user @beccaturmo, he claimed that a flight attendant actually kicked him off because of his "attitude."
"I got up and looked him in the eyes and said 'hey—fuck you,'" Fuentes said. "He replies 'enjoy your time in Chicago,' I said 'yea, eat shit.'"
That would be unrelated, however, to the actual federal no-fly list.
If he actually is on the real no-fly list, which is not clear, it's also possible that it was due to his participation in the Jan. 6 protest that culminated in the deadly Capitol riot. Many who participated in the riots have been put on the no-fly list.
After the riots, Fuentes was kicked off DLive for "inciting violence and illegal activities."
According to the Transportation Security Administration, "The No Fly List is a small subset of the U.S. government Terrorist Screening Database (also known as the terrorist watchlist) that contains the identity information of known or suspected terrorists."
The Federal Bureau of Investigation director has referred to the Capitol riot as "domestic terrorism."
Fuentes has not been charged with a crime associated with his participation in the protest that preceded the violent attempt to overturn the election.
On his show, Fuentes has also joked about terrorizing and smothering flight attendants, Ben Lorber noted.
So if Fuentes is indeed on any kind of no-fly list, it could be for any number of reasons.
Or it could just be a lie.
---
This week's top technology stories