The number of mobile addicts, or people who check their mobile devices more than 60 times a day, has risen 123 percent, from 79 million people to 176 million people from March 2013 to March 2014, according to research released by Flurry Analytics. Meanwhile, the reported 23 percent increase for regular users (who launch apps under 16 times per day) and the 55 percent increase in super users (who launch apps between 16 and 50 times per day), shows that we're more addicted to our phones than ever before.
The average mobile customer checks their device 150 times a day, according to the 2013 Internet Trends Report published by analyst Mary Meeker last May, a surprising statistic. Pair this with the fact that the National Sleep Foundation advises adults 18 years and older get seven to nine hours of sleep per night. Assuming you actually sleep that much and have your phone next to you at all times during waking hours, the average consumer checks their mobile device every six to seven minutes.
But let's personalize this a bit: What does a mobile addict look like?
Using data gathered as of 2014, Flurry set out understand the so-called mobile addicts. First, they defined a mobile addict as someone who launches apps 60 or more times per day, six times the amount of the average consumer. Looking at data from 500,000 apps across 1.3 billion devices, the mobile measurement company found that the average addicts are most likely college-aged females, middle-aged parents, or tech-obsessed teens.
While the gender ratio of average mobile users is 48 percent female and 52 percent male, the numbers flipped when it came to mobile addicts, with 52 percent female and 48 percent male for mobile addicts, a big difference when taking into account the 176 million-person sample size.
College-aged users ranked highest amongst addicts over-indexing at 49 percent, adults aged 35-54 ranked second followed by teens aged 13-17. Meanwhile, there are fewer mobile addicts between the ages of 25-34, most likely because "they have just entered the workforce, are predominantly single, and are likely out and about more often than their older and younger segments."
Mothers and auto-enthusiasts over-indexed the most among females and males when comparing addicts to average users, followed by those interested in parenting and education, while sports fans, gamers, and catalog shoppers (a specific demographic to be sure) earned high ranks as well.
So: A mobile addict, at his or her most addicted, is likely to be female, likely between the ages of 18 to 24 (college-aged), and perhaps a parent, sports fan, or dedicated shopper. If all these words and numbers aren't really giving you a concrete image of what a mobile addict is, then allow us to offer you this visual from MTV's True Life: I'm Addicted to the Internet, in which a young mom is shopping and ignoring her child: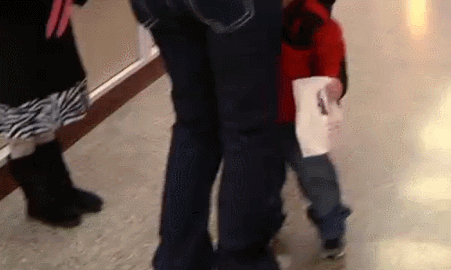 There she is: the poster child for mobile addiction. 
H/T Flurry Photo via M. Janicki/Flickr (CC BY 2.0)