Marjorie Taylor Greene, the favored House candidate for Georgia's 14th district, has made a national name for herself with deleted Facebook videos.
In one, a campaign ad posted in the midst of the George Floyd protests, she posed with a rifle, warning "antifa terrorists" to "stay the hell away from Northwest Georgia."
Two days after it went up, it was taken down from the site.
"We removed this ad, which advocates the use of deadly weapons against a clearly defined group of people, for violating our policies against inciting violence," Facebook told Fox News. The network later had Greene on to talk about conservatives being censored by social media platforms.
In another now-missing video, which has since been uploaded to YouTube, Greene talks directly to camera about QAnon.
"Q is a patriot, we know that for sure, but we do not know who Q is," she explains. She then launches into a nearly 30-minute analysis of the conspiracy theory, which claims President Trump is working on a secret plan to take down the "deep state."
Greene is certainly not the only "Q" candidate running for Congress— according to Media Matters for America, there are more than 50—but she is one of the few poised to actually win, making her support of the fringe theory headlines news.
On Wednesday, Politico reported uncovering multiple other videos in which Greene allegedly espoused "racist, Islamophobic and anti-Semitic views."
Now, multiple leading Republicans, including House Minority Leader Kevin McCarthy (R-Calif.) and House Minority Whip Steve Scalise (R-La.), are condemning her candidacy. Reps. Jim Jordan (D-Ohio) and Matt Gaetz (R-Fla.), who have both endorsed her, have not commented.
But there was no need to wait for a report to understand her views—they are readily available in the more than 300 videos, ranging from commentary to Crossfit, still posted to her popular Facebook page. An analysis from the Daily Dot of hours of these videos revealed multiple instances of her engaging with conspiracy theories, doxing, and homophobic content.
In the very first video available on her page, filmed in Washington, D.C. during the 2018 Kavanaugh hearings, Greene turns her camera on demonstrators, who she says were "absolutely paid to be here to protest."
She states her support of Kavanaugh, adding she believes his appointment will be the "green light" for President Donald Trump to hold the "deep state" accountable.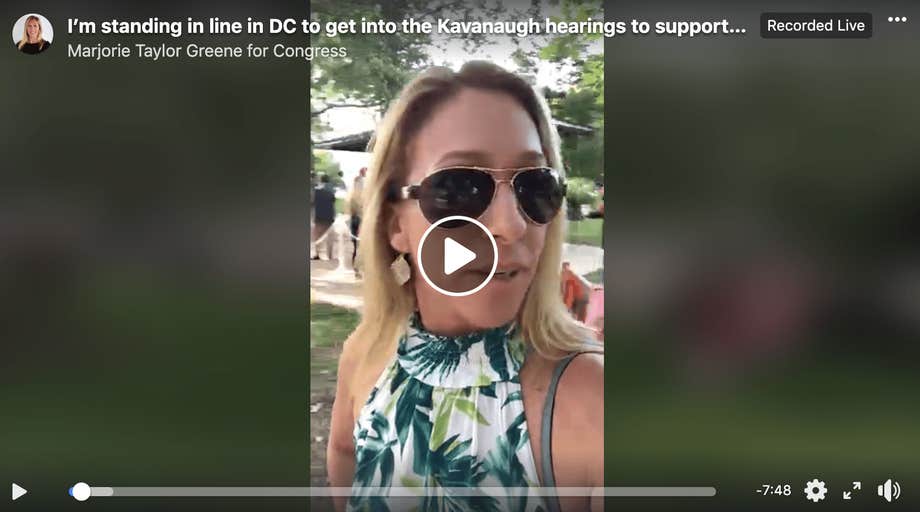 The deep state is a recurring theme in her posts, and she regularly frames her candidacy as offering Trump a much-needed ally in Congress. She criticizes Democratic members of the body in video rants, as well as during attempted confrontations in D.C.
In what she calls "epic snowflake melting," otherwise known as heckling, she has joined groups of conservatives in showing up at Democratic congress members' offices and demanding to speak with them. Others in her crew have included an InfoWars contributor and a member of the Proud Boys.
These ambush videos are some of her most highly viewed, including her live streamed delivery of a petition to impeach Speaker Nancy Pelosi's (D-Calif.) for treason, brought to her office. Later that same weekend, she stopped by Rep. Ilhan Omar's (D-Minn.) office, where she accused the Minnesota congresswoman of marrying her brother (a popular conservative conspiracy theory) and pushing Sharia Law. When one of Omar's staffers denied these allegations, Greene dismissed them.
"We know the truth," she responded.
At another point, she accused a Rep. Adam Schiff (D-Calif.) staffer of being racist for declining to shake hands with a Black member of her group, moving her camera to show the business cards of the congressman's team in hopes of finding his name for her viewers. After that failed, she turned her sights to Sen. Kamala Harris (D-Calif.).
"Let's go visit Kamala Harris and ask her if she's still smoking weed," she said.
"Epic snowflake melting" isn't just for members of Congress, though. In other videos, Greene pursues Parkland shooting survivor David Hogg, peppering him with questions.
"Why do you use kids? Why kids?" she asked the teenager about his gun control activism as he walked through the streets. After she lost him, she turned to the camera, theorizing he was there because of his "George Soros funding" and that the people he was walking with were his "handlers."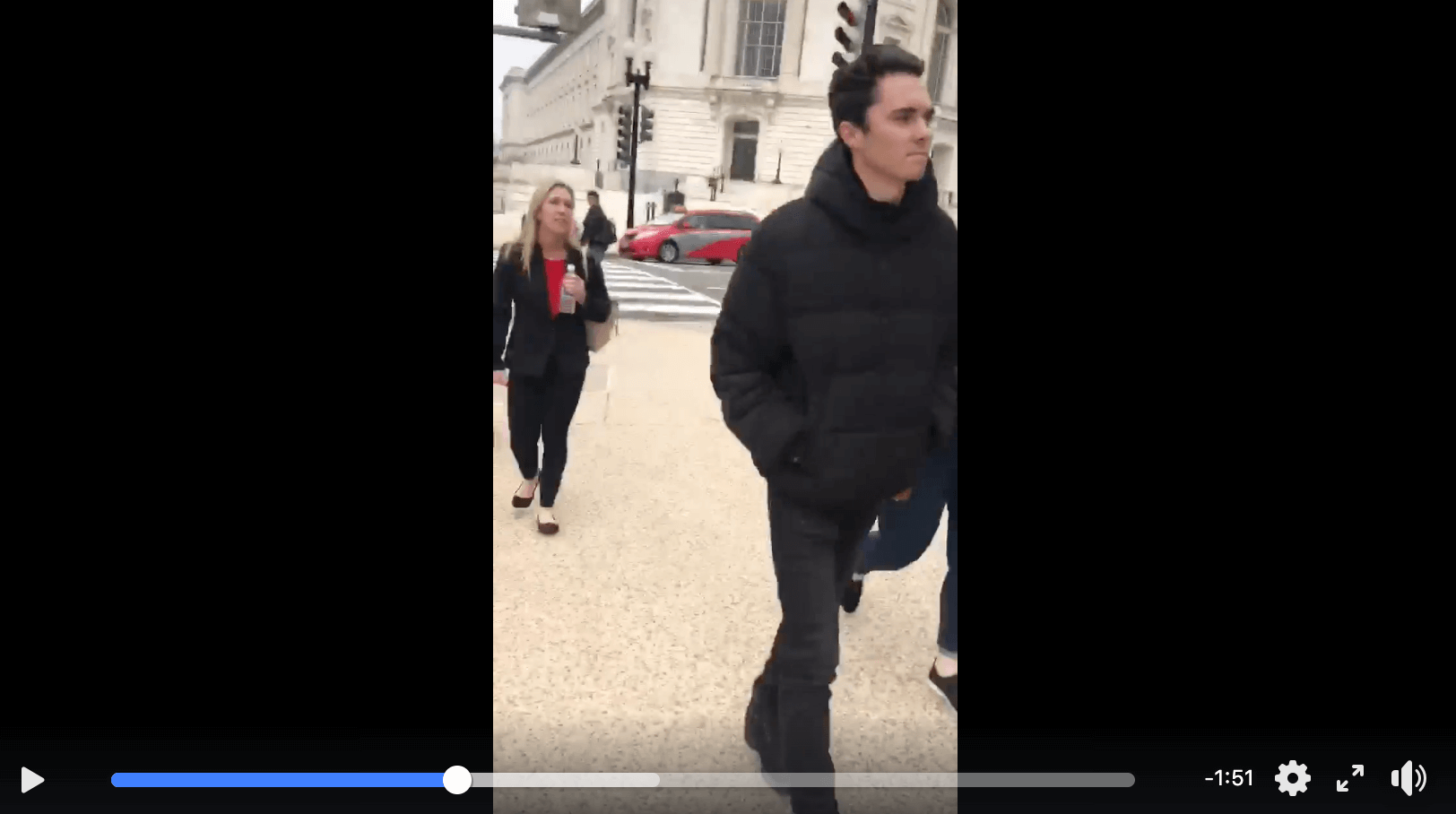 Greene has previously floated additional conspiracy theories about mass shootings.
In another deleted video found by the Atlantic Journal-Constitution, she questioned whether the Las Vegas shooting was actually a conspiracy cooked up by gun control advocates. Then, in a still-live 2018 Facebook post, she mentions "Q" and the idea of "military-grade intelligence developed weapons like Voice of God technology."
"Until the #1 issue of mental health is resolved, the BEST way to protect our children at school is to have armed guards at all entries!!!!!" she posted, linking to an article about a foiled campus attack. "Other questions, with Q's post tonight warning of false flags, was this incident a failed op? What about hearing voices? Mental illness? Demon possession? Or military-grade intelligence developed weapons like Voice of God technology?? We won't know, but I do believe all three of those exist."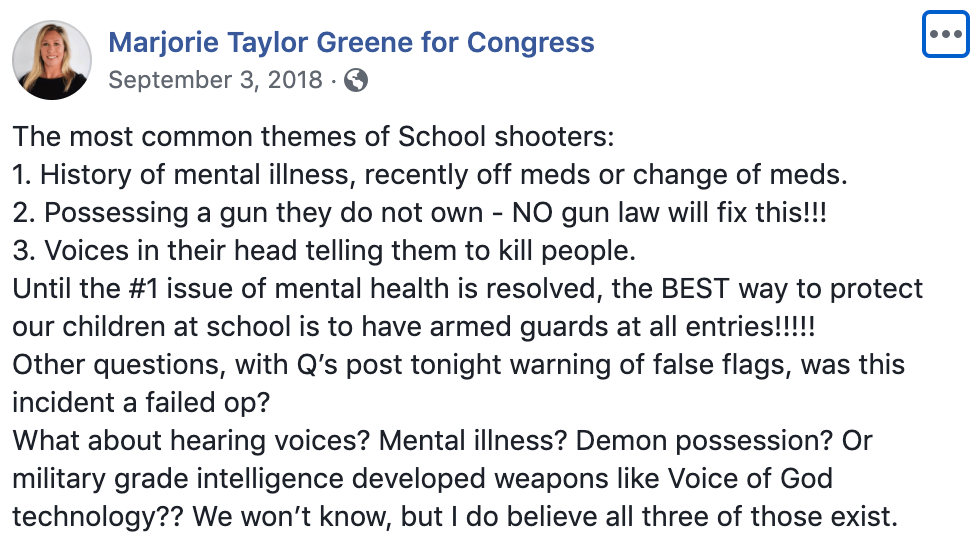 But it's a 2019 video that perhaps best sums up Greene's ethos. Back in her home state of Georgia, she turned her sights on a "drag queen story time" at her local library. She called the drag queen an "abomination" and said the event was "brainwashing" children and "violates" her children's rights (though her children are not there).
After the event, she spent over an hour lingering in front of the library.
"There's a bunch of like, militant looking lesbians that looks like they want to murder me, because they don't like me," she noted of the crowd leaving at one point. A few minutes later, she flipped her camera to show a woman in a hijab walking outside the library.
"See that, right there? Our library is full of that," she said.
When another woman leaving the event asks Greene not to film her children, Greene fires back that she doesn't like her "tone," and later points to a Facebook page and business she says belong to the woman, encouraging viewers to look her up.
The video caption now notes that she doxed the wrong person.
She later turned her thousands of viewers against one of the library employees, who had directed her to an email address to file her complaint. She identifies him, suggesting they start a hashtag to get him fired. More than 30,000 people have viewed this video, which has more than 3,000 comments, many from Greene herself.
So, on June 17, as multiple Republicans began distancing themselves from her campaign, it wasn't too surprising when Greene posted a statement on—you guessed it—Facebook.
"Every Republican, every Christian Conservative is going to be called a racist and a bigot by the Fake News Media, as have Steve Scalise and Liz Cheney," she said, noting two of the Republicans who had called her out. "I'm sorry my future colleagues are unable to stand up to the pressure and fight back."
READ MORE: