A new ad for President Donald Trump's re-election campaign uses a Nazi concentration camp symbol.
The ad, which Facebook's ad library states started running on June 17, uses a red, upside-down triangle and asks people to sign a petition labeling antifa a terrorist group. The ad is not currently active, but screenshots of it running on Facebook are circulating on social media, so it was used at some point, potentially for a short campaign.
The president and other conservatives have long sought to categorize anti-fascists, or antifa, as terrorists.
The use of the upside-down triangle is, apparently, new.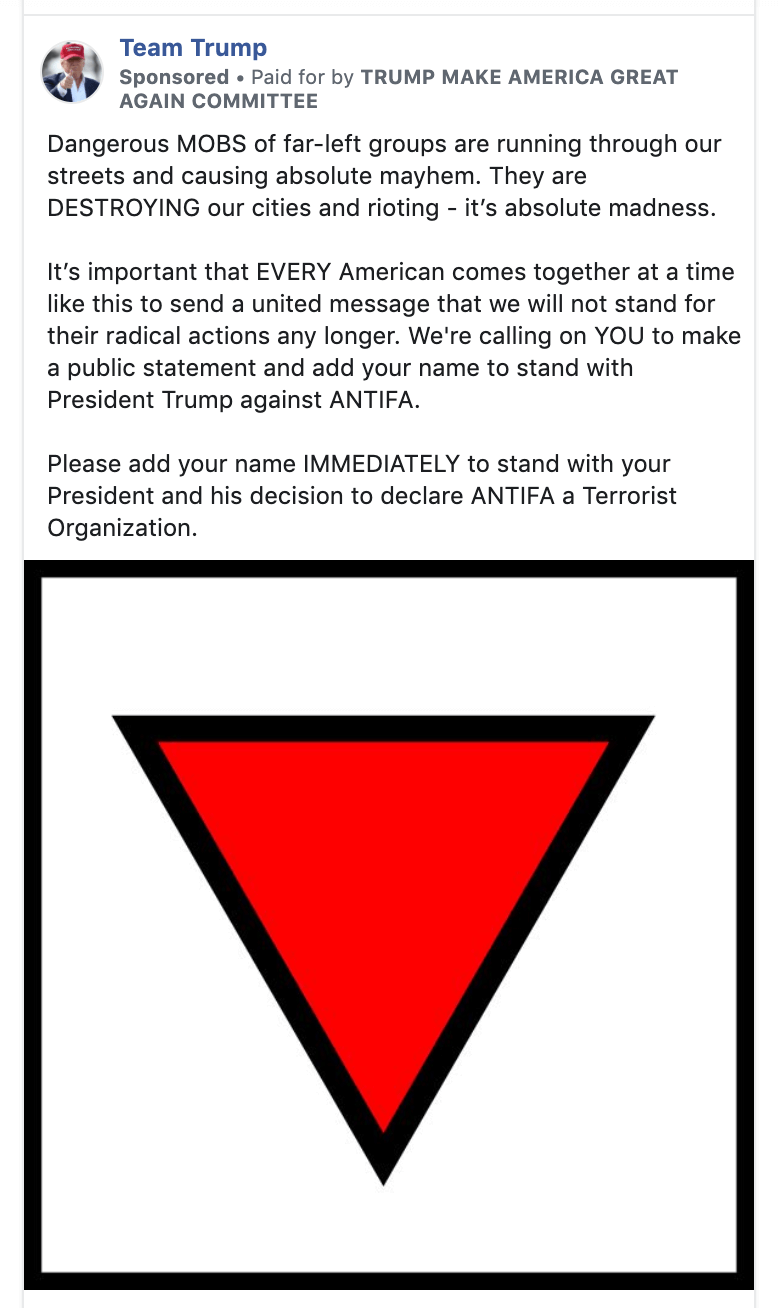 The Nazis used triangles to identify the reasons why concentration camp prisoners were there.
Upon seeing the ad, last night, advocacy group Bend the Arc: Jewish Action pointed out that the Nazis used precisely the same upside-down red triangle "to mark political prisoners and people who rescued Jews."
"Their masks are off," Bend the Arc tweeted.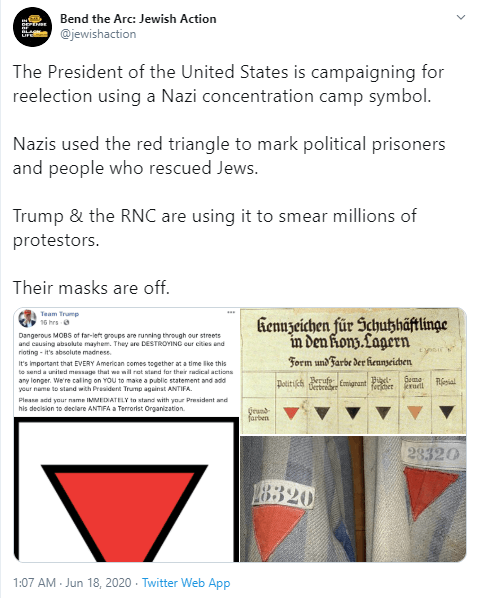 The ad claims, "Dangerous MOBS of far-left groups are running through our streets and causing absolute mayhem. They are DESTROYING our cities and rioting—it's absolute madness."
It then asks people to sign the petition supporting Trump's decision to label antifa a terrorist group.
The ad itself doesn't include any information on the use of the triangle, but in an ad denoting political opposition as a threat to public safety, the use is hard to miss.
Many have pointed out that antifa isn't a group so much as an ideology that opposes fascism. It is also true that far-right groups are responsible for far more crime and violence than anti-fascists.
That hasn't dissuaded the president and the Fox News crew from continuing to claim that antifa is a centralized organization of lawless individuals determined to destroy America.
Trump's petition that the ad links to begins with an all-caps screed asking people to "STAND WITH YOUR PRESIDENT!"
"The President wants to know who stood with him against the Radical MOB, ANTIFA, and supported his decision to declare them a Terrorist Organization," it reads.
In a comment to the Daily Dot, the Trump campaign claimed the antifa uses a red triangle as a symbol, while linking to user-generated poster and sticker shops that have no affiliation with any known antifa organization.
Time and again, when confronted with accusations that the campaign uses racist dog whistles and imagery, Trump has blamed the media for making something out of nothing.
Responses to Bend the Arc's revelation about the symbol also being used by Nazis in concentration camps were mixed. While many were appalled, others were unsurprised.
"They just keep pushing pushing pushing until the fascism and oppression is normalized," said @Kimstwitaddress. "At that point there is nobody left to fight for you."
Many feel that Trump has moved the Overton Window, or the range of what's acceptable in political discourse.
Even before Trump infamously declared that there were "fine people" on both sides of the deadly Unite the Right rally, he had been repeatedly accused of being racist and preying on racism in others to create support for his campaign.
Trump's presidency has also coincided with significant upticks in hate crimes against minorities.
A new website even documents a timeline of anti-Semitism from far-right politicians in the age of Trump.
The latest revelation about the campaign using a Nazi symbol will only provide further evidence to those who believe that the president is racist and a fascist.
Update 12:34pm CT, June 18: Following publication, a Facebook spokesperson informed the Daily Dot that the company had taken the ad down.
"We removed these posts and ads for violating our policy against organized hate," they said. "Our policy prohibits using a banned hate group's symbol to identify political prisoners without the context that condemns or discusses the symbol."
READ MORE: