Well, that was fast.
Yesterday, the Daily Dot reported that a Republican candidate for the U.S. Senate in Oregon who openly promotes QAnon had won the state's party primary. Following her win, that candidate, Jo Rae Perkins, put out a celebratory video in which she quoted the Q slogan, "Where we go one, we go all," while holding a sticker with the slogan's abbreviation, WWG1WGA.
"I stand with President Trump," Perkins said. "I stand with Q and the team. Thank you anons, thank you patriots, and together, we can save our republic."
Hours later, Perkins deleted the video. She also issued a statement via Twitter in which she denied following QAnon, a conspiracy theory that believes a global satanic pedophile cabal comprises a "deep state" that's trying to take down President Donald Trump.
In the same statement, Perkins likened believing in QAnon with "those on the left who read what Julian Assange or George Soros or Bill Gates writes or says."

Perkins wrote, "…I do not believe everything from Q/Anon and would never describe myself as a follower…."
She also denied that her slogan, for One Oregon, alludes to conspiracy theories or media bias and said that those haters in the press are just "threatened by what my win means."
People weren't convinced. "Like clockwork, liberal media reports true things that I'd strongly prefer they not mention because it makes it clear that I'm a lunatic," one person responded to her tweet.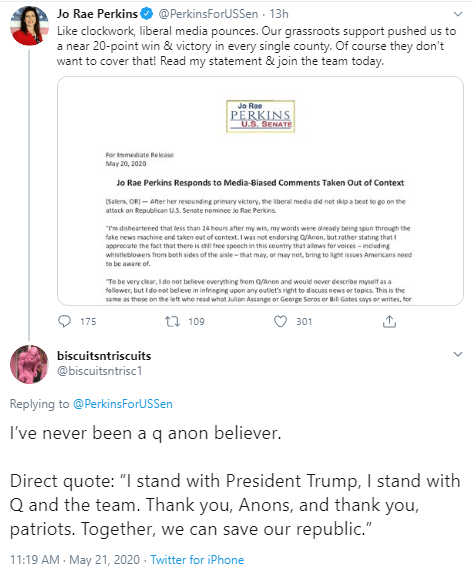 Although she now denies following Q, Perkins' Twitter remains littered with references to the conspiracy theory. In the tweets, she parrots beliefs popular with QAnon followers and links to YouTube videos and articles promoting it.
On Jan. 5, she tweeted, "this is to all who have decided to chide me for posting about #QAnon. first thank you for helping me learn more, gain more insight."
Interestingly, in one such tweet from Jan. 29, Perkins claims that she was "recruited," presumably by the Republican Party, to run for Senate. If true, this lends further credence to the assertion that QAnon has become increasingly embraced by mainstream Republicans.
Perkins also told Right Wing Watch that the Oregon Republican Party had never questioned her beliefs in Q.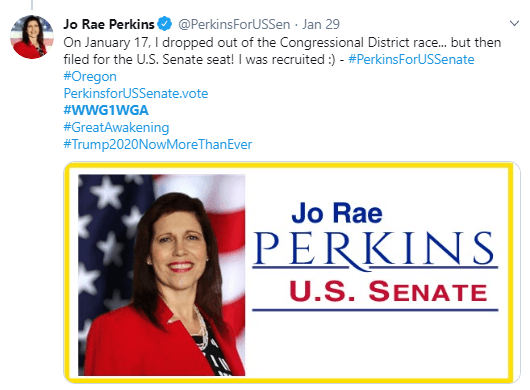 In another tweet from April 2, Perkins writes of John F. Kennedy's assassination, "May the truth of your murder be revealed very soon." QAnon followers have an odd fixation with the Kennedys, including a theory that John F. Kennedy Jr. is alive and living in Pittsburgh.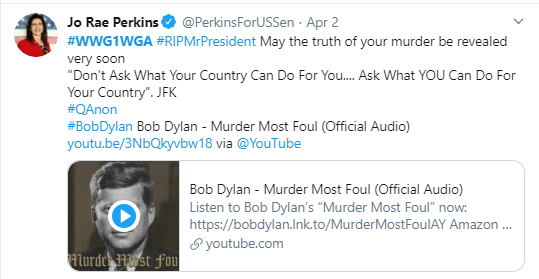 In dozens and dozens of tweets ranging from April 2018 to earlier this month, Perkins uses #WWG1WGA, often along with other popular QAnon hashtags like #GreatAwakening, #QAnon, #CyrusTrump (apparently likening Trump to King Cyrus, liberator of the Jewish people in the Hebrew Bible), and #TrustThePlan.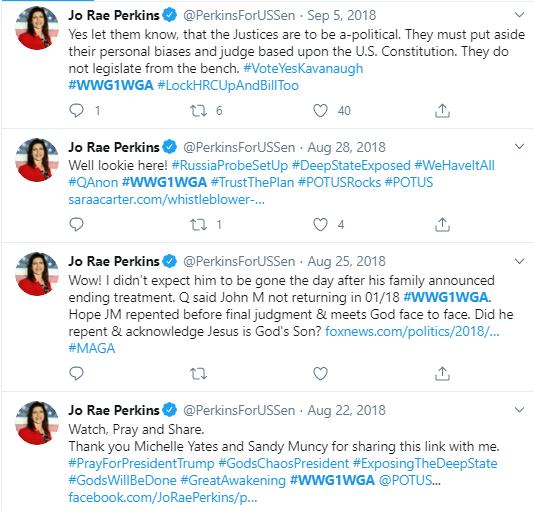 In January, Perkins told Right Wing Watch that she first encountered QAnon in November 2017, and that though she was initially skeptical, eventually became convinced "that there's more legitimacy than not" to the theory.
Perkins' opponent, Sen. Jeff Merkley (D-Ore.), has thus far not commented on her now-recanted affinity for QAnon.
READ MORE: