People flamed the CEO of CrossFit after he made a comment about George Floyd and the coronavirus on Twitter over the weekend.
CEO Greg Glassman replied "FLOYD-19" to a post from the Institute of Health Metrics and Evaluation, which was addressing the nationwide protests for Floyd, the unarmed Black man who was killed by a police officer who knelt on his neck for about nine minutes.
"Racism and discrimination are critical public health issues that demand an urgent response," the institute wrote on Twitter.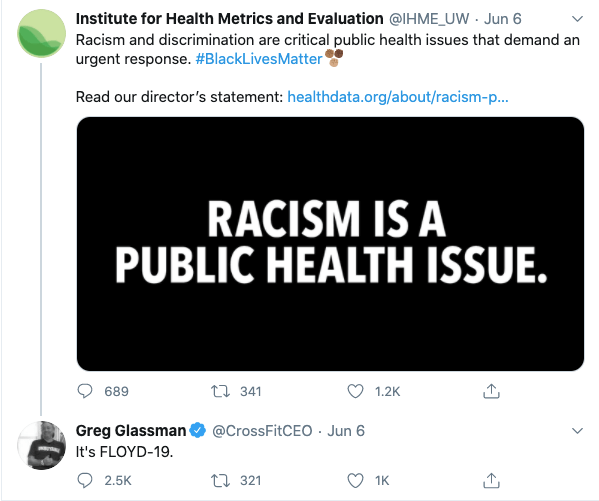 That's when Glassman wrote his "FLOYD-19" comment. His tweet received immediate backlash. Instead of apologizing and acknowledging wrongdoing, the CrossFit executive tweeted again in his defense.
"Your failed model quarantined us and now you're going to model a solution to racism? George Floyd's brutal murder sparked riots nationally," he wrote. "Quarantine alone is 'accompanied in every age and under all political regimes by an undercurrent of suspicion, distrust, and riots.'"
Twitter users called his tweets tone-deaf. One person said his comments let Black athletes know how "little you care about them."
Since Glassman's Twitter meltdown, Reebok and other companies have ended their partnership with the wildly popular fitness program.
After the companies pulled the plug on the partnerships, CrossFit's main Twitter page released a statement.
"I made a mistake by the words I chose yesterday," CrossFit wrote, saying it was from the CEO. "My heart is deeply saddened by the pain it has caused. It was a mistake, not racist but a mistake."
Many found the statement inadequate, saying it fell short of an apology for many reasons. Some Twitter users were upset that Glassman didn't address his statement on his personal account. In addition, they still picked up hints of defensiveness when he claims his tweets were "not racist but a mistake." Lastly, people pointed out that CrossFit only released an apology after its partnerships began to fizzle away.
READ MORE:
H/T The Daily Beast