WikiLeaks founder Julian Assange was arrested on Thursday in the U.K. when Ecuador abruptly withdrew his asylum, with the country's ambassador inviting law enforcement to rush in and seize him.
Soon after the arrest, London's Metropolitan Police Service revealed that not only had Assange been arrested for breach of bail, but also because of a Trump administration request for his extradition.
This was hardly news. The Justice Department had been investigating WikiLeaks and Assange since 2010, after the organization published thousands of classified files leaked by former military intelligence analyst and whistleblower Chelsea Manning.
However, while this might feel like the end of Assange's fight, it is in fact only the beginning. Even if the extradition bid is successful, it could be at least two years before Assange sees a U.S. courtroom.
Here's what you need to know about the charges and legal process.
Why was Assange arrested?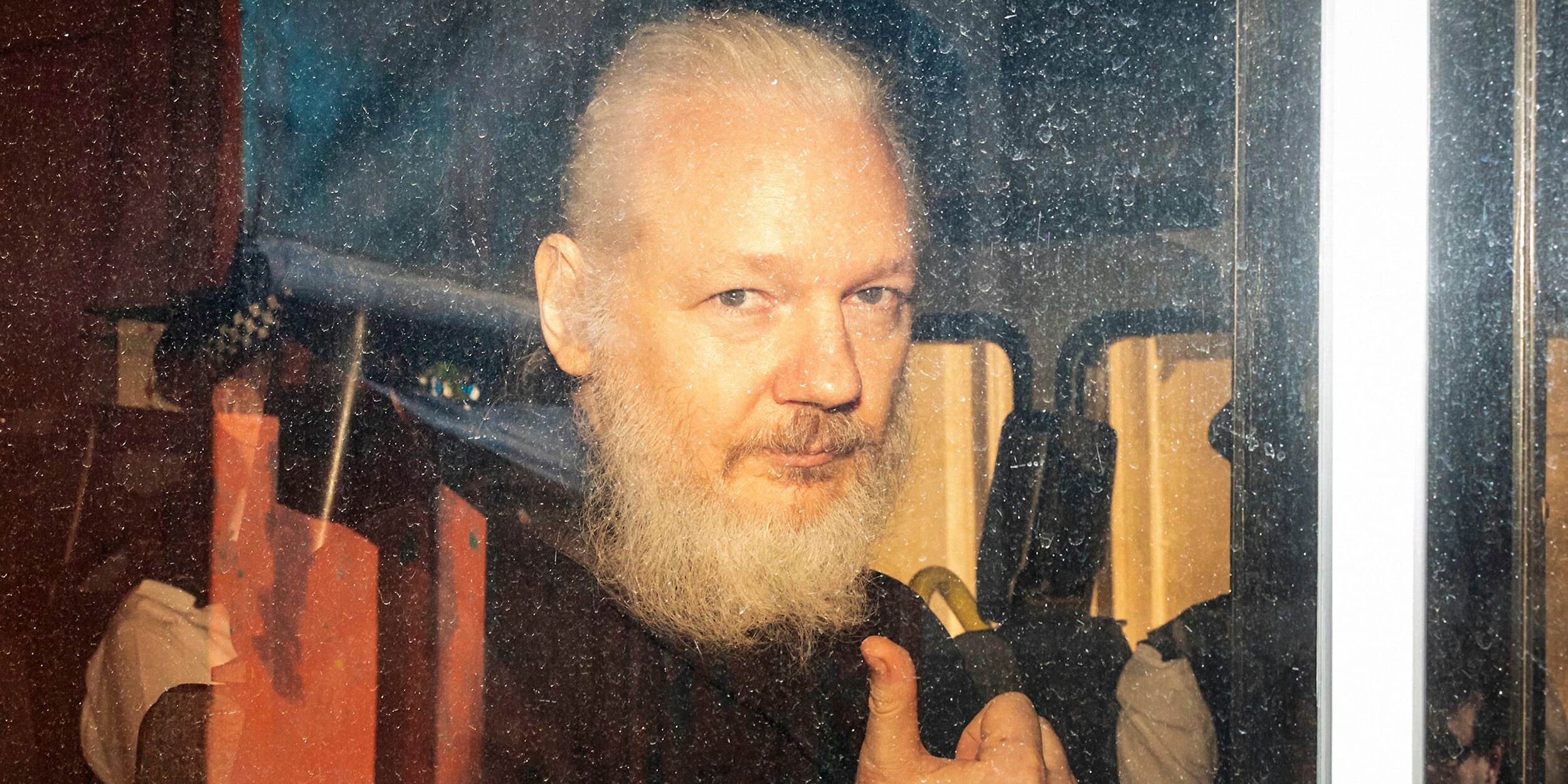 Assange took refuge at the embassy initially to avoid being extradited to Sweden in 2012. At the time, he faced an investigation related to allegations of sexual assault by two women.
The 47-year-old Australian always denied those allegations and said that he feared the investigation was a political ruse, that an extradition to Sweden would result in extradition to the U.S.
The Swedish investigation and extradition request were dropped in May 2017, but a British judge ruled last year that Assange would still face arrest by British authorities if he left the protection of the embassy over breaching his original bail conditions in fleeing there.
So, that became the first course of legal business for British law enforcement as soon as Assange was apprehended.
Assange appeared in court on Thursday afternoon in London and, after denying the charge of skipping bail, was found guilty of it straight away by the district judge. The offense usually only results in a sentence of about 6 weeks in prison but since the judge deferred sentencing to the Crown Court, Assange's sentence could be as long as 12 months.
What about the U.S. extradition request?
As Assange feared, upon his arrest an extradition request by the U.S. awaited him. British law enforcement re-arrested him at the station on Thursday for that.
The extradition request pertains to a Justice Department indictment that was unsealed in the hours after Assange's arrest. The WikiLeaks founder is wanted "in connection with a federal charge of conspiracy to commit computer intrusion for agreeing to break a password to a classified U.S. government computer."
The charge stems back to Assange's engagement with Manning—when she was his source. Prosecutors argue that in March 2010, after Manning had already delivered the classified records, Assange offered to help Manning crack a password. The indictment suggests that Assange was not successful.
This key allegation is based on chat logs between the pair as they discuss the transmission of classified records to WikiLeaks. Those chats, the indictment notes, also show Assange "actively encouraging Manning to provide more information."
If extradited and convicted, Assange could face a maximum sentence of five years in prison.
This is, of course, if Assange is not subject to further still sealed indictments if or when he arrives on U.S. soil. Jumping Assange with a superseding indictment, however, would be a violation of the doctrine of specialty, an extradition restriction which means a person can only face trial for offenses presented to justify that extradition.
What happens next?
Assange will appear at Westminster magistrates court on May 2 from prison via videolink for a preliminary hearing in relation to the extradition request.
Extradition proceedings between the U.K. and U.S. are governed by the Extradition Act of 2003, which contain statutory bars for the dismissal of an extradition request.
The District Judge will weigh up whether any of these are relevant to the case. These include an assessment of Assange's health condition, any human rights concerns, and whether there is political motivation behind the U.S. request.
The WikiLeaks founder and his legal team will have the opportunity to make a case against extradition.
Even if the decision goes against him, Assange will be able to move through an exhaustive appeals process, as he did before his time in the embassy in legally resisting extradition to Sweden. His case will pass upward through the courts to the U.K.'s Supreme Court.
If a judge approves the extradition they will refer the case for finalization to the British Secretary of State, who can further choose to reject the extradition. The current Secretary of State, Sajid Javid, alongside Britain's prime minister, welcomed Assange's arrest yesterday.
Lucky for Assange, British law graces him the opportunity to even appeal a decision by the Secretary of State to approve his extradition. He may even, then, appeal to the European Court of Human Rights.
By way of illustration, Assange's previous appeals process in resisting the Swedish extradition request relating to the investigation into allegations of sexual misconduct lasted more than two years.
What about the Swedish investigation?
If the Swedish case is reopened this might complicate or delay the process further because it would result in a competing extradition request from Sweden.
Lawyers representing one of Assange's alleged victims in the sexual assault allegations contacted Sweden's Deputy Chief Prosecutor Eva-Marie Persson on Thursday evening to request that the case be reopened and investigation resumed.
Which extradition request would take precedence would be a matter, then, for the British authorities. It's not clear which way such a decision might go, but the leadership of Britain's opposition Labour Party have already expressed their preference that the U.K. work with Sweden to ensure Assange goes to trial there for the sexual assault allegations while loudly rejecting the idea that he face trial for WikiLeaks-related charges in the U.S.
If Assange was extradited to Sweden, however, the U.S. would be free to submit a request to Swedish authorities.
All considered, it could be a long time before Assange is even close to appearing in a U.S. court.