More than three weeks after the start of the Ice Bucket Challenge, the phenomenally successful viral practice in which participants dump ice water on themselves, put it on YouTube, and give money to fund ALS research, activists are finally altering the process to draw attention to their own causes.
In California, where a persistent drought may lead to catastrophe if it doesn't let up in the next two years, some have chosen to forgo water for a more plentiful resource, combining donations to the ALSA with raising awareness of their thirstiness.
Their counterparts in India want to highlight a different problem: local hunger. So Hyderabad's Manju Latha Kalanidhi created the Rice Bucket Challenge, which involves no dumping of anything on anyone's head. Instead, you're supposed to fill a bucket of rice, and give it to anybody who needs it, and take a photo of some step of the process. Some photos have attracted critics, however, who say some participants seem to be using the challenge as an opportunity for a photo op.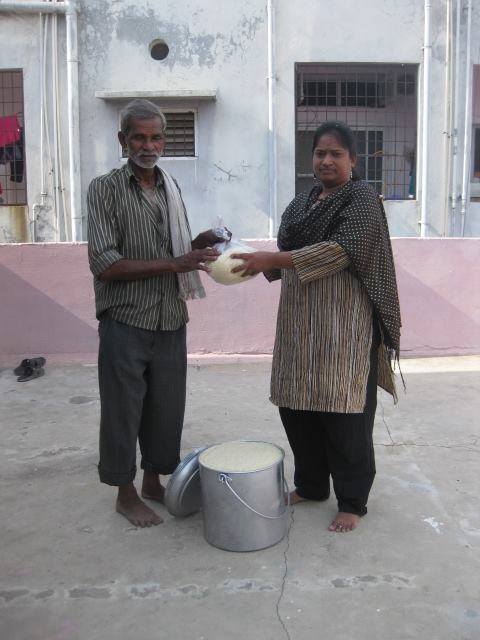 Photo via Vijeye Devuni/Facebook
Likely the most popular variant, the rubble bucket challenge, calls for awareness of areas of the Gaza strip that have recently been reduced to ruins by Israeli missile strikes.
That one's taken off as a breakoff meme of its own, with versions like the dust bucket challenge, remains bucket challenge, and the broader sand bucket challenge.
Finally, one rambunctious Bosnian seems to be the creator of an arresting means of calling out local politicians: Feces.
In a short video posted to Facebook, a shirtless Jelana Jovanovic sits down. Jovanovic, an activist with the Pirate Party International, Revolution News, and Anonymous Serbia and a Bosnian speaker, told the Daily Dot he's naming a host of politicians. He starts with three, then declares that number too few, and names more, including Asim Kamber as "one big shit."
Finally, he pours down a bucket of brown. Whether it's really poop is anyone's guess. Either way, he got that point across.
Screengrab via mostafa abd elmoneim. Remix by Fernando Alfonso III