The GoPro has become the gold standard for filming amateur action stunts—snowboarding, skydiving, surfing, not to mention the goings-on inside of a dishwasher. But the technology has one significant drawback: It's pretty much impossible to film yourself. And that's a big deal, because we are nothing if not selfie-obsessed. So a new Kickstarter project that promises to merge the GoPro with tech's fixation du jour—drones—is pretty much guaranteed a standing ovation before it even launches.
The Hexo+, so named for the six propellers that help hold the GoPro aloft, is designed to fly autonomously above the user, no piloting required.
The result? "Stupidly good-looking aerial shots," as its Kickstarter puts it.
Pro snowboarder Xavier de Le Rue, who is leading the project along with a team of videographers and fellow pro athletes, wrote that the Hexo+ was developed as "a solution [to] make aerial filming possible in the most remote places: on mountains, in the snow, and in all sorts of unpredictable situations that were quite a pain to deal with when trying to sync a drone pilot, a cameraman, and a rider."
The Kickstarter claims the two-pound drone is fully autonomous—after a few perfunctory taps on a smartphone, that is. The drone communicates with the user's iOS or Android phone through a micro air vehicle communication protocol (or MAVLink); an intuitive smartphone app lets the user choose the distance, height, and angle from which he or she wants to be filmed. Once the coordinates are set, the drone assumes its position and waits for the user to take off. Using the smartphone's GPS coordinates, as well as predictive algorithms, the drone moves with the user, sticking to the preset coordinates.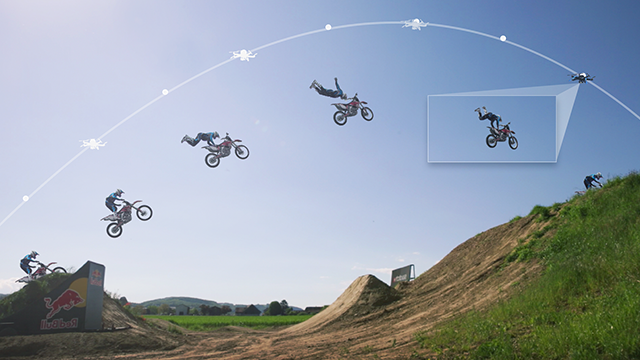 The prototype has a top speed of about 45 mph and a flight time of 15 minutes; it can maintain a shooting distance of 164 feet from the user.  
Kickstarter backers can buy the Hexo+ for $499 and supply their own GoPro, or pay $699 for the full kit. Really intrepid DIY-ers can back the project for $299 to receive the 3D files and components list, and print their own.
As of Tuesday night, de Le Rue had amassed more than $500,000 in donations, breezing past the project's initial $50,000 goal with the better part of a month left to go. Having reached two of its stretch goals already, de Le Rue's team of developers and dedicated tester-outers plan to add a live video feed, as well as basic film editing features, to the smartphone app.
Rewards are planned to ship in May 2015, but we all know better than to put complete faith in Kickstarter delivery dates.
Screengrab via Kickstarter