Facebook is trying to cash in on the mobile payments sphere, according to new screenshots that show a payment section in the company's messenger app.
Stanford University student Andrew Aude used a jailbroken iPhone and a program called Cycrypt to enable dormant code in Facebook Messenger, and the result is the screenshot you seen below, as shared with TechCrunch.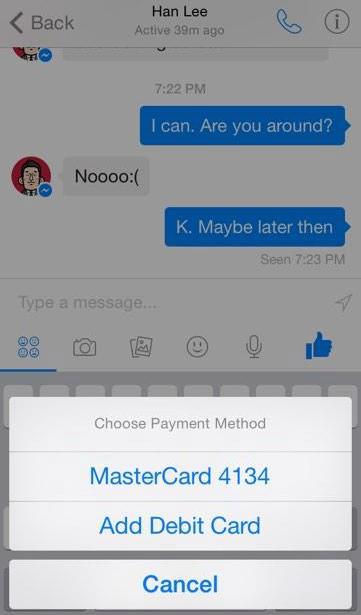 The code suggests that the app only supports debit cards right now. According to Aude, "The mechanism it uses is to debit one account, and then use some magical means to [look up] the bank account number of the recipient and ACH [Automated Clearing House] deposit it, identical to Square Cash."
Facebook is far from the only company to begin exploring mobile payments in recent years. Since Google Wallet launched in September 2011, many companies have developed their own mobile-payment software in an attempt to keep users on their platforms for payment transactions. Apple's iOS 8 introduced Apple Pay, which is causing a stir at online payment giant Paypal even before it launches.
Although Apple Pay benefits from Touch ID support in the two most recent generations of iPhones, it is Facebook that is best positioned to take advantage of another crucial aspect of the mobile payment game: social. So many people already use Facebook that the addition of a mobile payment feature would kneecap the business model of existing social payment services like Venmo.
Venmo and services like it require users to sign up for their services and build entirely new social networks around the payment process. Venmo in particular offers some social payment features that Facebook seems unlikely to incorporate, including its central draw, the option to make limited information about friend-to-friend payments part of a public timeline.
Yet Facebook's biggest draw when it adds new features that other services already offer is the convenience of accessing those features inside a service that one already uses. The more Facebook can consolidate the features of startups like Venmo, the better positioned it will be to build a walled garden of the sort that Google has for years strove to construct.
Facebook is even planning to one-up Venmo with group payments. In the code for the payment system, Facebook's engineers advise, "In the short term, we will only support single payment attachment. Multiple payment attachments will be supported in the future."
TechCrunch notes that Facebook CEO Mark Zuckerberg has been cautious about his company's plans to implement a mobile payment system. "There's so much groundwork for us to do," he told investors on an earnings call in July. "We're going to take the time to do this in the way that is going to be right over multiple years."
Head over to TechCrunch to see more screenshots and a video of the hidden payments feature.
Photo via mkhmarketing/Flickr (CC BY 2.0)