Built layer-by-layer with a 3D printer, a mid-century building unveiled at SXSW shows how new technology can be used to provide shelter to millions of people in developing nations.
Austin, Texas-based construction technology startup ICON on Monday showed off the first permitted 3D-printed home in the United States. The 350-square-foot building, constructed in less than 48 hours, will become a permanent fixture in the Texas capital and serve as the company's office. That way, employees can encounter any unforeseen challenges first-hand and make adjustments before rolling out a production model.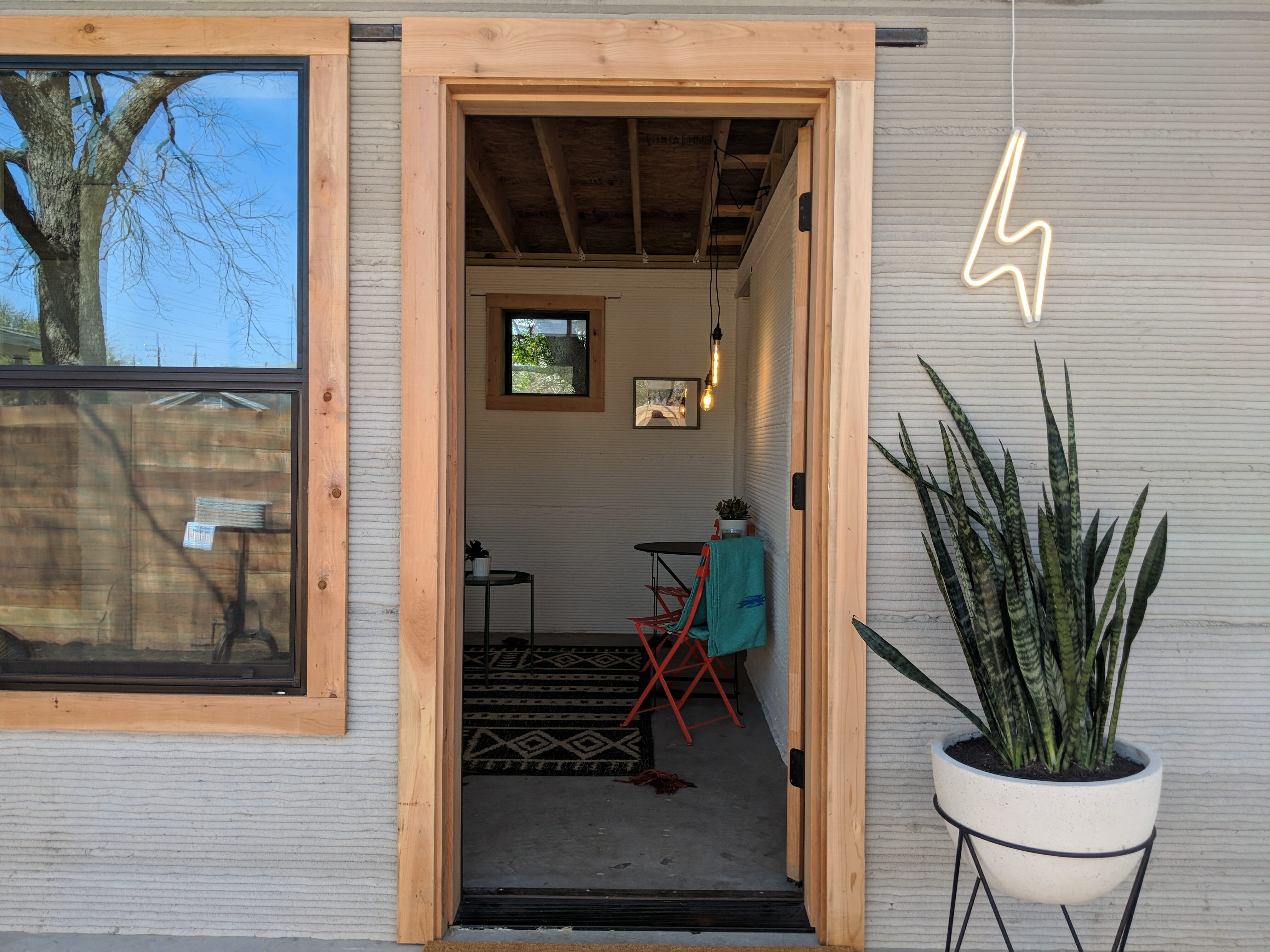 Once all the bugs are ironed out, ICON, in partnership with non-profit New Story, will build a 100-home community in El Salvador next year. Each single-story 600-to-800-square-foot building will take just 24 hours to construct. That short turn around, and because so few workers are needed, is expected to bring the cost of each building to below $4,000. The construction method also creates minimal waste and is portable enough to operate under unpredictable constraints, like poor weather or limited power.
"We just think homes are not obtainable and affordable and they certainly aren't sustainable," Evan Loomis, co-founder of ICON, told the Daily Dot. "So we thought that the convergence of robotics, material science, and software would have a novel way for people to afford a basic human need: shelter."
The proof-of-concept shown at SXSW sits in the backyard of a quiet neighborhood in Austin's east side. I took a brief tour of the building and came away impressed. The cold, hard walls felt sturdy and the room sizes are adequate, more so than the tiny homes millennials popularized over the past few years. I'm no designer, but I find the home to have good curb appeal with its modern Southwestern aesthetic.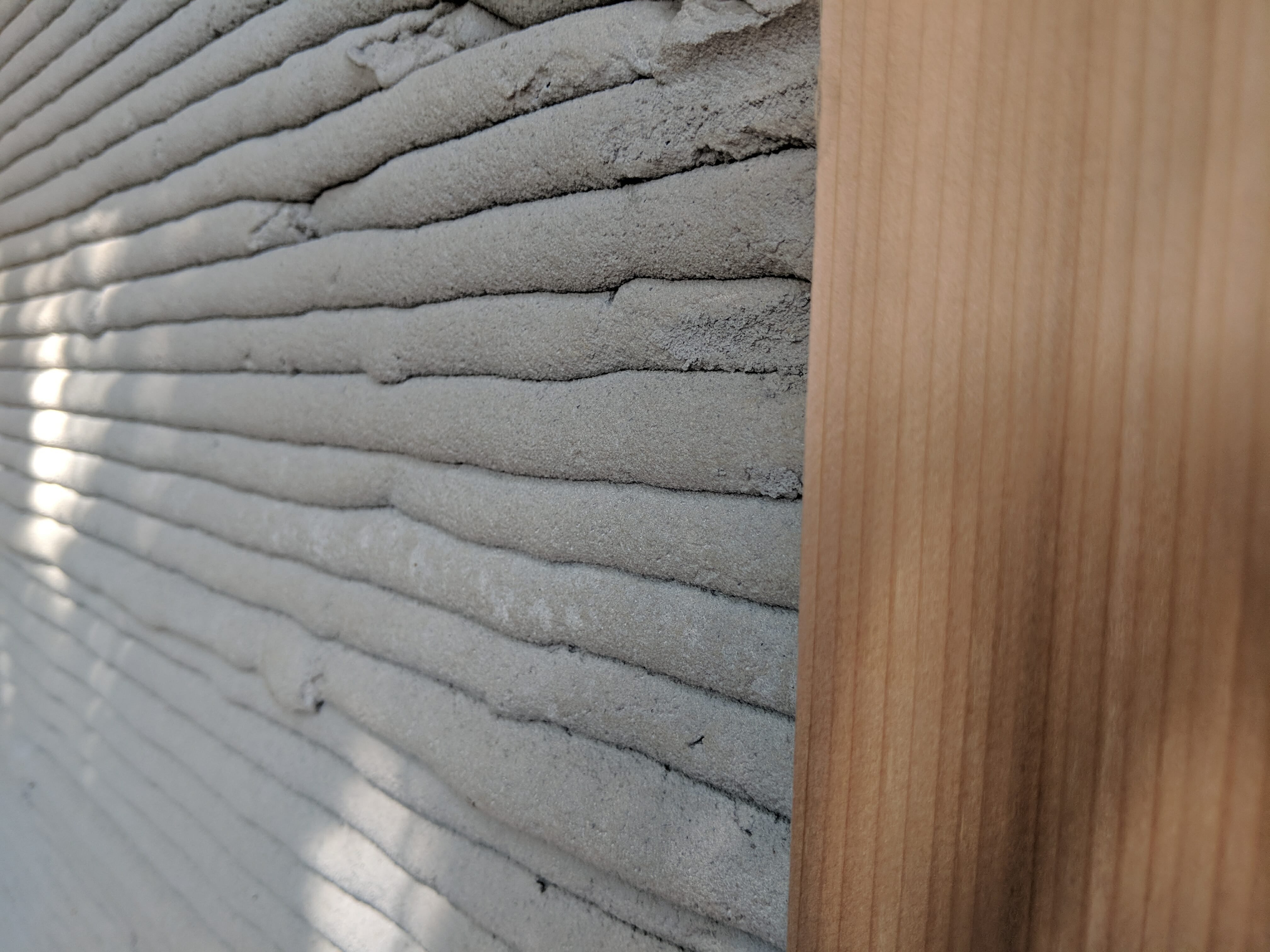 It's also durable. In fact, the special concrete blend used is three times stronger than homes built from traditional concrete, Loomis claims.
"It's a better home in every respect," Loomis said. "It's safer. It's made better. It has a continuous thermal envelope for heating and cooling. It's not just novel and fun to look at, it's fundamentally a better way to build."
Andrew Logan at Logan Architecture, the head designer for the project, tells me the 3D printer opens up design possibilities beyond what traditional materials allow.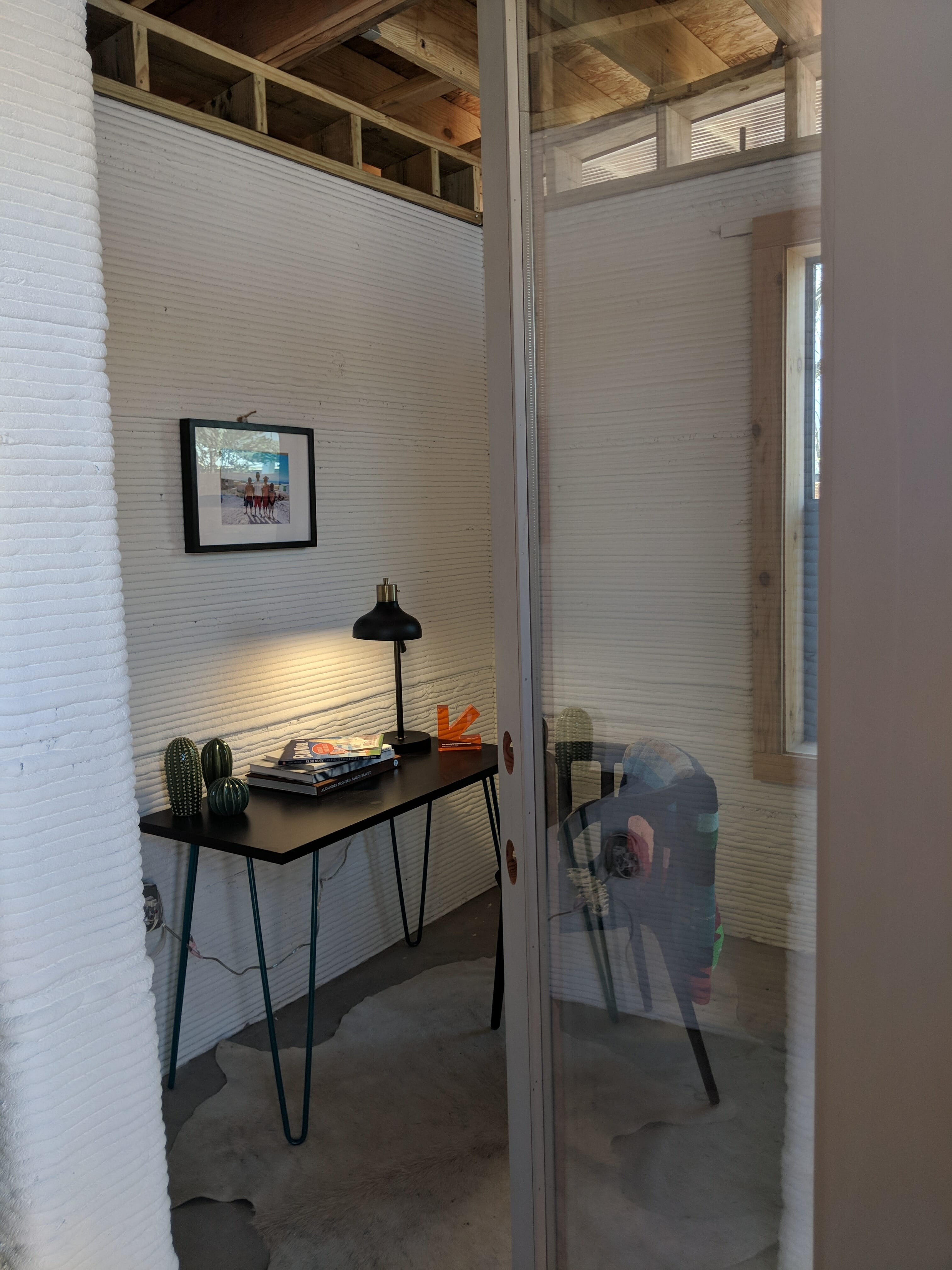 "When you're talking about standard methods of construction, the guys in the field have a really hard time building that [unique] geometry," Logan said. "It's difficult getting it all lined up properly. But if you have a machine doing it, it's going straight from the computer to the field. You have infinite design ability to get crazy with your angles and curves and forms."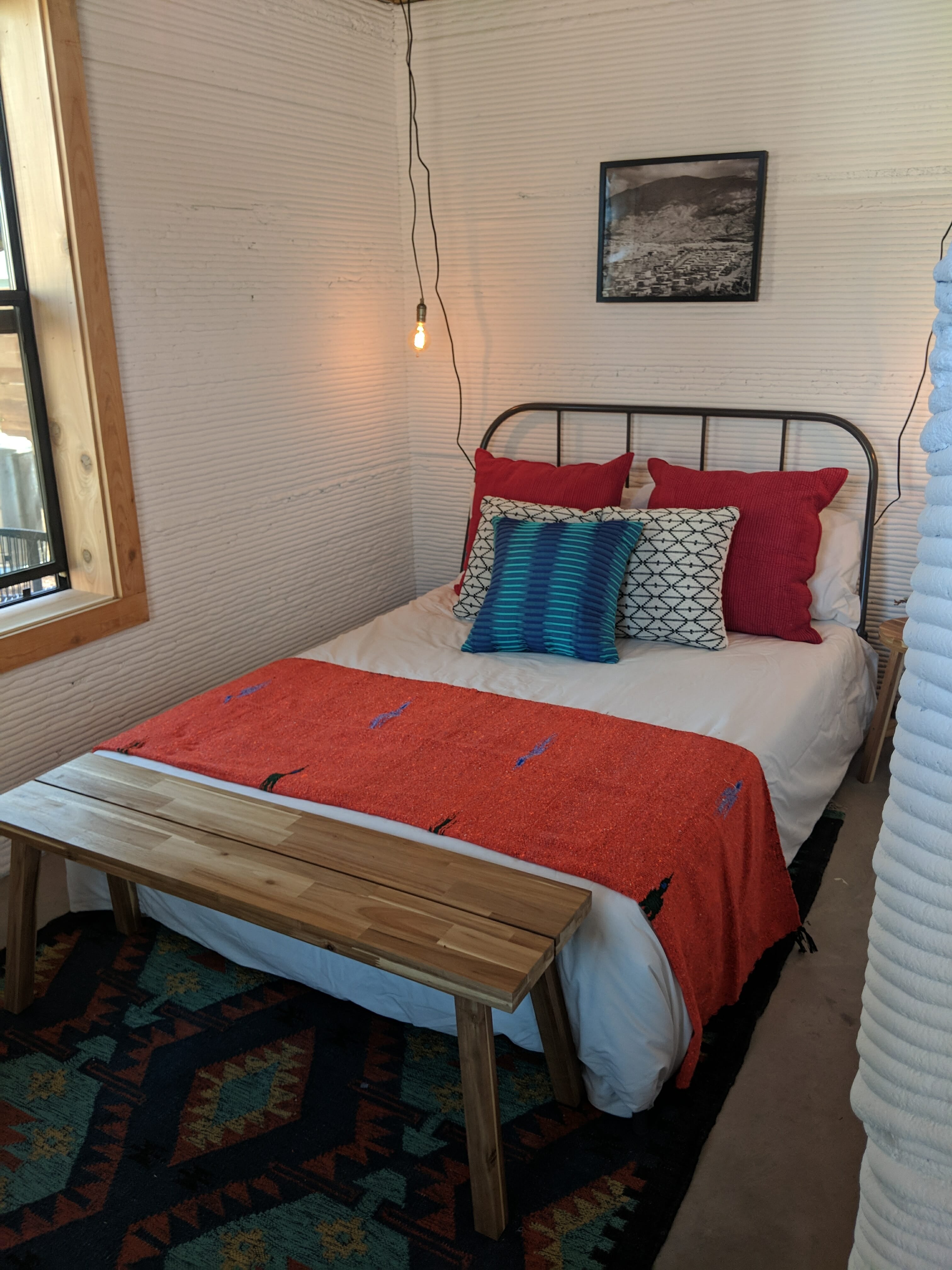 The building is a lot like a regular house. It has a living room, office space, full bathroom, and bedroom. Loomis said there are no limits to what features you can add, like HVAC, plumbing, and electricity.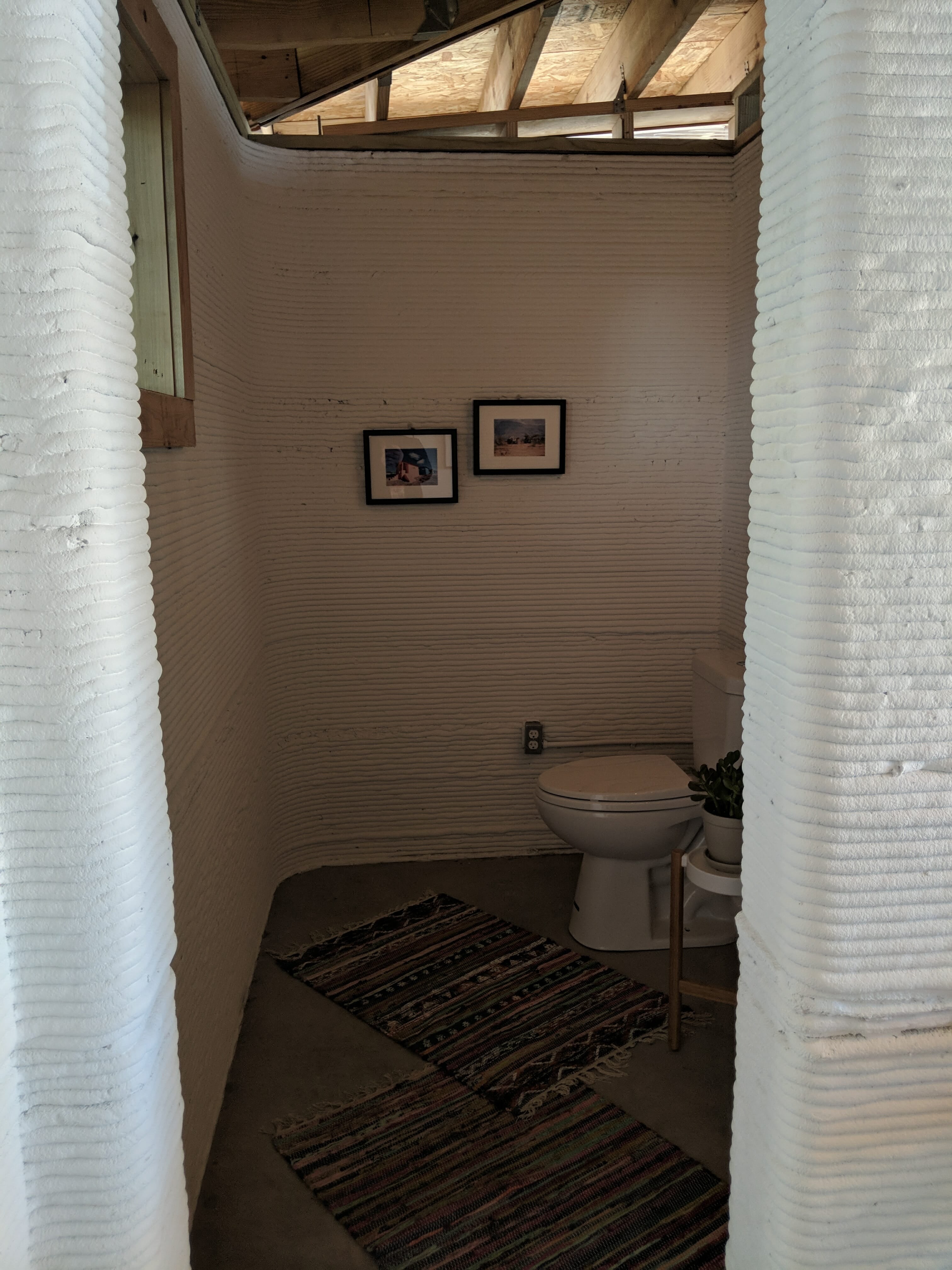 Unfortunately, it was a perfect 70-something degree day in Austin so I wasn't able to test out temperature control or its ability to keep out precipitation. But what was clear upon closer inspection is that the 3D-printer, in its current form, is far from perfect. Some misaligned sections and jagged edges formed when the machine's nozzle went off track and damaged an otherwise organic design. Of course, this is all part of the learning process for ICON.
The promotional video below shows interesting clips of the building during construction. You can see how the lightweight aluminum 3D-printing machine squirts lines of concrete out like a professional baker working with icing.
Sitting idly in the front year of the home was the massive 3D-printer, aka Vulcan. Once the concrete is added to the funnel, the rig automatically starts building using blueprints it reads from a CAD program. Loomis told me the trial home took longer to build because construction was constantly stoppedto look for imperfections. Once it's been refined, a new, larger rig will turn homes around in less than a day.
ICON isn't the only company building 3D-printed homes. Last year, San Francisco startup Apis Cor unveiled the futuristic yellow house it built in 24 hours. Similar homes are being built around the world but most companies working in this space don't have a defined path to helping those in developing countries.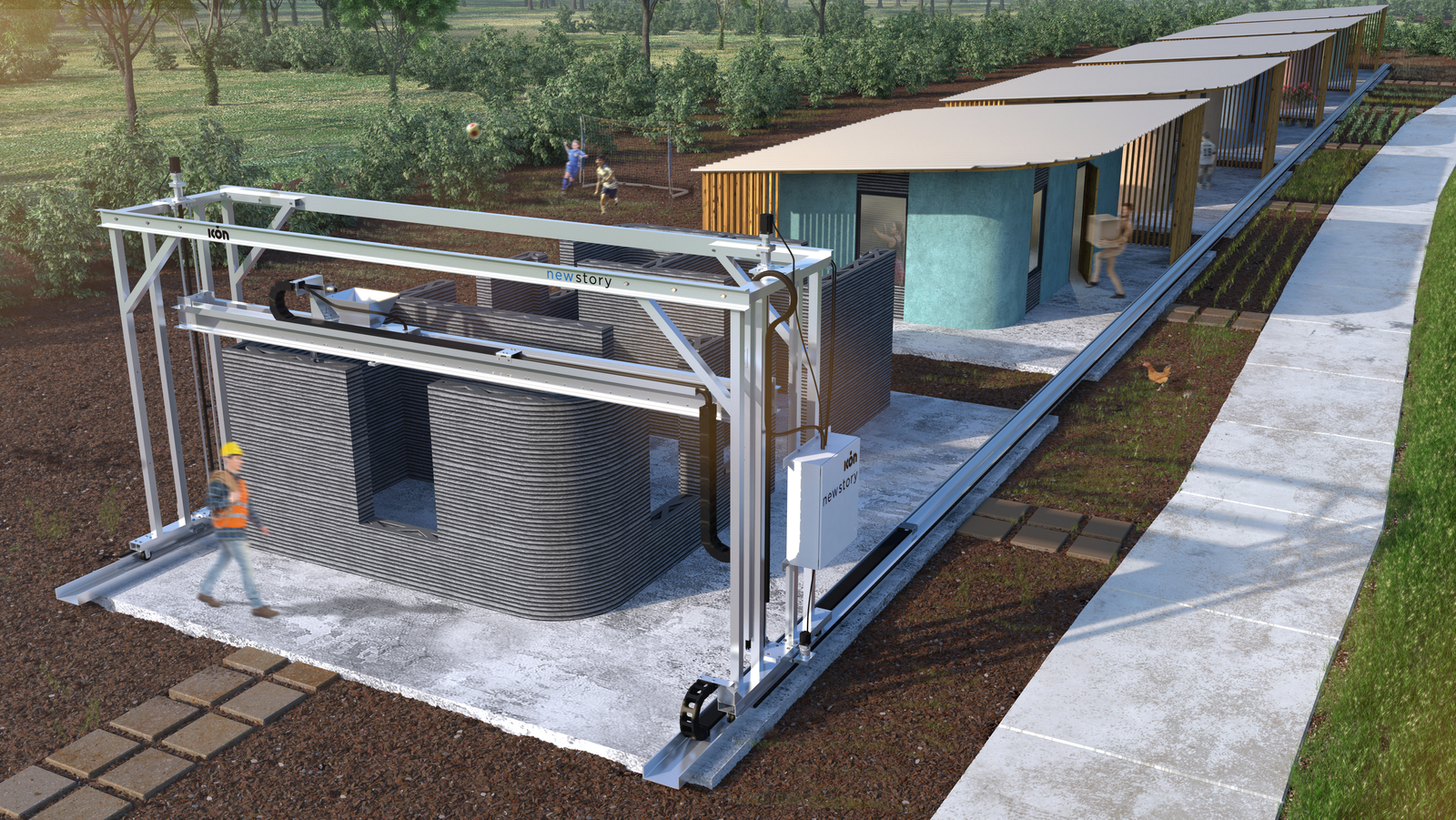 That's where ICON's partner, New Story, comes in. The non-profit organization has built more than 1,300 homes around the world using crowdfunded donations. New Story worked with El Salvador in the past and has the expertise to determine what type of building is best for certain communities.
The next steps for ICON and New Story are to continue improving the 3D printer and work with local governments to secure permits for building homes in communities in need. Loomis says ICON wants to build homes in low-income parts of the U.S. and may even venture into space. So, if Elon Musk can figure out how to get us to Mars, he already has a housing development contractor to help him colonize the planet.