The title of Tig Notaro's first Netflix special could have a few different meanings, but that's probably by design. Notaro's comedy has always leaned on wordplay and language. Happy to Be Here could be referencing the traditional standup greeting, or it could be applied more broadly to existence.

Filmed in Houston and executive-produced by Ellen DeGeneres, Happy to Be Here is Notaro's first standup special since 2015's Boyish Girl Interrupted. She again plays with words and meaning, admitting early in the set that she's mistaken for a man once a week, but she now has an equalizing retort. She recalls an interaction with a stranger at an airport who said, "Hey Tig, what's up?" and kept walking and how it shook her. A bit about talking to her cat goes on a thrilling linguistic journey and abruptly turns a corner when her wife, fellow comedian and actor Stephanie Allynne, warns her not to accidentally hang the cat while playing with it. These situations might seem unremarkable, but Notaro finds the glimmer of absurdity within each. 
Sometimes Notaro's jokes lack punchlines, but it's not because she doesn't know how to structure a joke; it's more about playing with the audience's expectations. Notaro's jokes aren't one-liners, they're investments. Notaro and Allynne are now the parents of twin boys, and the trial and error of parenthood is a contrast with fleeting moments of awe and humor. Notaro turns one of her son's first sentences into an anecdote about coming out and recounts how one of his first words took on a double meaning when he looked down Allynne's shirt.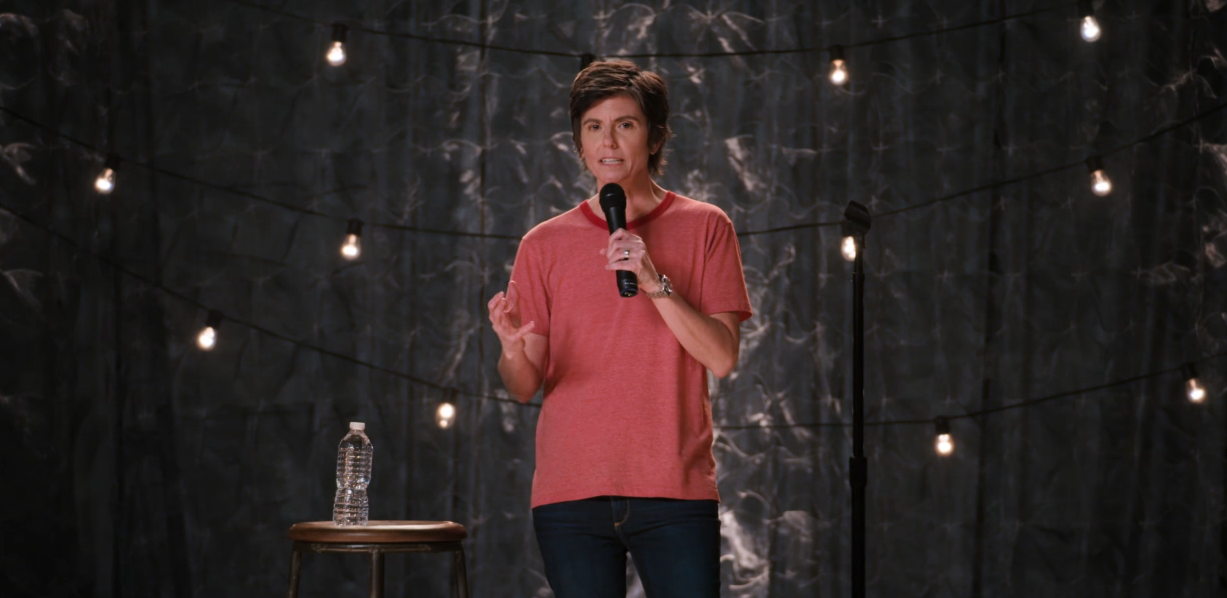 Happy to Be Here could have more than a double meaning. In 2012, Notaro got onstage at the Largo and told the audience she had cancer. Louis C.K. put that set on his website and Notaro's profile ascended, but she's also had to untangle herself from that connection after C.K., an executive producer on her Amazon series One Mississippi, admitted to multiple allegations of sexual misconduct in November. In fact, Notaro brought up the then-rumors months before C.K. finally admitted to it and distanced herself from the comedian. One Mississippi was canceled earlier this year, but Notaro will be spending more time with Netflix in First Ladies, an original movie starring Jennifer Aniston based on a script from Notaro and Allynne.
And that is good news. One Mississippi tackled important issues like harassment, sexuality, and trauma. First Ladies will portray the first woman president who is also gay. Happy to Be Here tells us more important stories and finds Notaro blissfully inhabiting domestic life, but it also highlights just how adept she is at anticipation and playing with expectations, especially the set's final bit. She ramps up an alleged introduction of the Indigo Girls to the point of absurdity, trying out several different deliveries. It puts you in the moment with her, and maybe Happy to Be Here means being in the moment, too. 
Still not sure what to watch on Netflix? Here are our guides for the absolute best movies on Netflix, must-see Netflix original series and movies, and the comedy specials guaranteed to make you laugh.