Just because something sounds like a TV show doesn't mean it should be one. In fact, if something sounds like a TV show we've seen dozens of time before, it might be best to go back to the drawing board.
Huge in France

RELEASE DATE:
4/12/19
CREATORS:
Gad Elmaleh, Andrew Mogel, Jarrad Paul
STREAMING:
Netflix
A famous French comedian aims to restart his family and professional life in America only to find out that fame doesn't necessarily translate across international borders.
Stop us if you've heard this one before: a narcissistic middle-aged comedian comes to a metaphysical fork in the road. His career is on the skids. The booze and the women don't make him happy anymore. The family he has alienated is moving to finally push him out of their lives for good. But, damn it, he just can't stop being his dickish, egotistical self.
You might think I'm talking, more or less, about Flaked, Louie, Californication, Curb Your Enthusiasm, Crashing, Maron, Hello Ladies, Extras, or Master of None. But no, we are talking about the new Netflix comedy starring Gad Elmaleh, Huge in France. Elmaleh plays a version of himself making the transition from a giant of the French comedy scene to complete unknown of the American comedy scene. He hopes, as so many aging protagonists have before him, that a fresh start on life can help him become closer with his family and set the stage for the rest of his career.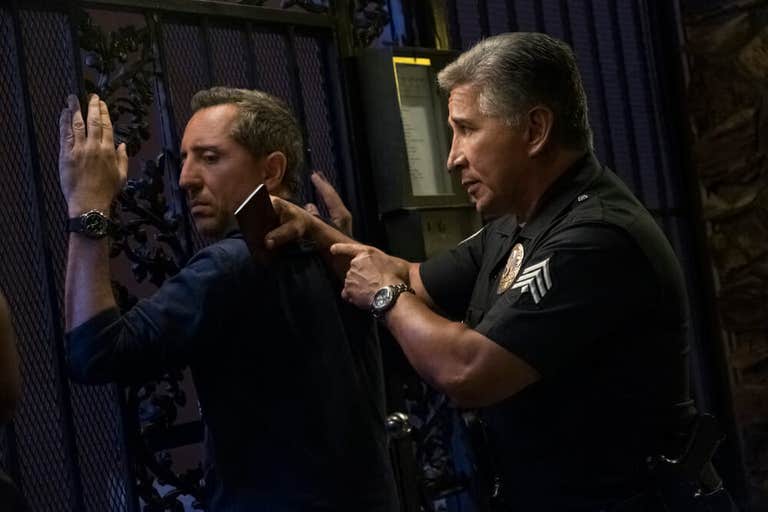 If there is anything fresh about Huge in France it is meant to be that Gad is adjusting to being an unknown fish in the massive, uncaring pond of Hollywood after decades of success in France. This too is a well-worn story. Flight of the Conchords was probably the most successful version in recent memory, reinvigorating the immigrant artist story with fresh energy, absurdist flourishes, and brilliant musical numbers. Lost in Translation famously told the reverse story, following a fading American star consigned to commercial work in Japan. Spinal Tap, Entourage, Tropic Thunder, and many other comedies have played a version of this note. All the way back to the earliest days of Hollywood, you can find stage performers, novelists, and lounge singers who mortgage their success in other countries for a chance to make it big in Tinseltown.
Unfortunately, the moment-to-moment humor of Huge in France is just as uninspired as the broader premise. A running gag that Gad doesn't know how to use the word "shit" is driven into the ground throughout the pilot. The clear talent of Scott Keiki Takeda, who plays Brian, a bumbling and comedy-obsessed personal assistant with the same crappy car and obsequious attitude of every sitcom assistant, is largely wasted (and many of his best lines feel improvised). And wouldn't you know it, Gad's nagging estranged wife Vivian (Erinn Hayes) has a new lover (Matthew Del Negro) who is an attentive father and loving partner with model good looks, echoing a story that was played much better in Meet the Parents and Vice Principals.
What few unique flourishes the show offers also tend to work against Huge in France. The show makes the classic Hollywood mistake of writing a number of model characters; models are notoriously weak actors, and no actors who aren't models can believably play models. As a result, a big chunk of the supporting cast members couldn't act their way out of a paper bag.
This is not say that every TV show has to have an altogether unique premise. Shakespeare said there is nothing new under the sun and he cribbed that line from the Bible. But, if you are going to return to familiar territory, you have to offer something new. Huge in France is merely a warmed-over version of some of our most familiar comedy tropes from this era of comedy television. Gad is yet another difficult man with no particular reason to be so difficult, given his massive riches and wild success.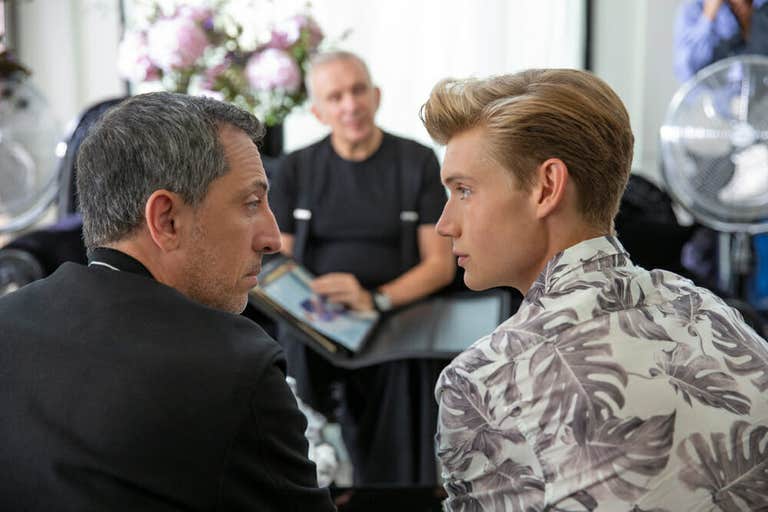 There are more television shows now than ever before. With over 500 original series airing in a given year, and more platforms than ever racing to buy them, this has been an era ripe with opportunities for originality. It's hard to imagine shows like Pen15, Counterpart, The Terror, or Killing Eve existing even 10 years ago. But, this era of endless possibilities has also yielded a glut of uninspired TV aimed at filling the many slots still reserved for safe programming.
In the era of Me Too, it might be reasonable to suggest a moratorium on sitcoms about aging comedians with a penchant for younger women and a massive ego. After the recent real-world stories involving Aziz Ansari and Louis C.K., it is amazing that executives anywhere would think that Huge in France is the show the world needs.
That isn't to say it is impossible to make a show that is challenging, iconoclastic, or even problematic that is also a great sitcom. Ricky Gervais, for example, continues to be on the wrong side of numerous public debates while still making good television. But, if you are going to aim for mediocrity, at least make it mediocrity we haven't seen a million times before.
Still not sure what to watch tonight? Here are our guides for the absolute best movies on Netflix, must-see Netflix original series, documentaries, docuseries, and movies.
Need more ideas? Here are our Netflix guides for the best war movies, documentaries, anime, indie flicks, true crime, food shows, gangster movies, Westerns, and movies based on true stories streaming right now. There are also sad movies guaranteed to make you cry, weird movies to melt your brain, and standup specials when you really need to laugh. Or check out Flixable, a search engine for Netflix.