No fighters symbolize the evolution of MMA from spectacle to sport quite like UFC middleweight champion Israel Adesanya (18-0) and Yoel Romero (13-4), who will meet in the main event of UFC 248 on Saturday night on ESPN+.
When the UFC first appeared in 1993, many of its early stars weren't really athletes. Some of these men, eschewing sporting virtues like fitness and flexibility in favor of more nebulous traits like toughness and guts, were just glorified bar brawlers and thrill seekers. Their presence and popularity helped to keep the line between cage-fighting and sport clearly delineated—and the UFC firmly in the cultural shadows.
But as no-holds-barred fighting developed into mixed martial arts in the late 1990s and early 2000s and the sport began to gain in popularity and cultural acceptance, athletes started to take over. Soon it wasn't enough to be merely daring in a cage. You had to be skilled and physically adept, as well. Athleticism became as compulsory in the UFC as it was in the NFL or the NBA.
Now, forget for a second about Adesanya's blinding hand speed and the sophistication of his combinations. Put aside his perfect spinning kicks and leaping attacks and his near-superhuman ability to dodge every punch that comes near him. Adesanya doesn't even need to be in a cage to demonstrate his athletic genius. During the walkout to his fight against then-champion Robert Whittaker last October, the New Zealand native performed a choreographed dance routine with an impossible one-handed cartwheel from a nearly static standing position with the same calm with which a normal person would sit down in a chair.
It was a move many dancers couldn't pull even off and he managed it just minutes before the most important moment of his professional life. But this is just like Adesanya. Since entering the UFC two years ago, he has done nothing but dazzle and win and expand the potential of the human body in a cage fight, making some of the greatest mixed martial artists in the world look like throwbacks by comparison.
But even if Adesanya beats Romero on Saturday night, he won't ever make the Cuban look unathletic. The former Olympic silver medalist in freestyle wrestling has built a long career doing things with his body that are beyond the realm of possibility—perhaps further beyond than even Adesanya can go—from lifting opponents off their feet with one hand to leaping so high in the air to land knee strikes that he throws himself clear over peoples' heads. Romero's physical virtuosity is so remarkable even he can't seem to contain it.
Like Adesanya, Romero is indifferent to keeping this physical exuberance locked inside the cage. Last month, during a press conference promoting their fight, Romero was goaded into an impromptu dance-off by Adesanya and shocked everyone in attendance by hitting a standing back handspring like it was nothing. In tight jeans, no less.
But most remarkable of all is that Romero does what he does at 42 years old, an age when most fighters are retired or punch-drunk cautionary tales. Adesanya may be the future of MMA but Romero is a one-man war against the tyranny of aging. And together they are the last nail in the coffin of the once- and long-fashionable idea that a man's "spirit" is enough to see him through a fight.
Here's everything you need to know to watch Adesanya vs. Romero.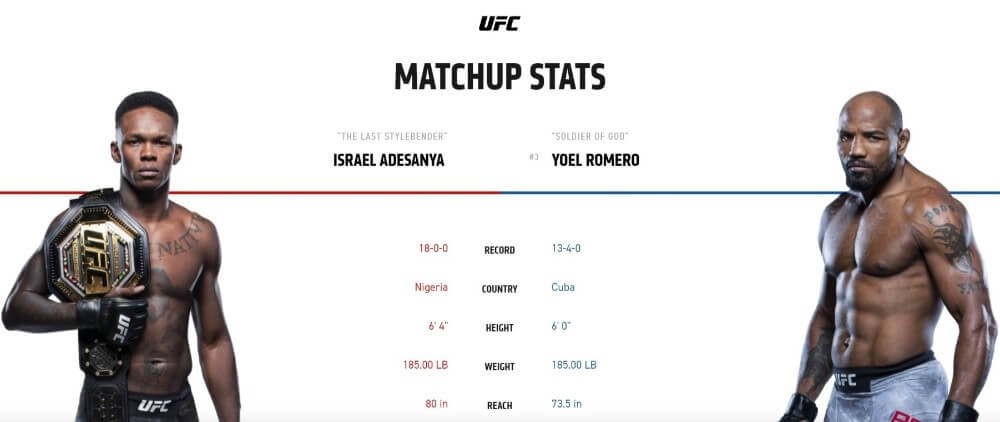 UFC 248: Israel Adesanya vs. Yoel Romero
When: Saturday, March 7 at 10pm ET
Where: T-Mobile Arena in Las Vegas
Streaming: ESPN+
UFC 248: How to watch Adesanya vs. Romero
Thanks to a huge seven-year deal, ESPN+ is now the only way to watch UFC 248 (and all subsequent UFC PPVs). The good news: ESPN+ is now your one-stop shop for the MMA promotion's most important fight cards. Here's how it all breaks down:
UFC 248 cost:
In other words, you can buy UFC 248 for a one-time price of $64.99, but if you spend only $20 more, you'll also receive one year of ESPN+ to go with it. That's a $50 value, and if you're a big MMA fan, that's a nice deal. Along with all kinds of exclusive live events (see below), you can also watch plenty of UFC Fight Night events every year with ESPN+.
If you don't currently subscribe to ESPN+—which now boasts more than 6.6 million subscribers—you can purchase UFC 248 from your desktop or smartphone here. If you already subscribe, you can easily buy the PPV from the ESPN app by simply clicking on the event in the ESPN+ tab.
One thing to remember: Only the UFC 248 main event card will be featured on ESPN+, and you will have to pay the $64.99 PPV fee (full schedule and watch guide below). Here's the main event card:
Israel Adesanya vs. Yoel Romero
Weili Zhang vs. Joanna Jedrzejczyk
Beneil Dariush vs. Drakkar Klose
Neil Magny vs. Li Jingliang
Alex Oliveira vs. Max Griffin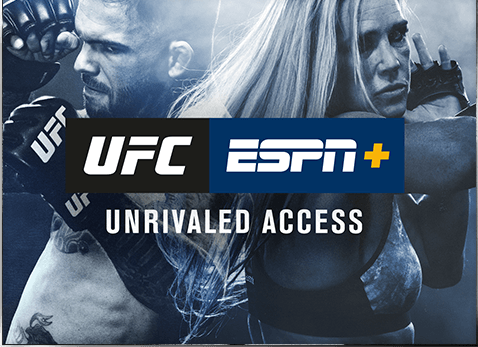 Devices: Chromecast, Amazon Fire Stick and Fire TV, Apple TV, Android TV, Roku players and TV, Oculus Go, Xbox One, PlayStation 4, Samsung smart TVs, and iOS and Android devices
ESPN+ is ESPN's subscription streaming service. It works as an extension of the ESPN app that you probably already possess on your mobile device. Have you noticed the live events, articles, or series tagged with a gold "E+" that resides in the corner of the app? Those are the events that are locked behind the ESPN+ paywall. It's literally thousands of broadcasts per year, including the aforementioned UFC Fight Nights and a bunch of exclusive Top Rank boxing events. You'll also get all of the best 30 for 30 episodes, daily MLB action, every out-of-market MLS game, international soccer matches, and more college sports than you can dream of.
Along with access to a number of original series, your ESPN+ subscription also gives you fewer ads across the ESPN network.
TL;DR: It's a pretty great deal and essential for just about every sports fan.
UFC 248 live stream: ESPN prelims
In case you need a reminder: Your ESPN+ subscription will not allow you to watch the ESPN prelims for free. You'll still need to have a cable or live TV subscription to view it on the network beginning at 8pm ET. Here are the matches you'll be able to watch on ESPN:
Sean O'Malley vs. Jose Quinonez
Mark Madsen vs. Austin Hubbard
Rodolfo Vieira vs. Saparbeg Safarov
Gerald Meerschaert vs. Deron Winn
If you don't already have a way to watch ESPN online, every major live TV streaming service carries the channel, and all of them offer at least a one-week free trial before you need to start paying. Once you download the ESPN app and type in your credentials, you can watch the prelims and the main event from one convenient location. Here are a few options for you:
---
2) Sling TV
---
3) YouTube TV
Cost: $49.99 per month
Devices: Google Chromecast, Roku, Apple TV, Android TV, Xbox One, iOS and Android devices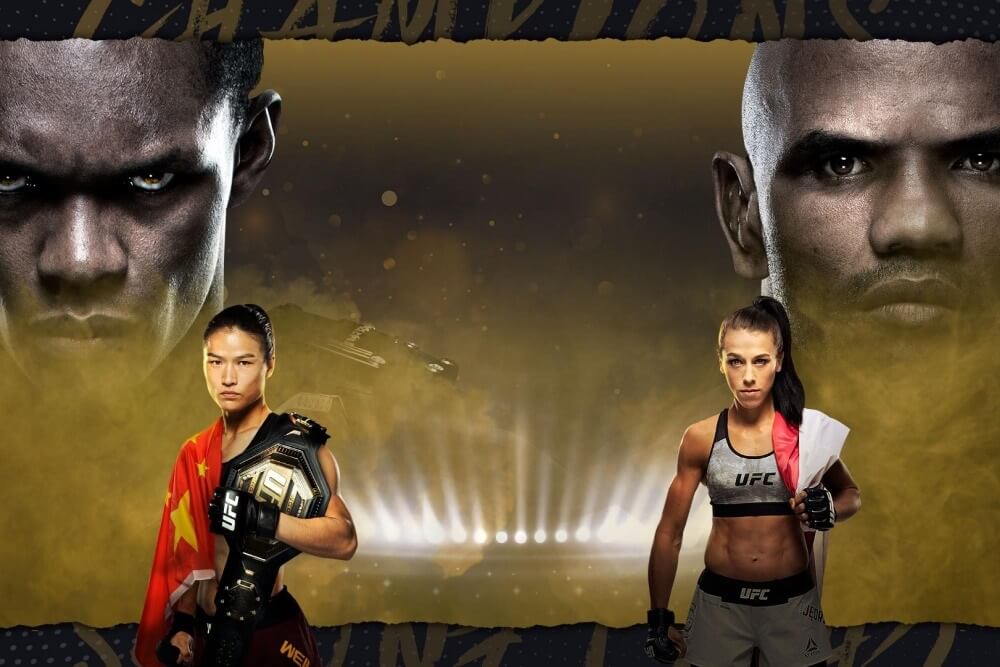 UFC 248 live stream: Fight Pass early prelims
For the die-hard fans out there, UFC's Fight Pass carries the early prelims, which start at 6:15pm ET. Here's the full Fight Pass lineup:
Emily Whitmire vs. Polyana Viana
Giga Chikadze vs. Jamall Emmers
Danaa Batgerel vs. Guido Cannetti
UFC Fight Pass launched in 2014. The service hosts the early undercard bouts of every UFC PPV, and it's also where you'll find the smaller, more local UFC events that aren't picked up by national TV broadcasts. The streaming platform has even begun hosting more occasional boxing cards. The app is incredibly versatile. You can download it via Apple TV, Xbox One, Xbox 360, Amazon Fire TV, Chromecast, Roku, Samsung smart TVs, LG smart TVs, and iOS and Android devices.
Israel Adesanya vs. Yoel Romero live stream schedule
All times in ET.
Main card | 10pm on ESPN+
Israel Adesanya vs. Yoel Romero
Weili Zhang vs. Joanna Jedrzejczyk
Beneil Dariush vs. Drakkar Klose
Neil Magny vs. Li Jingliang
Alex Oliveira vs. Max Griffin
Prelims | 8pm on ESPN
Sean O'Malley vs. Jose Quinonez
Mark Madsen vs. Austin Hubbard
Rodolfo Vieira vs. Saparbeg Safarov
Gerald Meerschaert vs. Deron Winn
Early Prelims | 6:15pm on Fight Pass
Emily Whitmire vs. Polyana Viana
Giga Chikadze vs. Jamall Emmers
Danaa Batgerel vs. Guido Cannetti
For a year-round sports fix, sign up here and check the "sports" box to receive our weekly boxing newsletter. You'll hear about all the biggest fights and best knockouts from the Daily Dot's streaming sports guru Josh Katzowitz.
The Daily Dot may receive a payment in connection with purchases of products or services featured in this article. Read our Ethics Policy to learn more.