Netflix's newest teen TV series draws on Gen Z's anxiety about a looming apocalypse brought on by adults' poor decisions.
Daybreak
RELEASE DATE:
10/24/2019
DIRECTOR:
Aron Eli Coleite, Brad Peyton
STREAMING:
Netflix
The zombie apocalypse gets creative in this zany genre mashup teens are sure to love.
Daybreak is the latest post-apocalyptic teen TV series to join the Netflix library. Here, teens living in Glendale, California, survive a nuclear attack and spread out across Los Angeles into "tribes." The tribes include 4-H Club members learning to farm, the feminist former cheerleaders as Cheermazon warriors, and bloodthirsty football players set on maintaining all the power. Oh, also all of the adults either died or became "ghoulies"—killer zombies who hilariously repeat the last inane thought they had over and over again. ("Is it pronounced La-Craw or La-Croy?")
Just like in high school, there are outsiders who come together to form a gang of unlikely friends—and become our focal cast. There's Josh Wheeler (Colin Ford), a C-student with no friends on a mission to save Sam Dean, the girl of his dreams; Angelica (Alyvia Alyn Lind), a pyromaniac kid who aspires to be the next Griselda Blanco; and Wesley (Austin Crute), a former jock turned pacifist samurai seeking to right his past wrongs.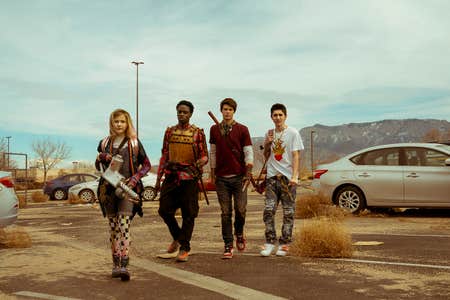 With goofy fourth-wall-breaking and try-hard banter littered with 2019 slang, Daybreak begins with a rocky start. But if you can pull through the first few cringey episodes, Daybreak transforms into the perfect post-apocalypse TV series for Gen Z. What starts off as a cheesy mash-up of The Society and Alex Strangelove transforms into a truly genre-bending series. Each episode adapts a different way to tell the story—including a Japanese-style animation, a sitcom with a laugh track, and plenty of flashback sequences. The stylistic changes keep viewers on their toes and the plot from becoming tiresome as each supporting cast member fleshes out their origin story. 
In contrast to dark and dramatic The Society, this TV series is more light-hearted and focused on character development than it is on survival. Its modern-day jokes make you giggle half the time, but some of them don't land as easily. And like most of Netflix's teen content, it quickly sneaks in a tired joke about gender into the first episode. 
Along with breaking down stylistic norms for a teen drama series, Daybreak gives a refreshing remodel to the manic pixie dream girl with Sam Dean (Sophie Simnett). Unlike most whimsical love interests who tend to be outcasts, Sam is the most popular girl in school—homecoming queen, even—because she is a nice person. Generally beloved by all, Josh quickly thinks he's fallen in love with her within days of meeting her on his first day of school. But Sam is quick to reject the "dream girl" persona and proves multiple times throughout the series that not only is she not interested in being the center of Josh's self-absorbed fantasy—she's a multi-dimensional person with depth and surprises up her sleeve.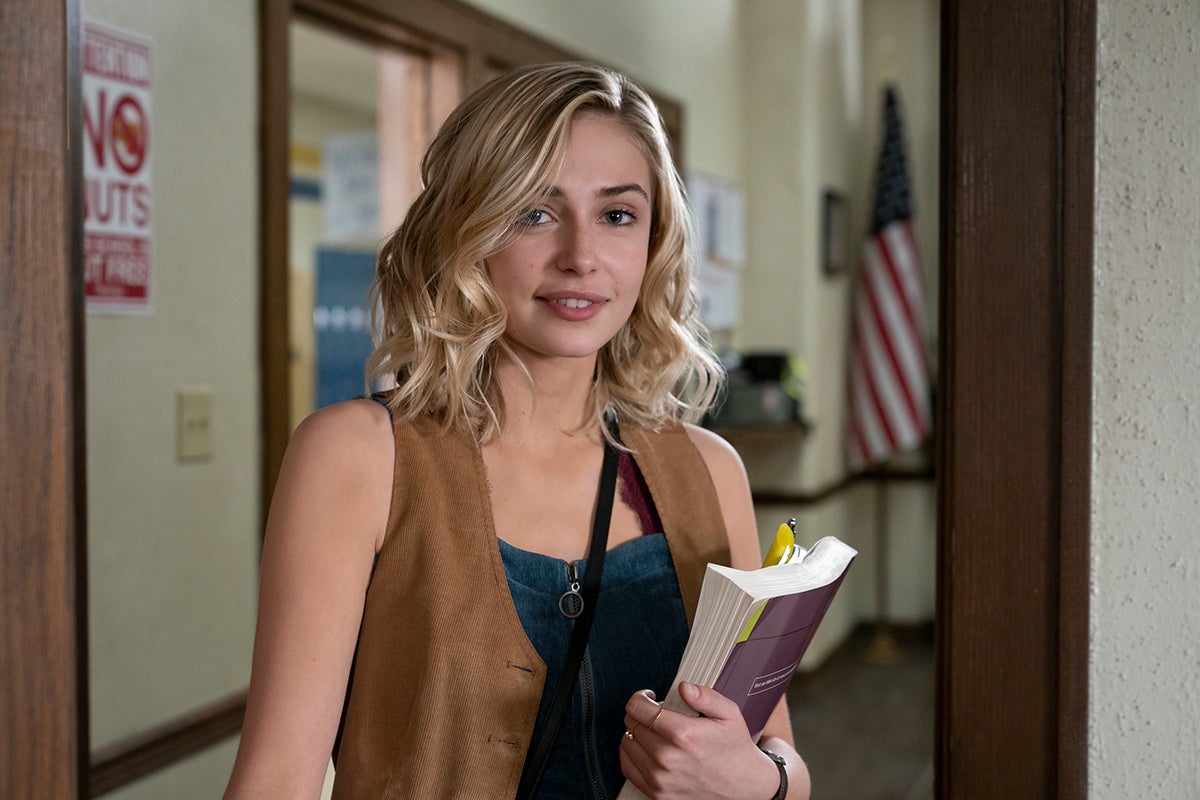 With Matthew Broderick acting as Principal Burr, there's no shortage of homages to Ferris Bueller's Day Off. But Broderick serves as more than just the veteran star who brings nostalgia and big-name appeal to the TV series. In fact, Broderick puts on one of his most dynamic performances to date as an incredibly creepy principal who loves children a little too much. 
Wesley, Angelica, and Ms. Crumble (Krysta Rodriguez), a ghoulie who's only half crazy and becomes an unlikely ally, are all additional standouts in the cast. The only character who left much to desire is one of the series' villains, Turbo Bro Jock (Cody Kearsley). With no ability to speak and flashbacks that don't seem to connect to the present, Turbo fails as a villain because he has no motive to become Glendale's boogeyman.
Daybreak is filled with plenty of action, twists, turns, and heart-warming moments. With its relevant quips littered with pop culture references and discussions about pertinent issues Gen Z-ers face today, it sure to be a binge-worthy watch for teens.
Still not sure what to watch tonight? Here are our guides for the absolute best movies on Netflix, must-see Netflix original series, documentaries, docuseries, and movies.
Need more ideas? Here are our Netflix guides for the best war movies, documentaries, anime, indie flicks, true crime, food shows, gangster movies, Westerns, and movies based on true stories streaming right now. There are also sad movies guaranteed to make you cry, weird movies to melt your brain, and standup specials when you really need to laugh. Or check out Flixable, a search engine for Netflix.