Customers have slammed Yankee Candles for being scentless in recent months, raising concerns that they unwittingly contracted COVID-19.
As customers across the United States snatch up cinnamon, pine, and woodsmoke-scented candles to keep their homes smelling festive, many of them have flooded the Yankee Candle website with negative reviews, claiming their products are not sufficiently aromatic. Given that loss of smell is a symptom of COVID-19, observers are speculating that the virus has ravaged the candle-loving community without their knowledge.
Twitter user Terri Nelson (@TerriDrawsStuff) brought the Yankee Candle trend to the public's attention when she joked, "There are angry ladies all over Yankee Candle's site reporting that none of the candles they just got had any smell at all. I wonder if they're feeling a little hot and nothing has much taste for the last couple days too."
The tweet struck a chord with many Twitter users, and some flocked to the Yankee Candle site to dig through the reviews themselves. Indeed, many of the negative reviews do appear to come from cranky women.
These irate Karen-lites—"Sharons," if you will—became the butt of many Twitter users' jokes. Strangers began sharing screenshots of the reviews, poking fun at the women who wrote them.
One Sharon criticized a "sparkling cinnamon" candle for having a "very faint" aroma. According to her, she was forced to melt "twice as many" candles to catch a whiff.
Another Sharon expressed her deep disappointment with a candle several months ago. According to her one-star review, the candle "emits very little scent." She is a frequent Yankee Candle shopper, so you might think she'd give the candles a second chance. But no, she will "never again" give the company her business.
Dozens of similar one-star reviews populate the Yankee Candle website, essentially boiling down to an alleged lack of scent.
One Sharon even appeared to admit that she was confined to her home due to a case of COVID-19. Despite having a medical explanation for her lack of smell, she still left a negative review.
"What a waste," she wrote. "There's virtually NO scent to these at all!! If I wasn't confined to my home because of covid I would return these for sure."

Twitter users were tickled by the seemingly oblivious Sharons. Some received an education on candles after combing through the reviews. Do you know what a "scent throw" is? All the Sharons who shop at Yankee Candle certainly do.
Other people believed the Sharons may have inadvertently discovered an alternate testing method for asymptomatic or mild cases of COVID-19.
"I keep randomly smelling my Yankee candles just to make sure I'm ok," @sassybibrarian tweeted.
"Can we just get the Yankee Candle customer support phone line to forward directly to the contact tracers," Chris Ball (@cjbprime) asked.
A few commenters disagreed with the premise, however, arguing that Yankee Candles have always been scentless. They asserted that the pandemic has changed nothing, except for the conversation around the "absolutely garbage" candles.
In an effort to stop Yankee Candle from being completely review-bombed, a few altruistic people have even taken to the review sections themselves. They've reminded people, via review, that one of the symptoms of COVID-19 is a loss of smell.
"If you're here to complain about no scent, maybe you should get tested," one person advised. "Loss of smell is one of the symptoms of COVID-19."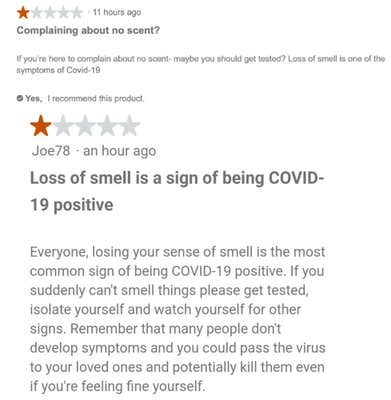 Perhaps these warnings will show the Sharons the error of their ways and convince them to get tested for COVID-19. But we're not holding our breath—we couldn't smell our candles that way.
---
More Karen News