If Twitter's video-sharing app Vine were a movie theater, there'd be no kids allowed.
Upon updating the iPhone and iPod Touch app to the latest version or downloading it for the first time, a prompt saying the app is no longer suitable for those aged under 17 appears.
The App Store description (as opposed to a funny fake one) also notes that Vine contains "frequent/intense sexual content or nudity" and "infrequent/mild alcohol, tobacco, drug use or reference to these" along with warnings of horror and fear themes, profanity, realistic violence, cartoon or fantasy violence, suggestive themes, and simulated gambling.
The age barrier, which doesn't really block youngsters from using the app if they fib about their age, will go some way towards keeping Vine in the App Store in the face of Apple's notorious anti-porn stance. Vine, of course, quickly became a way for pornographers to share their handiwork (with an explicit vine even landing in the Editor's Pick section for a short time) and for pot fans to brag about their stashes.
Along with removing the unfiltered All Posts view and hiding porn-related tags from search results, Vine appears to be trying to make the app a little more family friendly.
There are a few other positive, albeit relatively minor, changes which resolve some of Vine's early functional and practical issues.
At last, your videos aren't locked into the app if you forget to share them on Twitter or Facebook when you first post them. Previously, the only way to share vines externally was to tweet or share to Facebook as soon as you posted them, but this update allows viners to blast their masterpieces to Twitter followers and Facebook friends after the fact: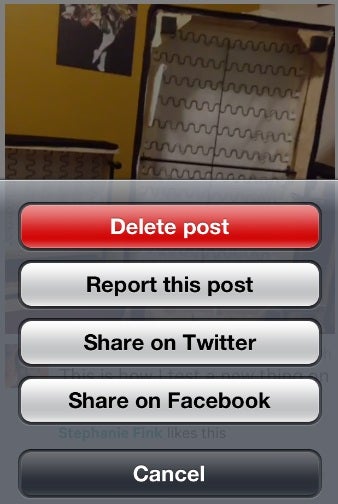 However, there's no way to tweet a vine someone else has posted from within the app. You'll need to find that person on Twitter and retweet them if you want to share their efforts elsewhere.
Amusingly, you now also have the option to report your own posts as inappropriate. Could be a handy way to get your account removed if you don't feel like emailing Vine to delete your account.
On a more personal level, there's also the option to block users by hitting the icon at the top right of someone's profile. If you're a little friendlier and want to link to another user's profile, you can now do that too by hitting the same button.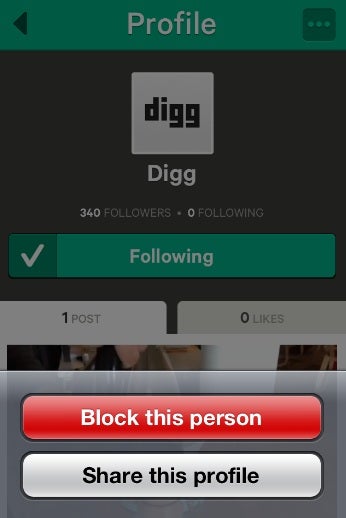 Annoyingly, there doesn't seem to be a way to grab a link to your own profile, which is a little bothersome if you want to let your friends know how to find you on Vine a little more easily. The only way to share a profile with someone else right now is through iMessage, Apple's own instant messaging service (which makes some sense, since Vine is only currently available on iOS devices).
Along with verified badges, which Vine appears to be testing out, the link feature is a useful way to make sure the account you're encouraging your friends to follow is the correct one. It might come in handy if the likes of Justin Bieber were to sign up, since there are already a bunch of phony accounts bearing his name.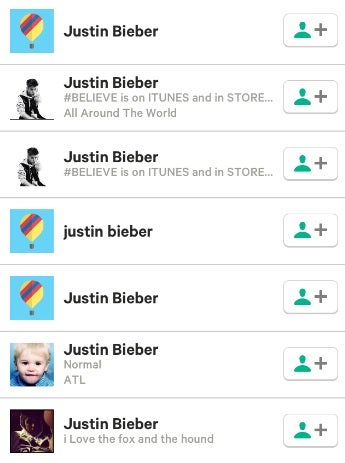 Photo of David Beckham via Erin Innes/Vine