In a viral TikTok video, filmmaker Cynthia Kao insinuates the possibility that Netflix and news outlet NowThis essentially stole the idea from her short film to produce the Academy Award-winning Two Distant Strangers.
The Travon Free and Martin Desmond Roe-directed Two Distant Strangers stars rapper/actor Joey Badass as a Black graphic artist who's pinched into a Groundhog Day-like existence that always ends in his slaughter by a white police officer (Andrew Howard). The Netflix film is produced in part by NowThis, wherein lies a potential problem.
Kao wrote and produced a 2016 short film called Groundhog Day For a Black Man, in which, as she explains, a "Black man … relives the same day over and over and tries different methods to survive a police interaction."
She explains that after the killing of George Floyd by now-former police officer Derek Chauvin in Minneapolis, she received an email from news outlet NowThis. She said a NowThis producer asked if the outlet could use her film for a news spot and promised it would maintain her credit as the creator.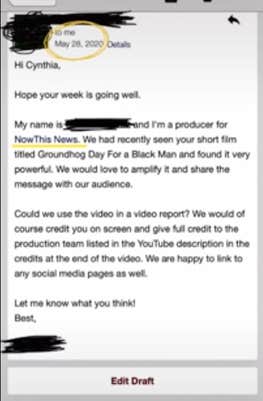 Then, it appears she learned about Two Distant Strangers upon its April 9 release. She notes that NowThis is shown as a producer or contributor to the Netflix film. She says, however, that she's "not making any assumptions."
People online have had much to say about the TikTok video—which has been viewed 2.5 million times since being posted on Saturday—and the recurrent notion of idea theft in Hollywood. However, a further complication arises for some who also took umbrage with Kao, an Asian woman, producing a film about Black trauma.
Even further, some note that Kao had stolen her idea from, you guessed it, Groundhog Day, and therefore did not have a firm intellectual property argument as is, unless Free and Roe were given the story directly from NowThis—which would be seemingly difficult to prove.
"As often as the Groundhog Day trope is used now to tell stories, and they've gotten more and more creative, this was the first time that it felt like an actual metaphor for something," director Free said in April, per Los Angeles Times. "It's a metaphor for what it is like to be Black in America. It is the loop."
The Daily Dot has reached out to Cynthia Kao and Netflix for comment.
---
Today's top stories