Most Pinterest users have pinboards dedicated to window shopping, a collection of wish lists for dream homes and perfect weddings. In Central Texas, one housing development has found a unique way to incorporate those concepts.
Taylor Morrison's Ladera housing development has built the first-ever model home to take direct and deliberate cues from some of Pinterest's most popular "dream home" boards and pins.
"We're showing people that they can have these homes," realtor Kristin France told the Daily Dot on a guided tour. "Your hopes and dreams of what you could have or could create: We're trying to make that a reality for people who can't visualize it."
The same could be said of Pinterest itself in 2012.
Once considered too niche to succeed, the image-sharing site went from a fledgling idea to a serious reality this year, one that's exceeded all expectation to become the third-largest social network in the world. (Only Twitter and Facebook have more users.) And over time, those pinners slowly remolded the site's female, lifestyle-oriented majority to cover a multitude of interests on the site.
Of course, the year wasn't without its hurdles. In the beginning of 2012, the site was growing more quickly than any social network that came before it. As employees struggled to keep the site up and running, the site became a clamped-mouth legal mess that sometimes harmed businesses more than it helped them.
Once Pinterest was able to hire enough people to match its explosive growth (from less than 40 people to 70 over the summer), it was able to iron out most its kinks. The hiring of a PR agency meant Pinterest made news, not rumors, and a team of lawyers helped clarify Pinterest's terms of service. Most recently, Pinterest has made itself especially friendly to businesses by offering profiles just for brands.
These are the 10 power pinners that helped shape Pinterest's remarkable year.
1) Joy Cho Color Chooser
Even if you don't follow this design blogger's boards, you've probably seen her pins—just about everything she posts goes viral. That's because Cho has over 12 million followers, the largest fanbase of any pinner on the site, a status she maintained for almost all of 2012, after unseating Jane Wang (the CEO's mom) in the spring.
The Los Angeles-based blogger keeps her boards bright with luxe, colorful home goods. From stationary to tableware, Cho can find it in glittery pink with feather accents. Follow this designer for a pop of color. She's simply too big and exuberant to ignore.
2) Andrew "Oyl" Miller Viral Strategist
If you think you need to be an early adopter to be one of the world's most popular pinners, guess again. Dissatisfied with his meager 250 followers, Miller, a Tokyo-based copyeditor, cracked the code to gain 25,000 fans—in just three days.
Miller didn't stop there. Just a few months later, he's sitting on 1,000,000 followers and counting, making him one of the 50 most-followed people in the world. The best part? Miller says anyone can do what he did.
"I think you have to be willing to be obsessed and really dive into some kind of niche," Miller told us in August. "And I'm sure at this point, there are some huge opportunities to own some untapped subject matter, like I did with sports. But I think if you approach any subject with a degree of artistry, looking for the unusual point of view, and keeping your pin choices surprising, that you will also be able to find success."
3) Christine Martinez Miles Stylist
Pinning is fun, but can it make you money? This design blogger turned power pinner was the first to find out the answer.
After amassing more than 1 million followers for her pins about fashion, art, and her pampered pooch Miles, Martinez caught the attention of fashion line Calypso St. Barth this March. The brand jetted Martinez (and Miles) to the Caribbean so she could live-pin a photoshoot in the first brand/pinner collaboration ever. Since then, Martinez has curated pinboards for Zales and Banana Republic. It's a charmed career any pinner would envy. Martinez was just the first to think it up.
"If it's something I believe my followers would like to see, then it feels good to bring that content to Pinterest," Martinez told the Dot in June.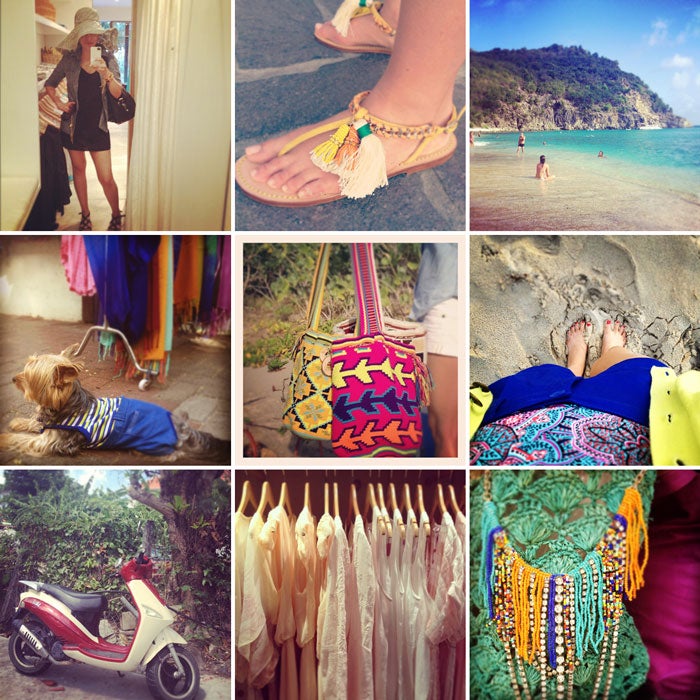 4) Kelly Lieberman Pinchatter
Influence isn't always about popularity on Pinterest. This social media marketer may not have millions of followers, but she single-handedly founded the network's most authoritative chat on Pinterest news, marketing, and tools.
Pinchat is a Facebook community and weekly Twitter chat for power users and average pinners alike. Every week, Lieberman guides discussion on a topic pertinent to Pinterest along with a guest host. Previous guest hosts have included social media directors from McDonalds, Zappos, and Virgin America. It's these big names, paired with Lieberman's careful moderation, that make #Pinchat a must for hundreds of pinners.
5) Allison Tyler Pin Satirist
Never mind the traffic; we knew Pinterest was destined to become a significant community when its humor became self-aware. With WTF Pinterest!?, New Yorker and all-around funny lady Allison Tyler documents the site's wackiest pins.
Apart from being an archive for pins that make no sense, Tyler archives Pinterest news and maintains a Pinterest lexicon full of site-specific words like "pinterject" and "pinspiration." When we want to know what pinners are cracking up about, she's the one we turn to.
"Pinterest is, usually, calming to me because it lacks the human interaction—it's just … stuff, and some of it is beautiful or inspiring or thought-provoking to see, and some of it is wicked insane," Tyler told us in April. "It's a lovely escape."
6) Steve Asbell Hoax Spotter
Be careful what you repin. Some of Pinterest's most tempting weight-loss tricks, beauty secrets, and natural wonders are nothing more than Photoshop hoaxes. Before you believe your eyes, check Asbell's board, Fake Plants and Other Hoaxes, to see if that viral pin is too good to be true.
A horticulturalist, Asbell originally made the board to discount rainbow roses, purple watermelon, and other impossible plants. However, he soon opened it to other pinners as a group board. Today it is the social network's largest fact-checking board of its kind.
"I can spot Photoshop adjustments a mile away," Asbell said in July, "so I decided to set aside the fakes both out of respect for the skills of the fakers and to inform trigger happy pinners who have no idea."
7) Chantel Paré The Protester
Paré is the only person on our list even though she isn't actually a Pinterest user. Despite that fact, she's managed to influence many people who are. A stained glass artist, Paré launched Creators Against Pinterest to take a stand against the way the network makes it all too easy to share art without crediting creators.
Since Paré began her campaign, Pinterest has taken action. It's made a no-pin button for webmasters who want off the site and partnered with sites like Flickr and YouTube to make sure items from off site are always credited automatically, even if the pinner forgets. Whether this artist's actions have anything to do with Pinterest's changes is unclear, but her protest shows just how new and unusual Pinterest's platform is and how the site will have to overcome uncharted challenges if it wants to keep content creators happy.
8) BeatGirlWorld The Transmedia Experiment
This Pinterest account isn't really run by fictional DJ Heather Jennings. But transmedia company BeActive has tried very hard to make it look that way. BeatGirlWorld is the first Pinterest account that doubles as a storytelling experiment.
In an effort to market the novel Beat Girl, BeActive has used Pinterest boards to tell the story over several forms of media at once. Pins link to music, photos, and videos that further the story of Jenning's life. It's a pioneering technology on an already innovative platform, an experiment you won't want to miss.
9) Barack Obama Presidential Pinner
President Obama endorsed the site in February when his campaign reserved his name, causing many to wonder whether or not the president had truly joined Pinterest. That question was finally answered in March, when the his campaign began pinning quotes, reelection campaign photos, and more attributed to his name. Obama's early adoption of Pinterest proved the site wasn't going away and that even presidential candidates needed to court the Pinterest vote.
10) Ben Silbermann Kingpin
It's been a big, strange year for the Pinterest cofounder, who promoted to president and CEO of after fellow cofounder Paul Sciarra stepped down.
As the Pinterest boom kept building and more people kept joining, Silbermann did something drastic: He deleted his Pinterest account. The reason? Silbermann didn't want to lose touch with Pinterest's millions of new users. He started from scratch "to remember how new Pinterest user's [sic] feel!" It's a promising gesture from the CEO.
Honorable Mentions: