Cookie bowls seem like a simple enough project: Just flip your muffin pan over and roll the dough around the protrusions, and then bake as usual for a delicious DIY treat that's worthy of being pinned to Pinterest. But when Tessa's creation ended up looking like something out of a horror movie, she knew exactly who to call for help—Pinstrosity.
The two bloggers behind Pinstrosity, Emilee and Marquette, are no strangers to such pleas. More than just a graveyard of failed DIYs endeavors, their blog's mission is to turn "Pin Fails," like Tessa's cookie bowls, into "Pin Wins" that look exactly like the photo on the original pin.
"We wanted this to be more than just a show-and-tell site," Emilee told the Daily Dot. "We try to post fixes of previously failed projects or a project that beat all odds and expectations."
Fun and creative home cooking and decor projects are a Pinterest staple. Just because something's been pinned thousands of times, that doesn't mean it's easy to do, though. Pinstrosity strikes a balance between poking fun at failed projects—not unlike like WTF, Pinterest? and Pinterest You Are Drunk—and trying to make sure they don't happen again.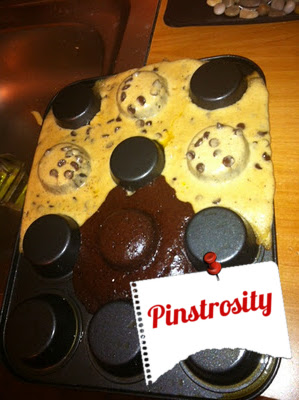 The two 20-somethings from Silver City, N.M., started their joint blog in February, shortly after they both caught the Pinterest bug. Since they were already spending plenty of time on the site pinning and creating projects inspired by pins (Emilee said two hours a day, Marquette about 30 minutes), it wasn't a lot of extra work to start adding some failures they discovered along the way into a blog.
Pinstrosity, defined on the site as "a pin of great and often frightening size, force, or complexity," also offers a "fail scale" to help users determine just how badly they botched their project and if it's worth saving.
Part of what gives the site its charm is the fact that Emilee and Marquette aren't afraid to laugh at themselves, either.
"While we do have pins that we test for the blog, most of the projects we personally do are for our own homes and lives, and if we end up with a Pinstrosity we put it up," Marquette said.
In six months, the site has grown far beyond Pinterest. Last week, the pair reported they'd received their 4 millionth page view. On average, the duo receives about 40 submissions per week. Emilee said people don't just come to the site to be entertained, but to be reassured too.
"We've had countless 'I'm glad I'm not the only one who messes projects up!' comments," she said. "Sometimes people seem to get the idea from Pinterest that all these projects should be easy as pie, even though pie sometimes isn't all that easy, and this blog allows them to see that everyone doesn't have to be a craft/cooking/cleaning/exercise/photography guru and that it's OK to mess up."
It's OK to fail, but for pinners who want to get it right the first time, the pair has some advice so simple you'll wonder why you didn't think of it first.
"We love seeing people be creative and trying to tweak projects to fit their own styles and ideas, that's a big part of what I think Pinterest is about—inspiration," Marquette said. "But if you wanting a replica of the pin the best first step is to follow the directions from the original site."
That is, if you can log off of Pinterest long enough to do so.
Photo of Emilee and Marquette via Pinstrosity