On April 1, Jason Jeter—the TikToker who gained his following drinking water from fountains at the Florida park—joked that he had been banned from Disney.
This week he was apparently served a trespass warning from the Orange County Sheriff's Department, and a lifetime ban, the Orlando Sentinel reports.
"I'm not here to expose the company, I'm here to make content for Disney," Jeter said in a TikTok from April 14. He says he was fired from the company in March for doing just that, which the Daily Dot reported.
After his firing, Jeter continued to visit the park to make videos, as well as other attractions in the area, such as Gatorland. Until, he said, authorities got involved.
"As soon as I get out of my car, Orange County Police pulls up," Jeter said in a May 4 video. "'Hi Jason Jeter, we have a trespass warning for you from Disney. You're no longer allowed on the property.' Then, four cast members, two guys in suits, a security guard, and a Disney investigator—I didn't even know those existed—all come up. They're like 'Hey, we're here to tell you like what's going on and to help fill out paperwork for you.' Thank you, I can kinda figure it out."
Jeter said he was followed home by Disney security to ensure he left the property.
"Just to add insult to injury, it's a lifetime ban," Jeter said. "I can never go back to Disney. Ever."
While some of his 1 million fans are suggesting a Disney boycott until the ban is lifted, other commenters say he got what he deserved.
"Bro I'm sorry but you deserved it you broke multiple rules and guidelines and thought you could get away with it," TikTok user @jumbo_burrito wrote.




Other theme and amusement parks are getting in on the action too, by making clear that their water fountains and water attractions are not for drinking. The water that is used in these rides, as well as in large fountains like those found in Disney, is not potable.
"Our water is made for waterspouts and not drinking… just sayin'…," @LEGOLANDFlorida tweeted.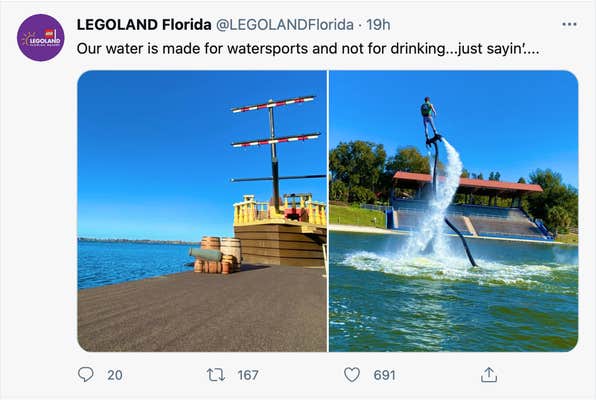 Seaworld was a little more subtle, choosing to reference the controversy in a reply.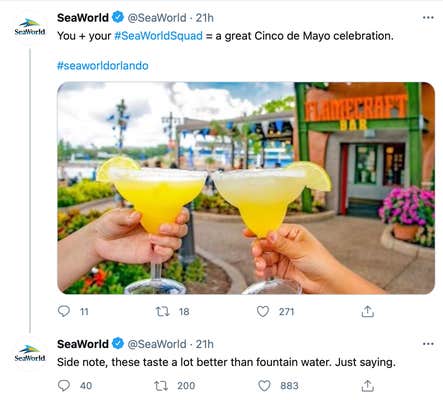 ---
Today's top stories
H/T Orlando Sentinel