Warning: This article contains spoilers.
It was only a matter of time before things took a grim turn for Din Djarin and Grogu, and in that regard, "The Tragedy" more than delivers. But amid the promised all-out battle that lends itself into the final two episodes of The Mandalorian's second season, two characters we once thought dead have both made triumphant returns in an action-packed episode.
One of those returning faces isn't much of a surprise so much as an inevitability. After teasing the possible return of Boba Fett with Star Wars prequel alum Temuera Morrison (Jango Fett and every live-action clone trooper) stepping into Boba Fett's boots in the season 2 premiere, Boba Fett returned with one goal in mind: He wanted his armor back.
Only this time, he had someone with him. Fennec Shand (Ming-Na Wen), the assassin we last saw left for dead on Tatooine in mid-season 1, is alive and well.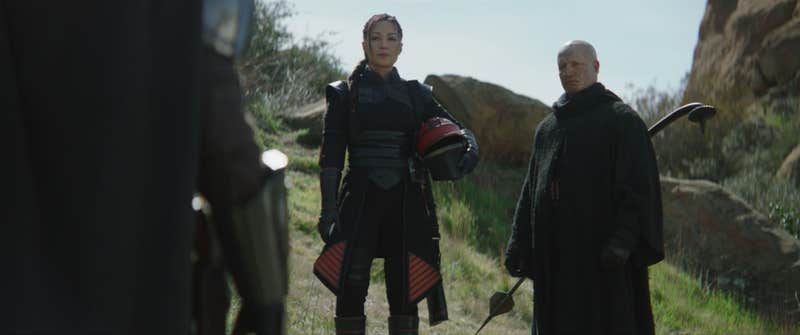 Fennec Shand's return
A common rule in movies and television in regards to a character's fate is you should never assume that a character is dead until you see the body—and even then, it can still be dicey. That especially applies to The Mandalorian given that even a TIE-fighter crashing couldn't kill Moff Gideon (Giancarlo Esposito).
But in season 1's "The Gunslinger," the would-be bounty hunter Toro Calican (Jake Cannavale) shot Fennec after the latter offered to help him turn Din into the Bounty Hunters Guild because he believed she would turn on him. While Din eventually learns of Fennec's demise, he leaves the body put, allowing for a mysterious stranger to discover it at the episode's end.
Some fans at the time speculated that the stranger was Boba Fett, and in the latest episode, they were awarded. Fennec confirmed that Boba Fett saved her, showing off the metal gears in the same location where Calican shot her.
"She was left for dead on the sands of Tatooine, as was I," Boba Fett explained. "But fate sometimes steps in to rescue the wretched."
"In my case, Boba Fett was that fate," Fennec Shand continues. "And I am now in his service."
Although the phrase isn't used, think of Fennec serving Boba Fett in this manner as payment for him saving her life as a kind of life debt.
Boba Fett, his father, and his Mandalorian legacy
Although we're initially worried that Boba Fett tracked Din and Grogu to Tython, he's got a far more personal bounty in mind. He wants the Mandalorian armor that Din received from Cobb Vanth, and he's willing to kill both Din and Grogu for it. According to Boba, Jango was gifted it by his forebears, and he promises to guarantee the safety of Grogu and Din in exchange for the armor.
Din doesn't agree to anything, especially once he learns that Boba doesn't adhere to the Mandalorian Creed. But when Moff Gideon's stormtroopers descend onto Tython to collect Grogu, Boba sneaks onto the Razor Crest (RIP) to nab the armor for himself, revealing his old digs just in time. And well, it is awesome.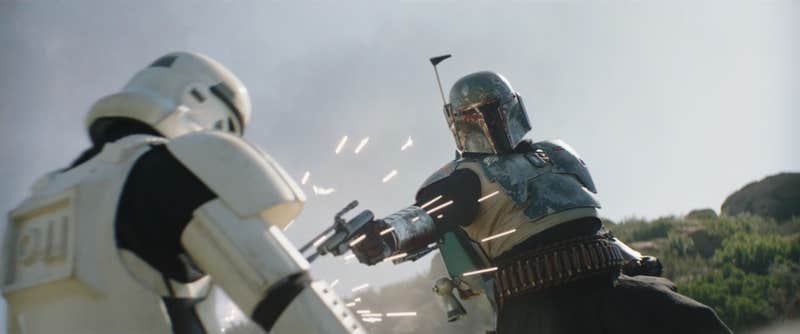 Is it a little fanservicey to have Star Wars' most famous Mandalorian fight alongside the titular Mandalorian on The Mandalorian? Almost definitely. But, despite the hesitation of looping an incredibly minor Star Wars character with a lot of fandom baggage attached to him upfront, Morrison's performance really sells it.
When the dust settles, Boba Fett brings up his chain code in the armor, pointing to Din that the armor really does belong to him. And in the meantime, he reveals some common ground between Din and Jango: They were both foundlings.
Granted, Boba Fett took his end of the deal before they agreed to anything. But he means to make good on his word to keep Grogu safe.
Din Djarin lost his ship and his son—and he's more dangerous than ever
By the end of "The Tragedy," Din is in dire straits. He has no ship, he's lost his adopted foundling child to an Imperial officer, and he's looking into the whereabouts of Migs Mayfeld (Bill Burr), who almost definitely wants to kill him, with Cara Dune to help him. Meanwhile, Grogu—who spent much of the episode in a blue Force field, seemingly in communication—is now a prisoner, and Moff Gideon knows his weaknesses—mainly that if he uses a lot of the Force, Grogu will tire out.
We've got two episodes left in The Mandalorian's second season, and Din is even more emotionally attached to Grogu; he'd probably go to hell and back just to get him back. But with Boba Fett, Fennec Shand, and a Cara Dune who might go rogue again on his side? He just might have a chance.