Cancel culture found itself a worthy target in comedian Adam Carolla earlier this week, and the end result has been a proliferation of stew memes on Twitter.
The former Man Show co-host has been voicing increasingly questionable opinions over the years—making you wonder exactly how much of a "character" he was playing on the Comedy Central series alongside Jimmy Kimmel. True to form, Carolla caused quite the stir on Tuesday when he tweeted that people taking the coronavirus pandemic seriously are evidently "pussy's" who "got played."

Carolla's tweet was widely mocked and ridiculed, which perhaps led people to wonder: what else has Adam Carolla been tweeting about?
They needn't go back very far. Just a few weeks ago, on August 13, Carolla made the observation that "more American males now wear bracelets than eat stew," as a way of roasting—uh, we don't know—what he perceives as society's dearth of masculinity?

At any rate, it didn't take long for the internet to put a sharp laser focus on Carolla's hot "stew" take, and the resulting memes have been delicious. "Men: reject the stew / bracelet binary," tweeted comedian Emily Heller, alongside an image of a bracelet with ostensibly pro-stew messaging.
"When you've been making stew and husband comes home with bracelet," quipped freelance writer Harron Walker
Others had plenty of jokes, including Parks and Recreation co-creator Michael Schur (under his Twitter alias Ken Tremendous) who took a couple of potshots at Carolla. Twitter user Bobby Lewis even went so far as to compare Carolla's stew tweet to an "accidental dril," and so on.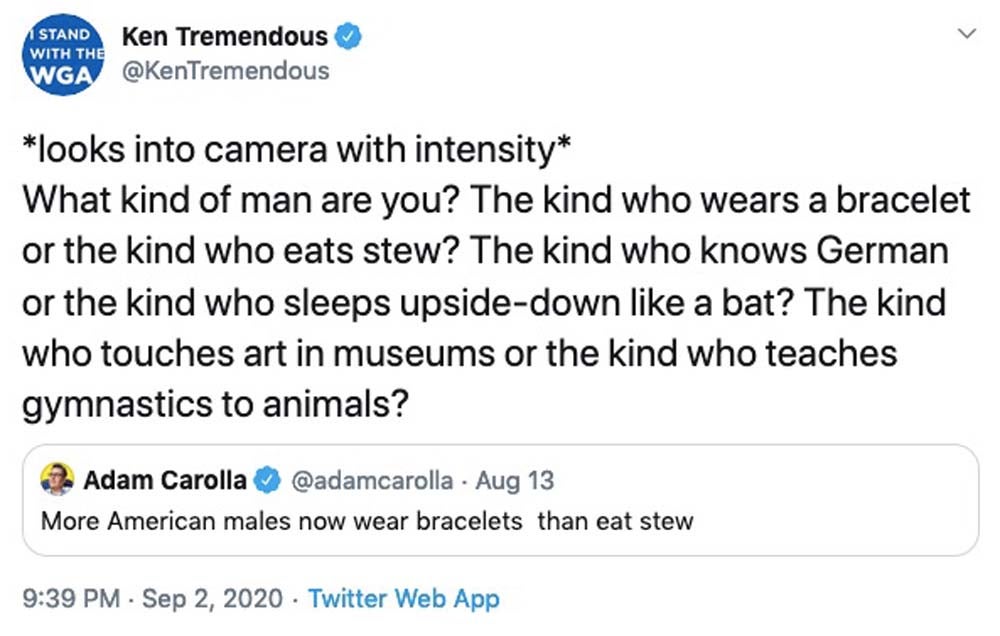 ---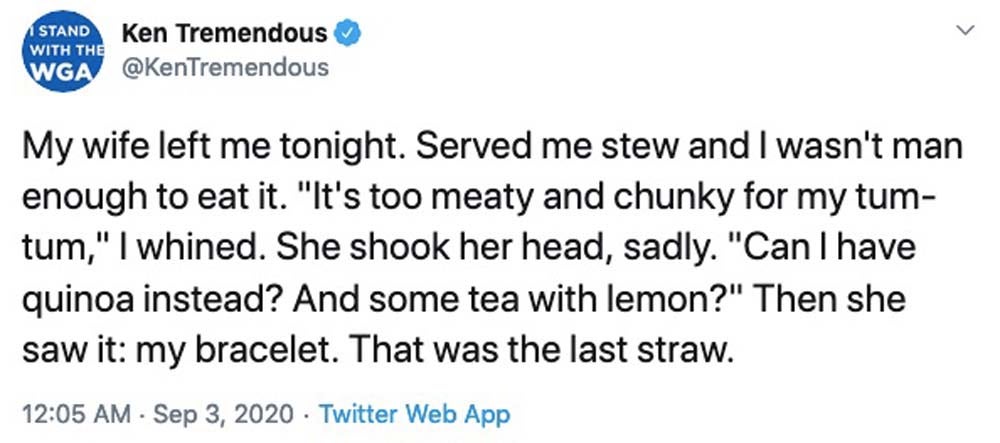 ---

---

---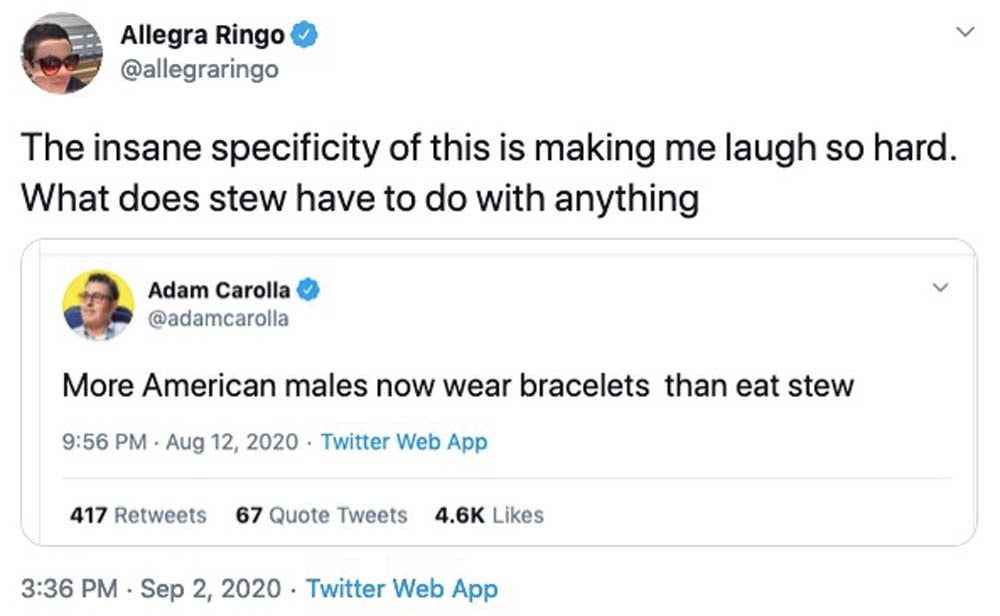 ---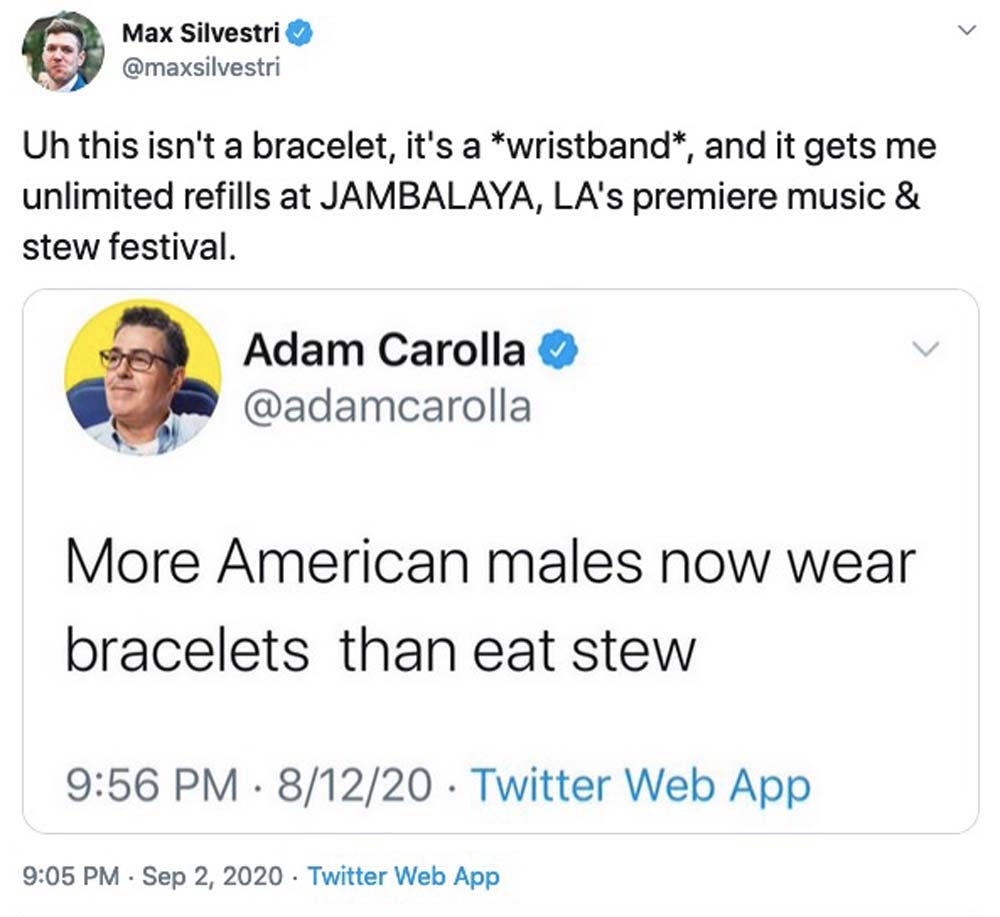 Actor and comedian James Urbaniak had a pointed comment on Carolla's stew tweet, replying simply with the likewise heavily meme'd photo of former Trump advisor Sebastian Gorka wearing a suede vest, carrying a rifle, and wearing—yes, that would be a bracelet! (It's worth noting that Carolla recently appeared on Gorka's America First with Sebastian Gorka podcast.)
How are conservatives ever going to understand the line of what's masculine and what's not with this kind of mixed messaging? What's next, tofu stew? Come get your boy, Adam.
READ MORE: