Seth Rogen can retire, thanks to an underaged man from Iowa.
Twenty-year-old Daniel Alfredo Burleson was arrested late last week after police caught him drinking at an Iowa City bar. The Des Moines native admitted to police that he was underaged, but claimed he had no fake ID. When he opened his wallet, however, police spotted what they assumed was his method of obtaining alcohol. A very familiar fake ID was nestled in his wallet, leading police to arrest the young Iowan. He is facing charges of public intoxication, being under legal age in a bar, possession of a fictitious license, and possession of alcohol while underage.
The "fictitious license" was, in fact, from the popular 2007 film Superbad. Written by Seth Rogen and Evan Goldberg, the movie follows a group of high school friends hoping to get laid before they head to college. One of the young men, Fogell—played by Christopher Mintz-Plasse—uses a fake ID to obtain alcohol for a party. Despite the terrible ID boasting only one name, McLovin, and claiming that the Hawaiian owner was born in 1981, he is remarkably successful in the film.
Amusingly, the very fake ID "expired" in 2008. It likely would have been denied at a bar, for the expiration if nothing else.
Rogen heard about the story and loved it, tweeting it.
My work here is done. https://t.co/OxlR08Re8u

— Seth Rogen (@Sethrogen) October 16, 2019
To be fair, Burleson claimed the ID was purely Superbad memorabilia. He told police he'd purchased the ID from Amazon (where they are in fact available for around $15), according to the Iowa City Press-Citizen. After the story broke, Rogen shared it to his Twitter page with a simple sentiment. "My work here is done," the 37-year-old actor wrote.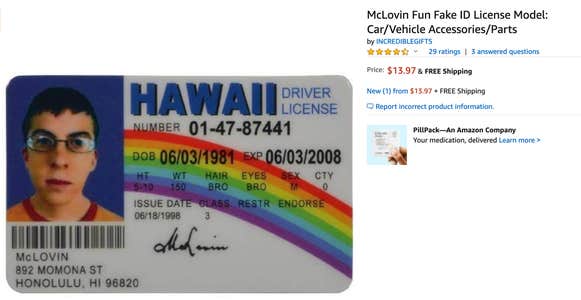 It's uncertain what kind of consequences Burleson will face. Thankfully, the photo included in the story Rogen shared indicates that the young Iowan isn't too concerned—the 20-year-old has a huge smile on his face. The ID's popularity and accessibility online may be enough to keep him out of too much trouble.
READ MORE:
H/T Complex