Newspapers aren't dead yet. Print journalism is necessary to impress parents, LinkedIn connections, and Facebook foes. Here are a few key elements that show why print is essential to your online life.
Instagram
A newspaper can be photographed with a coffee cup and croissants sitting on top of it. Placing a Danish pastry on an iPad is pretty lame and looks random. Wood+tea+GQ+Instagram is a once-in-a-lifetime mix that cannot be replicated digitally. It's pointless to apply image filters to text, but it's more reasonable for print than for screengrabs. Your life will seem way cooler to your online friends if you share only offline materials.
Alarm your friends
When your article is published in a newspaper, you should WhatsApp your entire contact list with the message "Economist page 37″ or "New York Post page 7." They will panic thinking it's about them. Nothing in your message hints at what the piece is really about, or who wrote it. Sending a link containing the headline and date of a story will never achieve this goal. Nor could you ask people to go to look for something in an ever-changing homepage without telling them what to look for. When getting the cryptic "page 7" WhatsApp order, most people will run down and get the paper, whether they feel like it or not. Some will reply back asking "What is on page 7?" You must not reply.
Chatting with English musician Mark Ronson.
Combine unrelated stories
The front page of a newspaper allows you to connect two seeemingly unrelated stories. Sometimes two separate stories may actually be related, but due to a gag order or publisher issues, they have to remain separate items. For example, this Royal yacht story and the Costa Concordia accident are inseparable: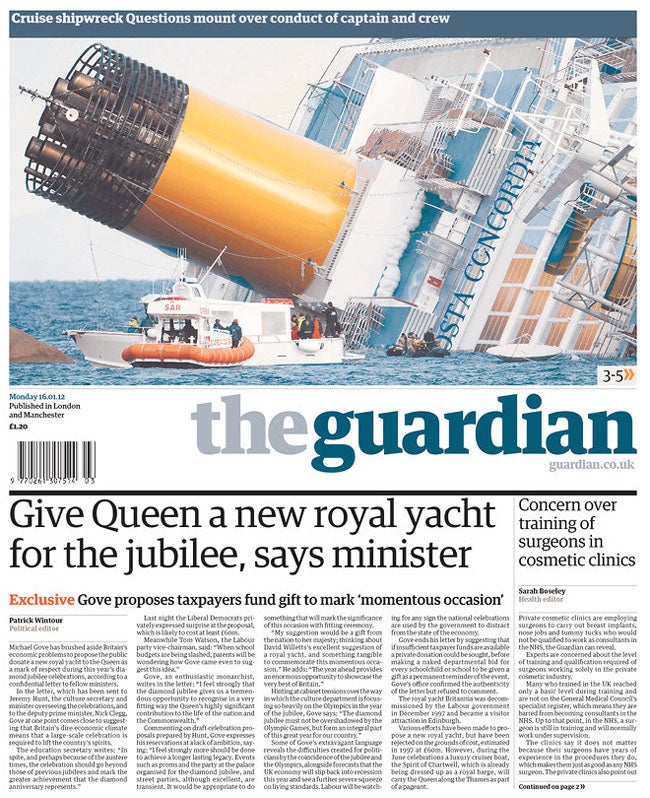 Hook up with someone new
People can't judge prospective friends and lovers if they can't tell what the other person is reading from a distance. This is only possible with a two-sided newspaper. Shamefully, digital devices have only one sociable side, as the back is always plastic or metal. Reading a Kindle can't attract anyone to you. The Financial Times, on the other hand, is a colorful fiscal statement of your eligiblity.
In conclusion, print more readily secures your place in history since there is far less paper than data, and the Newseum is in charge of keeping all newspapers alive. Even everyday people love to scan newspapers. Online articles, however, cannot be scanned without being printed out first. This is becoming an issue for many archivists. Convert now to a life of print.
Photo via e r j k p r u n c z y k (CC BY 2.0) | Remix by Jason Reed