Peaceful protesters were tear-gassed at St. John's Episcopal Church Monday in order to clear the area for President Donald Trump's Bible-holding "photo-op." Priests are now coming out to say they were among those tear-gassed.
Rev. Gini Gerbasi, who worked at the church for two years in the past, described in a Facebook post being "driven off" the church's patio with "tear gas and concussion grenades and police in full riot gear."
The priest, along with other clergy members, was reportedly not protesting but was there to be a "peaceful presence in support of protestors" and hand-out supplies to the protesters.
"The patio of St. John's, Lafayette square had been HOLY GROUND today," she said in the post. "A place of respite and laughter and water and granola bars and fruit snacks. But that man turned it into a BATTLE GROUND first, and a cheap political stunt second."
Gerbasi said she didn't realize it was a Trump photo-op until she got back to her car and heard he was there.
"I am shaken, not so much by the taste of tear gas and the bit of a cough I still have, but by the fact that that show of force was for a PHOTO OPPORTUNITY," she said.
According to reports, no one with the church knew Trump would be making a visit. Rev. Mariann Budde told CNN she was "outraged" the church wasn't asked—or even notified—beforehand.
Other clergy members who were there at the time, but not currently associated with that particular church, also reported their own accounts via social media.
Rev. Glenna Huber, who serves at the nearby Church of the Epiphany, wrote on Facebook that she was "horrified" of what transpired and that some protesters were simply singing before the National Guard showed up to tear-gas them.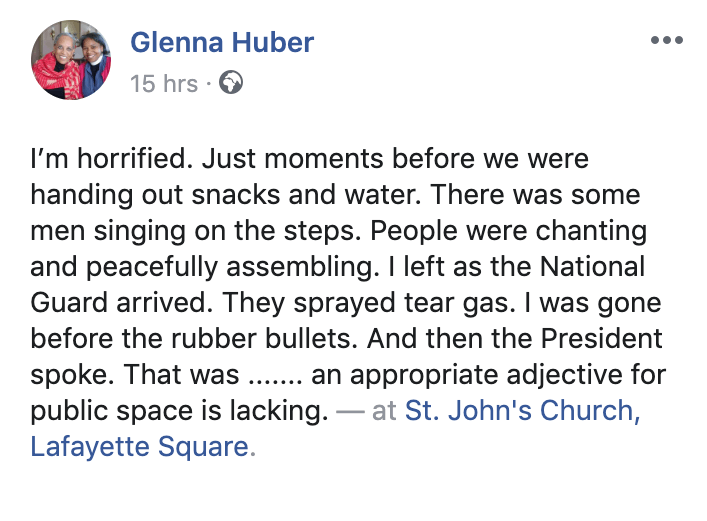 READ MORE: