For most of 2016, the gaming community was ablaze with discussion about the next Nintendo console. After the tepid reception to the Wii U and its lack of compelling software, all eyes were set on where the beloved Japanese company would go next. Rumors surrounded the system codenamed "NX" and indications that it would blend a handheld experience with traditional gaming consoles. The Switch was revealed in late October of that year, launched nearly six months later, and has sold more than 10 million copies worldwide.
Putting the Switch's success into context reveals some nearly unrivaled sales figures. The system continues to fly off shelves, driven by excellent exclusives like Super Mario Odyssey and Breath of the Wild. Helped along by popular indies and ports of beloved games from the past, the Switch appeals to a broad spectrum of gamers. When Nintendo teased a new experience for the Switch in January, fans' imaginations went wild again. But no one anticipated the kind of surprise we ended up getting with Nintendo Labo.
Labo is unlike anything Nintendo, or any other developer, has tried to do with games before. Launching this week, the first two Labo kits provide a series of cardboard toys to construct and interact with using the console and JoyCon controllers.
From the initial reveal trailer, Nintendo Labo carried the baggage of several uncertainties. More hardcore gamers were rightfully skeptical of how thorough the games included would be or if they represented mere tech demos for the hardware. Likewise, Nintendo's own messaging made it unclear if the accessories were meant for a mostly younger audience. Trailers barely do the experience justice, as the entire process of unboxing, assembling, and experimenting with Nintendo Labo comprise an entirely interactive merging of real-world building like LEGOs and the software magic of something like Minecraft.
Playing with Labo is a two-step process. Upon opening each of the kits, you're met with a matching game cartridge and several sheets of foldable cardboard. When you put the game into the console, you're immediately walked through a very basic guide to handling the delicate pieces inside. You'll need to keep your console undocked while you build, as it plays fully-interactive videos that walk you step-by-step through the assembly of your new ToyCon. These videos are actually surprisingly helpful, moreso than a printed manual could be. Players can interact with 3D models of the cardboard they're working with, pinching to zoom in and out, dragging around specific elements, and matching up the necessary tools.
Though these walkthroughs can quickly drain the console's battery, they are fantastic. Each instruction is easy to understand, sometimes they can be too helpful. You'll often be reminded to make sure you're folding along the lines carefully or not to bend anything and to ask for an adult if you need help. The cheery puns and rewarding sound effects included on every tutorial make it a little more clear that Labo may not be meant exclusively for children, but it was designed first and foremost to be kid-friendly.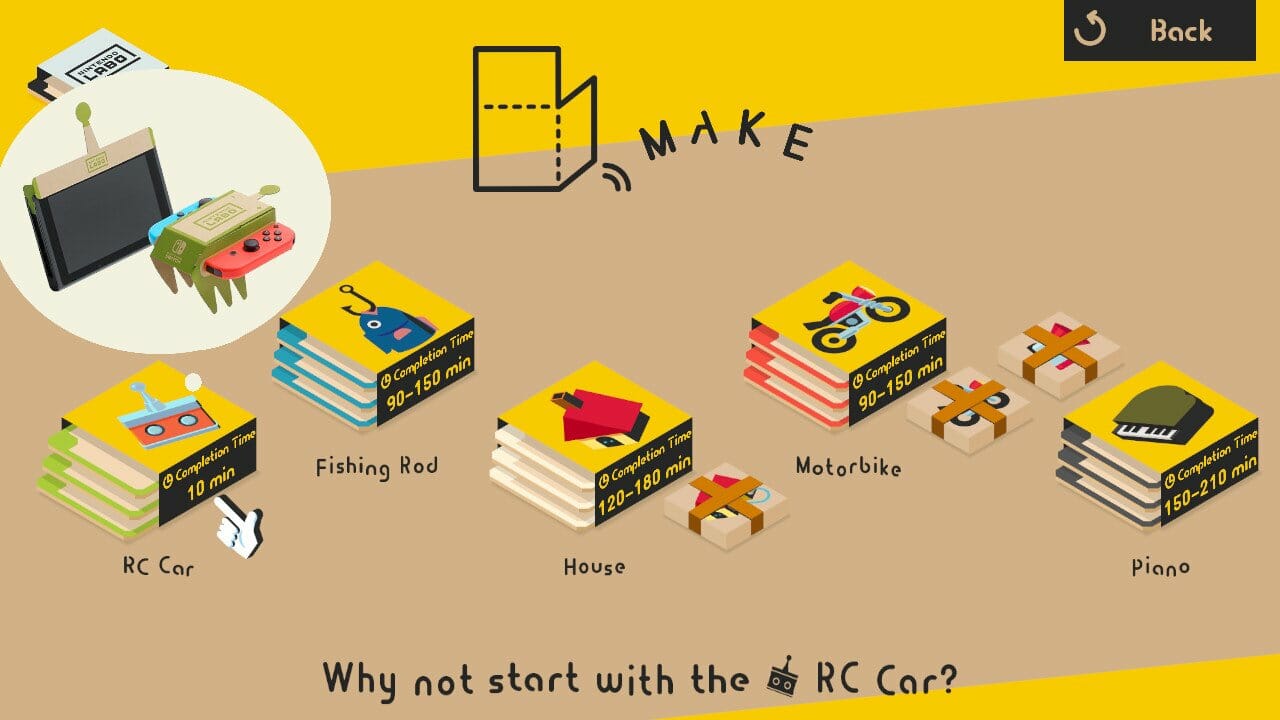 So far these experiences have been simple, but engaging. The car zips around fueled by the JoyCon's vibrations, which can be controlled and customized in a simple interface. The fishing minigame accompanying the rod is a bit more akin to something from the Wii-era, but still doesn't feel fully fleshed out on its own. Much like building a miniature or a LEGO set, the real fun of Labo comes in the building phase.
Still, each kit provides added incentives to experiment with the pieces included. The Discovery Lab opens after building your first ToyCon, and it features a quirky cast of characters to guide you along (with great names like Lerna Lotte and Gerry Riggs).
ToyCon Garage is another mode that comes with a laid-back programming language to make creations emit sound or light up. This is where customization comes into play with Labo, outside of drawing or painting on the actual cardboard.
After a few hours with Labo, it's hard not to be impressed with the level of polish on each creation. Watching each project come to life is captivating, and will be great in classrooms or in small groups. Labo doesn't land on Switch as a traditional gaming experience, but it is another unpredictable, wildly original idea from within Nintendo.
Nintendo Labo is available on April 20, 2018.
Disclosure: This review is based on impressions of Nintendo Labo kits provided by the publisher.