Leave it to the Internet to blend the world's most trending biter with the most famous victim of the almighty human chomp.
The big news around World Cup this week was that Uruguayan striker Luis Suárez, a player known for keeping a few dirty tricks up his sleeve, has returned to the prideful pastime of biting his opponents when the game is on the line. On Tuesday, during a game then tied at 0, he laid into Italian defender Giorgio Chiellini's shoulder.
Suárez's bite had the Internet goin' nuts on Tuesday, with a few more enjoyable tricklings coming in on Wednesday. Among them, this gem from YouTuber Timothy McCourt, who combined Suárez's penchant for biting the flesh of humans with the most famous bite-related YouTube video of all time: "Charlie Bit My Finger."
The premise is pretty simple: Replace Charlie Davis-Carr with the Uruguayan striker and have him go to town on older brother Harry Davies-Carr's hand. 
"That weally huhht!"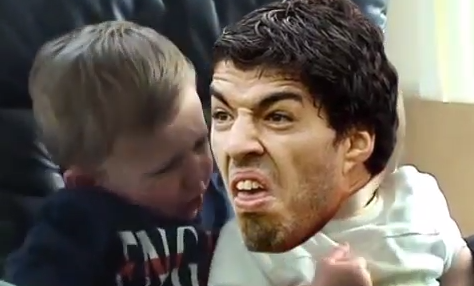 Suárez was found to have definitely bit Chiellini by FIFA on Tuesday. Thursday morning, it was announced that he'd be suspended for nine games and be barred from participating in any soccer-related activities for the next four months.
Photo via Timothy McCourt/YouTube