The full list of nominations for the 93rd Academy Awards is out, and while it includes a diverse group of actors and creatives amid its nominees, one of the bigger surprises of the day wasn't just about who was nominated—but where.
That big surprise came in the best supporting actor category. The Trial of the Chicago 7's Sacha Baron Cohen, One Night in Miami…'s Leslie Odom Jr., and Judas and the Black Messiah's Daniel Kaluuya have been receiving nominations from critics and industry awards bodies throughout awards season, so it wasn't too surprising to see their names among the list of nominees. Even Sound of Metal's Paul Raci, who's had widespread critics group support but didn't receive a Golden Globe or Screen Actors Guild nomination, wasn't too out of the ordinary.
The real shocker came in the category's fifth nominee, LaKeith Stanfield for Judas and the Black Messiah. (The film received four other nominations including best picture, original screenplay, cinematography, and original song.)
Stanfield has been part of awards season chatter for months, and his performance as FBI informant William O'Neal has been widely praised. But he's had trouble breaking through a particularly competitive season—the Oscar nomination is the first nomination Stanfield has received from any organization—and, despite, Warner Bros.' efforts, he was nominated in a category he wasn't even being campaigned for.
According to Warner Bros.' For Your Consideration website, Stanfield was positioned as a lead actor while it placed Kaluuya in supporting actor alongside Jesse Plemons (who wasn't nominated).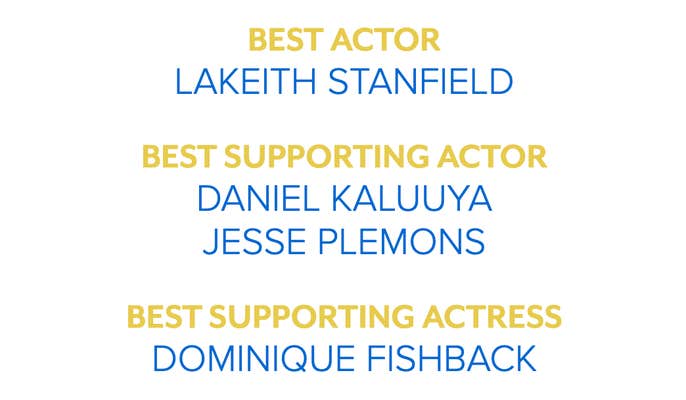 The nomination of Stanfield is a surprise, to be sure. But the bigger question that's leaving people with is if both Stanfield and Kaluuya are supporting actors, which actor is actually the lead of Judas and the Black Messiah?
Judas and the Black Messiah is more of a two-hander with Stanfield as O'Neal and Kaluuya as Fred Hampton. While the framing of the film—which combines a biopic with thrillers like The Departed—focuses a bit more on O'Neal, the FBI informant that infiltrated the Illinois chapter of the Black Panther Party during the final years of Hampton's life, Stanfield and Kaluuya function more as co-leads; they share plenty of screentime together, but you also get several scenes of one character without the other. (They're also both represented by the film's title.)
The two actors share close to equal time on-screen. According to Gold Derby's Matthew Stewart, Stanfield has slightly more screentime at 49:51 to Kaluuya's 46:09.
In recent years, the Oscars have come under scrutiny for category fraud, where actors are placed into certain acting categories they don't belong in because they might have a better chance of winning awards one way or another. Think Rooney Mara being positioned as a supporting actress for Carol or Brad Pitt as a supporting actor for Once Upon a Time in Hollywood. In cases where you have two actors who could feasibly up for the same category, studios tend to place them in separate categories—one in lead, the other in supporting—so that two actors for the same project don't end up splitting the vote. Hence putting Stanfield in lead and Kaluuya in supporting, a strategy that's been very fruitful for Kaluuya so far.
However, just because a studio positioned an actor in one category doesn't mean that awards bodies always follow. (Earlier this year, the Golden Globes switched Borat Subsequent Moviefilm's Maria Bakalova to the lead actress category despite Amazon Studios campaigning her as a supporting role.) But in the Academy's case, it might not have been a conscious move.
Per the 93rd Academy Awards' list of rules, if an actor is nominated for the same role in both lead and supporting categories, the actor is nominated in whichever category achieves the threshold first.
The leading role and supporting role categories will be tabulated simultaneously. If any performance should receive votes in both categories, the achievement shall be placed only on the ballot in that category in which, during the tabulation process, it first receives the required number of votes to be nominated. In the event that the performance receives the number of votes required to be nominated in both categories simultaneously, the achievement shall be placed only on the ballot in that category in which it receives the greater percentage of the total votes.
What does this mean? It's possible that Stanfield was nominated in both supporting and lead, but he qualified for supporting first.
Before Monday, Kaluuya was the frontrunner to win the Oscar. Now? It's a bit more complicated. The big question hovering over the category now is whether Kaluuya can still win, or if having Kaluuya and Stanfield competing against each other will split the category and allow Baron Cohen, Odom Jr., or Raci to sneak in for a win.
The 93rd Academy Awards will air on April 25.