Judas and the Black Messiah is not your average biopic. Though primarily focused on depicting the fall of Fred Hampton (Daniel Kaluuya), the chairman of the Black Panther Party's Ilinois chapter, it's a film that's just as much concerned with showing us the many conflicts that William "Bill" O'Neal (LaKeith Stanfield), the FBI informant who would eventually betray him, as it is the complexities of Fred Hampton. And thanks to two powerhouse performances, we see all of those complexities come to life in a film that highlights just how much the system wants to put them down.
Judas and the Black Messiah

RELEASE DATE:
Feb. 12, 2021
DIRECTOR:
Shaka King
STREAMING:
HBO Max
In exchange for avoiding criminal charges, William O'Neal is recruited by the FBI to infiltrate the Illinois chapter of the Black Panther Party and get close to chairman Fred Hampton. With astounding performances by Daniel Kaluuya and LaKeith Stanfield at its center, 'Judas and the Black Messiah' is an uncompromising view of a larger-than-life figure and the powerful system that sought to take him out.
It would be easy to paint Bill O'Neal as the outright villain or hold up Fred Hampton, whose story is largely ignored, or reduce him to either a larger-than-life figure or have a two-dimensional view of him (as Aaron Sorkin's recent film The Trial of the Chicago 7 did). It's certainly what J. Edgar Hoover (Martin Sheen in heavy prosthetics) does as he calls the Black Panther Party and its policies "the single greatest threat to national security" above the Chinese and the Russians, the kind of justification that would eventually lead to the police raid (a collaboration between the Chicago Police and federal officials) that killed Hampton; as Sam Pollard's recent documentary MLK/FBI reminds us, Hampton isn't the only person the FBI abused power to target.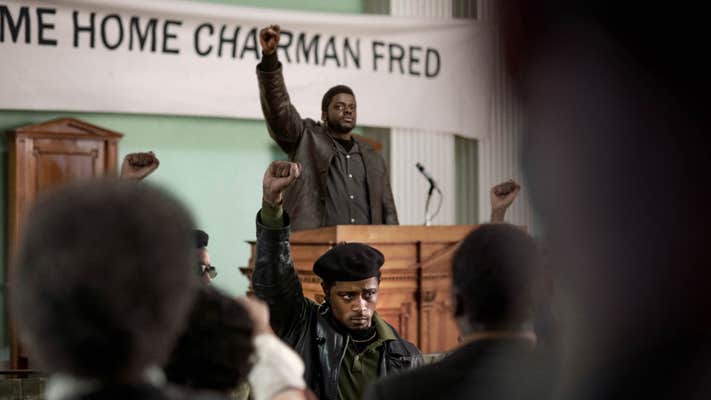 In the hands of director Shaka King and a screenplay by King and Will Berson (with story credits given to King, Berson, and the Lucas Brothers), Bill O'Neal is a complicated, someone who could be swept up and believe in the Black Panthers even as he sold them out. And while Fred Hampton is charismatic who could unite all of the marginalized groups of Chicago—Hampton was someone who, as O'Neal put it, "could sell salt to a slug"—we're also given a view into a softer side between his work on the ground and his growing relationship with fellow activist Deborah Johnson (Dominque Fishback).
Upfront, O'Neal gets himself in a tight spot. Caught stealing a car and impersonating a fellow officer, he's given two choices by FBI agent Roy Mitchell (Jesse Plemons): He can serve years in jail, or he can go home and work for them. Playing the genial good cop with that constant threat of prison time being the bad cop, Mitchell tries to reason with him, arguing that the Black Panthers and the Klu Klux Klan are two sides of the same coin and that "their aim is to sow hatred and inspire terror." But what he finds contradicts a lot of that sentiment.
Much of Judas and the Black Messiah is structured like a crime thriller as it hones in on the push and pulls of O'Neal, his split loyalties, and the dangerous task in front of him. He witnesses first-hand the good that the Black Panthers can do for the communities, and as he worms his way into Hampton's inner-circle, he too is drawn in by the aural power that Hampton wields. The more time he spends with Hampton, the more conflicted O'Neal becomes. In the film's recreation of the only interview O'Neal ever did about being an FBI informant, Stanfield perfectly captures the essence of that discomfort.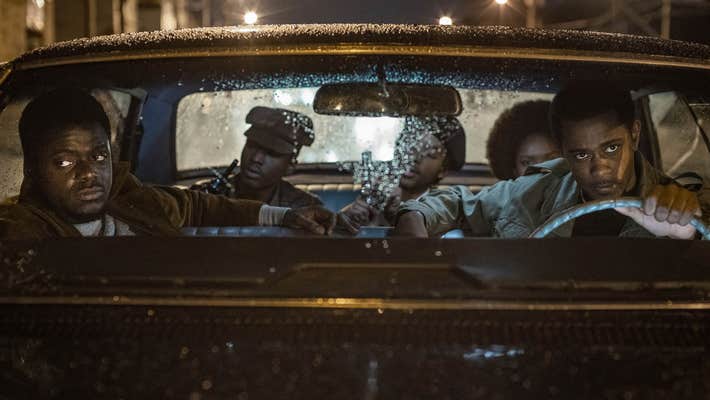 O'Neal is enticed by the financial rewards he receives from the FBI for a tip that paid off or the car given to him by the FBI that allows O'Neal to drive Hampton around, but he's just as easily spooked by what could happen if someone suspects that he's a rat. He plays his part well. But for Mitchell, who increasingly demands more of O'Neal while dangling the threat of his own crimes against him, O'Neal might be playing the role a little too well because Mitchell is having trouble telling if O'Neal is a really great actor or if he's buying what the Black Panthers are selling.
Kaluuya, whose depth and electrifying energy previously gave Get Out its emotional center and made him one of the most memorable aspects of Widows, portrays the reaches of Hampton's magnetism. Hampton is a talented orator—his "I am a revolutionary" speech is as striking in the film as it is in the trailers—but also someone who, despite his successes, doubts himself; he's quieter and shyer in more intimate moments with Deborah Jackson, who Fishback infuses with warmth.
He argues for keeping to the plan of opening a free medical clinic instead of using those funds to smuggle himself out of the country to avoid jail time and he cares profusely for the cause, choosing to align himself with the other major groups of Chicago (including a group of white men who cling to the Confederate Flag as a form of "southern pride") who face the wrath of the police to form the Rainbow Coalition.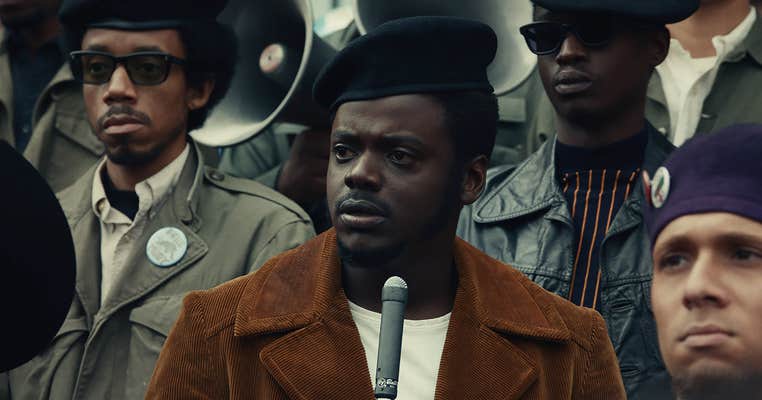 Judas and the Black Messiah isn't interested in coddling its audience, and from the beginning all the way to its horrific end, it never shies away from depicting the institutional forces that made it possible (and still make this kind of harassment possible today). From the near-constant hostility and violence that the Black Panthers faced from the police to the constantly moving goalposts that Mitchell dangles over O'Neal, it shows that very narrow path to be on, and straying from it could result in losing it all. And as Judas and the Black Messiah demonstrates, a person's life is far from the only thing a person can lose.
Judas and the Black Messiah will be released simultaneously in theaters and on HBO Max on Feb. 12.