One Night in Miami faces all the usual challenges of a celebrity biopic, multiplied by four. Set (as you can probably tell by the title) over the course of a single night in 1964, its main characters are four titans of 20th-century American culture: Malcolm X, Cassius Clay (soon to become Mohammad Ali), singer/songwriter Sam Cooke, and record-breaking football star Jim Brown. Can you introduce this many heavy-hitters without descending into pastichey celebrity impressions? As it turns out, the answer is a resounding yes. With particularly strong performances from Hamilton's Leslie Odom J.r (playing Cooke) and British actor Kingsley Ben-Adir (playing Malcolm X), One Night in Miami offers an engaging glimpse into a fictionalized moment in these men's lives.
One Night in Miami
RELEASE DATE:
Dec. 25, 2020
DIRECTOR:
Regina King
STREAMING:
Amazon Prime
Regina King's directorial debut is an adaptation of Kemp Powers' stage play, a smart and engaging drama about a 1964 meeting between Malcolm X, Cassius Clay, Sam Cooke and football star Jim Brown.
Adapted from a play by Kemp Powers, you can definitely sense the film's theatrical origins. It's a very talky movie, mostly taking place in limited locations like bars, cars, and hotel rooms, where the four main characters meet up to celebrate Cassius Clay's career-making win at the World Heavyweight Championship.
Eli Goree embodies Clay's magnetic charm and self-belief along with some hints of youthful uncertainty. For viewers who aren't well-versed in boxing history, it's a revelatory moment when we learn that Clay is only 22—not just a champion athlete, but already canny self-publicist with an analytical attitude to his own fame. Behind the scenes, he's been taking spiritual advice from civil rights activist and Nation of Islam minister Malcolm X, and the film takes place shortly before Clay's public conversion and change of name to Muhammad Ali.
Already one of the most celebrated living actors in America, Regina King makes a confident directorial debut here, encouraging dynamic performances and including some musical interludes to break up a rather static script. It could've done with being a few minutes shorter—the meandering structure lags a little in the middle—but the set-up is more than enough to hold its own. It's a political twist on the hangout movie format, as the four men come together to celebrate Cassius Clay's win, but get into some rather heated debates about their roles as Black public figures at the height of the civil rights movement.
Cooke, Brown, and Clay are all excelling in fields that are otherwise dominated by white executives. Malcolm X encourages them to use their fame for more overt political ends, but his singleminded seriousness casts him as the buzzkill of the party. Each of his three companions have different outlooks. Clay is comfortable with controversy, while Brown (Aldis Hodge, the most understated of the group) is struggling with his own career. He's already recognized as one of the greatest athletes in the world, but this hasn't protected him from blatant racism at work, and he's contemplating a shift over to Hollywood acting.
Cooke is Malcolm X's main antagonist, a musician who specializes in romantic but apolitical pop songs, and who aims to attract both Black and white audiences. He's an immensely talented songwriter and a smart business strategist, gaming a system where Black artists rarely achieve crossover success to the mainstream white-dominated charts.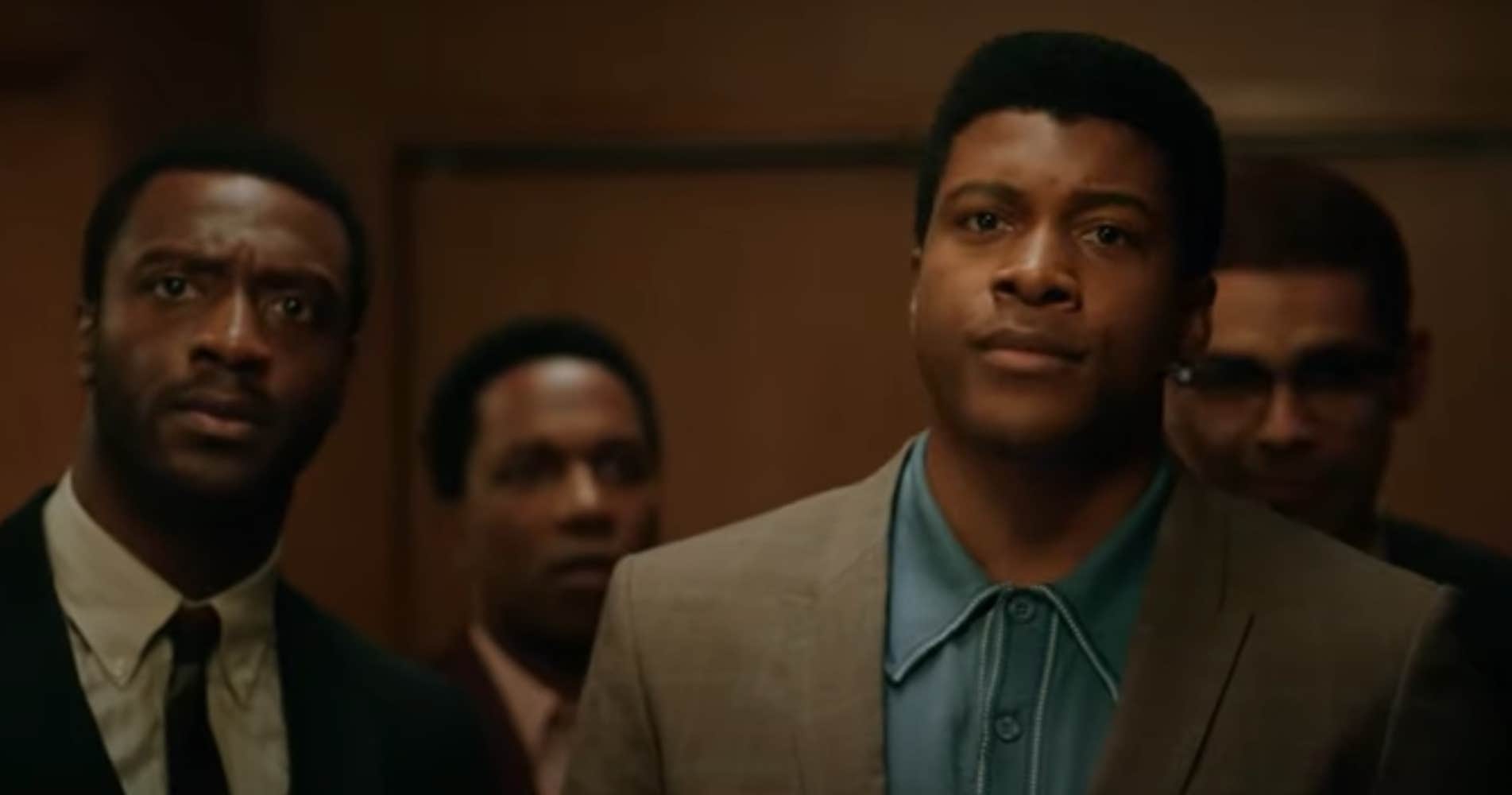 Malcolm X is deeply critical of what he sees as a fruitless quest to "tap into white people's souls," while Cooke explains that he's not interested in getting a piece of the pie—he wants "the whole damn pie," as both a musician and a businessman. One of the film's most powerful moments is a Sam Cooke musical number, showing why Leslie Odom Jr. is such dream casting for the role - an actor who can show Cooke's private struggles alongside his steely resolve, while also being a honey-voiced crooner in his own right.
It would've been nice to see some similar input from women here, given that the only female characters are brief roles for Malcolm X and Sam Cooke's wives. But the source material is what it is, and I don't espouse the idea that female filmmakers should be obliged to focus on women. With its thoughtful, accessible concept and biopic-adjacent format, it's easy to see why Amazon Studios snapped up One Night in Miami and chose to screen it at festivals far and wide.
One Night in Miami is now available to stream on Amazon Prime.