Sign up to receive this newsletter in your inbox. Read last week's newsletter here.
Cyberpunk 2077 players are reporting a totally NSFW glitch. In today's Internet Insider:
What counts as a Hanukkah movie?
'I can't talk right now, I'm doing hot girl s**t'
Tumblr users turned to old fandoms in 2020
---
BREAK THE INTERNET
What counts as a Hanukkah movie?
Earlier this week, a Hanukkah category came up during a (virtual) film trivia I participated in, and it made me realize how few Hanukkah movies exist. Sure, there are a number of films where there's a brief Hanukkah scene or maybe a menorah in the background…but an actual Hanukkah film? There's only a handful.
If you asked most people to name a title where they've seen Hanukkah represented, they'd probably cite Adam Sandler's animated musical Eight Crazy Nights, or perhaps the Rugrats special episode. The 1986 classic animated film An American Tail also depicts a memorable Hanukkah scene in a story about a Russian-Jewish family of mice.
But there are not many recent Hanukkah films, outside a couple of Lifetime films, leading to people making up their own rules for what is considered a Hanukkah film. Vulture's Rachel Handler just made the case for Black Swan as a Hanukkah film, and others on Twitter are offering their own unconventional Hanukkah movie picks.
My favorite recent Hanukkah film is Call Me By Your Name. Wait, CMBYN is a Hanukkah movie? Yes! (See the image above for proof.) At the end of the film, we see Elio (Timothée Chalamet) celebrate Hanukkah with his family before he sits down to cry in front of a fireplace while "Visions of Gideon" by Sufjan Stevens plays in the background. What could be more fitting for 2020?

—Tiffany Kelly, culture editor
---
SPONSORED
Even if the holidays are different this year, there's no reason you can't plan a festive celebration with the people you live with. If you want to make preparations easy, it's as simple as placing an order for Curbside Pickup at Sam's Club. They've got you covered for everything from the traditional holiday foods to perfect gifts for the fam. Knock it all out in one go without even having to get out of the car. Read More
---
TIKTOK TRENDS
'I can't talk right now, I'm doing hot girl s**t'
Megan Thee Stallion's "Girls in the Hood" is soundtracking a new trend on TikTok. The single, released in June and included on new album Good News, espouses the virtues of being a "hot girl" and doing "hot shit."

On TikTok, an audio sample stating, "I can't talk right now, I'm doing hot girl shit," is being used to transition into different examples and interpretations of hot girl shit. What counts as "hot girl shit"? It can be anything, from intimate grooming to dancing in a onesie. 

Here's why it matters: The trend speaks to how people are coping during the pandemic, and the activities that bring them comfort.
—Audra Schroeder, senior writer
---
CULTURAL OBSESSIONS
Tumblr users turned to old fandoms in 2020
Earlier this week, Tumblr released its annual Year in Review package, which showcases what its users have been discussing and searching for over the past year. Despite its 2019 debut, people couldn't stop talking about Star Wars: The Rise of Skywalker.
"Star Wars is one of those things where it's such a massive property that it touches everything," Amanda Brennan, Tumblr's trend expert, told the Daily Dot. "Whether or not you're in the fandom or tangential to the fandom, you're probably going to be talking about it, to see what's going on in the conversation."
Other fandoms that reached the top of Tumblr's lists? Animal Crossing, Twilight, and Lord of the Rings.
Here's why it matters: As it turns out, there's some comfort in revisiting a story where you already know the ending, especially during a pandemic. "Right now, we're in a world where a major news event happens every two hours; it feels overwhelming," Brennan explained.
—Michelle Jaworski, staff writer
---
BEHIND THE SEAMS
Batman has gone through numerous reboots and makeovers since his movie debut in 1943. In this YouTube video, we explore the bizarre history of his iconic costume. From spandex tights to kevlar body armor, the Batsuit tells us a lot about Hollywood's attitude to superheroes. Subscribe to Behind the Seams here.
---
MEME OF THE WEEK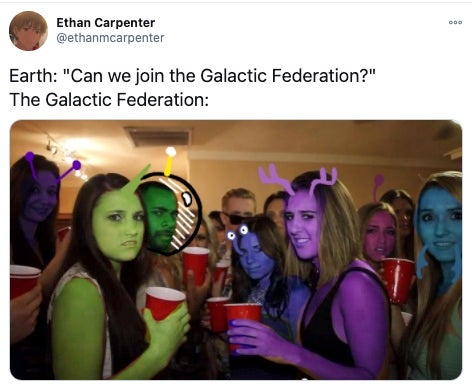 Aliens, please let us in!
---
WORK SLACK
"I can smell that Big Breakfast."
—Jason Reed, art director, on this tweet
---
Now playing: Labrinth — "All For Us"