Yet another restaurant chain is going viral on TikTok for its ingredients, and this time it's IHOP.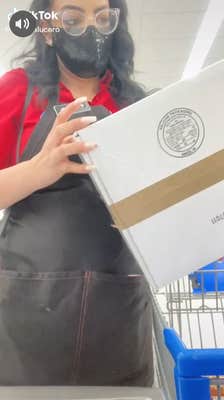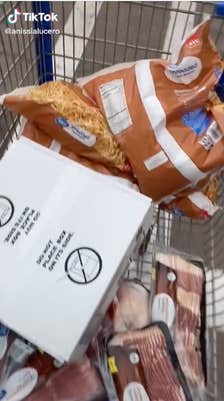 TikToker Anissia, @anissialucero on the platform, posted a video in her IHOP uniform buying bacon, eggs, and hash browns from Walmart. The caption reads, "Ihop got me f'ed up."
The clip also shows part of the restaurant's kitchen with a large bucket of brown liquid on the floor.
It's been viewed over 1.2 million times and liked more than 260,000 times since being posted on March 28.
Some commenters were pressed that their IHOP orders could be made at home for cheaper, using easily accessible ingredients.
"Soo why y'all charging 29.99 a plate and 5.00 for extras like ma'am that whole bag is 3 dollars," wrote one person.
"I just know y'all not serving great value food and jacking the price up," said another critic.
A TikTok user claiming to work at a different IHOP commented on the video explaining why employees have to make Walmart trips. "I work at an ihop and I kid you not we have to do this cause we have weeks where we're so slow so we don't order a lot and when it happens we get so busy," wrote @ruthlessxgee619.
Other food service workers chimed in to share the Walmart ingredients they had to buy for their stores. According to restaurant resource website RestoHub, food establishments typically have their own wholesale suppliers to keep costs down. But as this TikTok video and its comments show, employees occasionally have to buy ingredients from Walmart or other grocery stores when they go through a wholesale delivery too quickly.
"I work at Denny's and we have to go buy food at Walmart when we run out of our original," wrote one commenter.
"They made me do this when I worked at Dunkin' I had to buy the milk, caramel sauce, bagels, etc from Walmart," said another person.
Some viewers didn't seem phased by the video, and others even asked for Anissia to reveal where the restaurant's most coveted food items come from.
"Aye master chef uses Walmart," joked a viewer.
"Okay but what's the name of the chicken tenders," asked one user.
"TELL US THE PANCAKE MIX," begged another.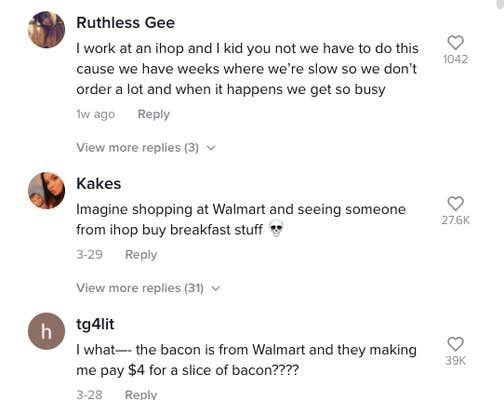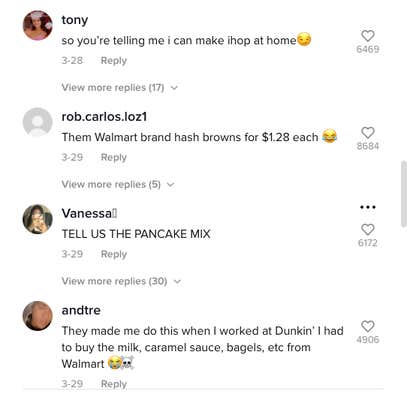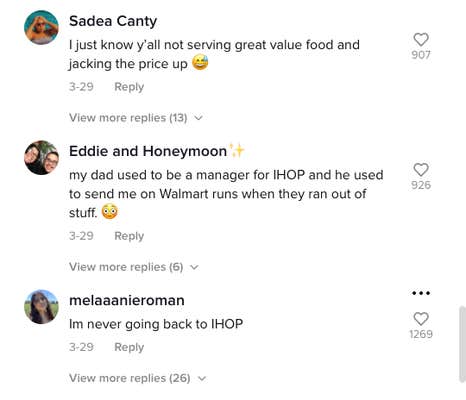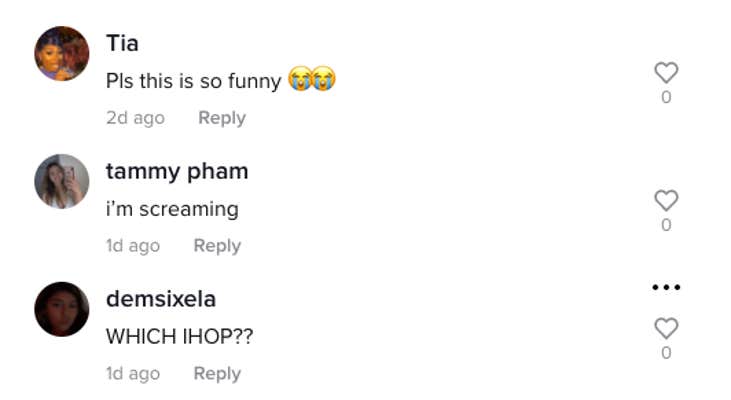 This isn't the first time a restaurant chain went viral for sourcing food from Walmart. Another TikToker previously exposed McDonald's for allegedly using Walmart cookies.
Update 4:55pm CT, April 10: When reached for comment, Anissia told the Daily Dot she didn't expect her video to go viral. "We had ran out of products so they sent me to the store," she said of her Walmart trip.
Anissia also said that while those working in the food industry are probably aware IHOP doesn't get all of its ingredients from Walmart, "some people might actually" think it does after viewing her video.
The Daily Dot reached out to IHOP for comment.