No one would accuse memes of being high fashion—their aesthetics in 2017 still trend toward MS Paint cartoons and layers upon layers of "deep fried" Photoshop distortion effects—but can high fashion be memes? Gucci is at least willing to find out.
Gucci design head Alessandro Michele has wrangled a group of top memers and a few well-known artists into creating memes for its line of watches. They're calling it #TFWGucci.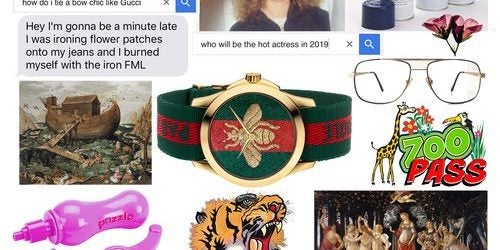 The project is interesting for a number of reasons, starting with the creators themselves. You've got Olaf Bruening sitting alongside the guy from popular Weird Facebook page (and now Instagram account) Cabbage Cat Memes. International art duo Christto & Andrew are chilling on the same page as Instagram's feminist meme champion, Goth Shakira, using the same Twitter-caption meme format. This is democratic, forward-thinking stuff for a luxury brand. Hell, Cabbage Cat Memes has been removed by Facebook multiple times, and now they've got the cosign from Gucci.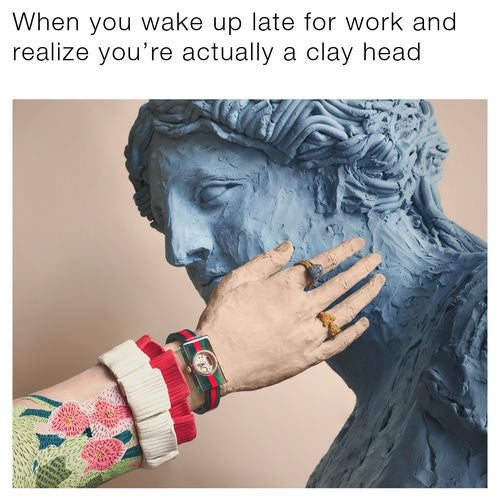 And about that whole "brand" thing: Association with brands and advertising is typically the kiss of death for a meme. As soon as a pizza chain asks you to cash them ousside howbou dah, the joke is dead. Select All's Brian Feldman has posited that Harambe the gorilla was such a potent, long-lasting meme because no brand wanted to be associated with the controversy around his unfortunate demise.
That's the context Gucci is stepping into—or trying to transcend—by commissioning its own designer memes-as-art. Sure, #TFWGucci is advertising, but it's positioned itself as something like a gallery space for the creators in the vanguard of new meme #content. Just don't let that distract you from the direction the value is really flowing here: Gucci needs these artists' internet cred more than the artists need Gucci.
And that's what makes this the best interaction of memes and fashion since that time "Dicks Out for Harambe" creator Sexual Jumanji decided to become a "hypebeast" streetwear blogger.
H/T The Cut