On the eve of the World Cup final between Argentina and Germany, Brazil's historic, heartbreaking, violent 7-1 semifinal loss Tuesday remains the story of the week.
How could the globe's guiding soccer light be entirely picked apart and disposed of like an ethnic soldier in a war movie? While not as domestically beloved as its legendary sides of yore, this version of Brazil overruns with talent from the most prestigious leagues, and it even featured a head coach that had previously defeated Germany in a World Cup final.
YouTube user Zebra Kamikaze has an answer. By editing out the Brazilian players from the game itself—leaving just the Germans and their goal-scoring flurries—it's suddenly obvious that Brazil didn't bother to show up.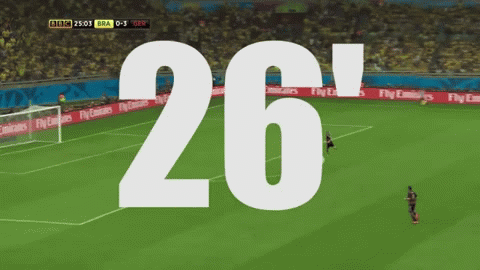 All credit to Germany, of course. Despite an emotional and rowdy home crowd, Germany weathered an opening five minutes of fervent play from Le Seleção with patience and composure. This is a side that lost in the 2010 semifinals of the World Cup for letting Spain dictate too much of the tempo and playing defensively, and then lost to Italy at the 2012 Euros for emphasizing too much of its play on possession and getting burned on the break. As a learned result, this version of Die Mannshaft is one of global soccer's most balanced and complete units. Individually, high-end stars like Thomas Muller and Phillip Lahm are happy to buy into collective roles: hustling to every assignment, helping on defense, selflessly ceding scoring chances to better-positioned teammates. It makes Germany an easy favorite to become the first European squad to win the World Cup in the Americas.
After the first goal, Brazil shattered. After the second, it checked out entirely. Here's proof.
Screengrab via YouTube