Analysis
Brands are not your friends. They might try for a more personable touch on social media, but it can often backfire, especially if a message is tone-deaf or company policy contradicts its lip-service.
At the end of the day, these brands ultimately are selling you some kind of product or service and will want your money in exchange for it.
But because brands are so online, it can set up some sort of expectation that they need to respond to the events of the day.
Some statements from brands have started appearing online over the past few days as the outcry over the death of George Floyd grew and the police attacked protesters across the country.
Most of these messages assert that Black Lives Matter, that they are against systemic racism and police brutality, and that they support their Black employees during this time.
Sometimes, those statements might be decent or inspiring; some will even include pledges to donate to bail funds and other organizations assisting protesters. But many more—from Amazon (for supporting ICE and its Ring partnership with police), CBS (for housing LAPD officers, who then attacked protesters), Twitter and YouTube (for monetizing and allowing white supremacists to flourish on their sites), to Facebook (for its lack of action against Donald Trump's statements glorifying violence, even by its own employees) and the NFL (for essentially blacklisting Colin Kaepernick when he peacefully protested during the National Anthem a few years ago)—are being highlighted for their hypocrisy.
More often than not, those statements read like a bunch of buzz words strung together, put out when it likely started to become more harmful to their brand to stay silent than to speak out. They also, as Chris Franklin highlighted, look incredibly similar to one another.
On Sunday, Disney joined several major companies decreeing racism and speaking in support of its Black employees with a statement of its own that almost feels like a parody of Franklin's boilerplate format.
It's a point that's driven home even more with just about every major Disney brand Twitter account sharing the exact same statement; you can only imagine how many people were involved in crafting the 28-word statement.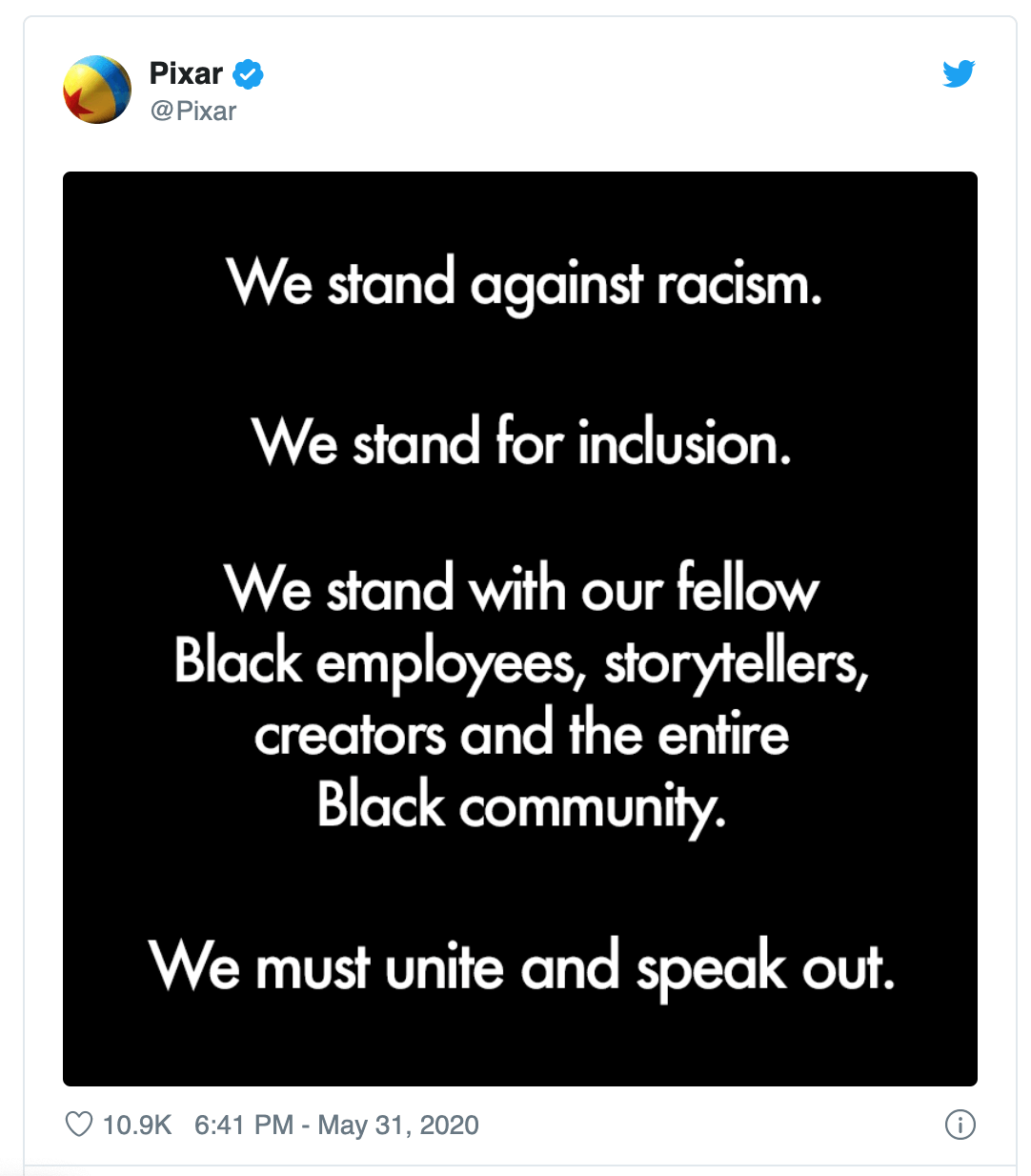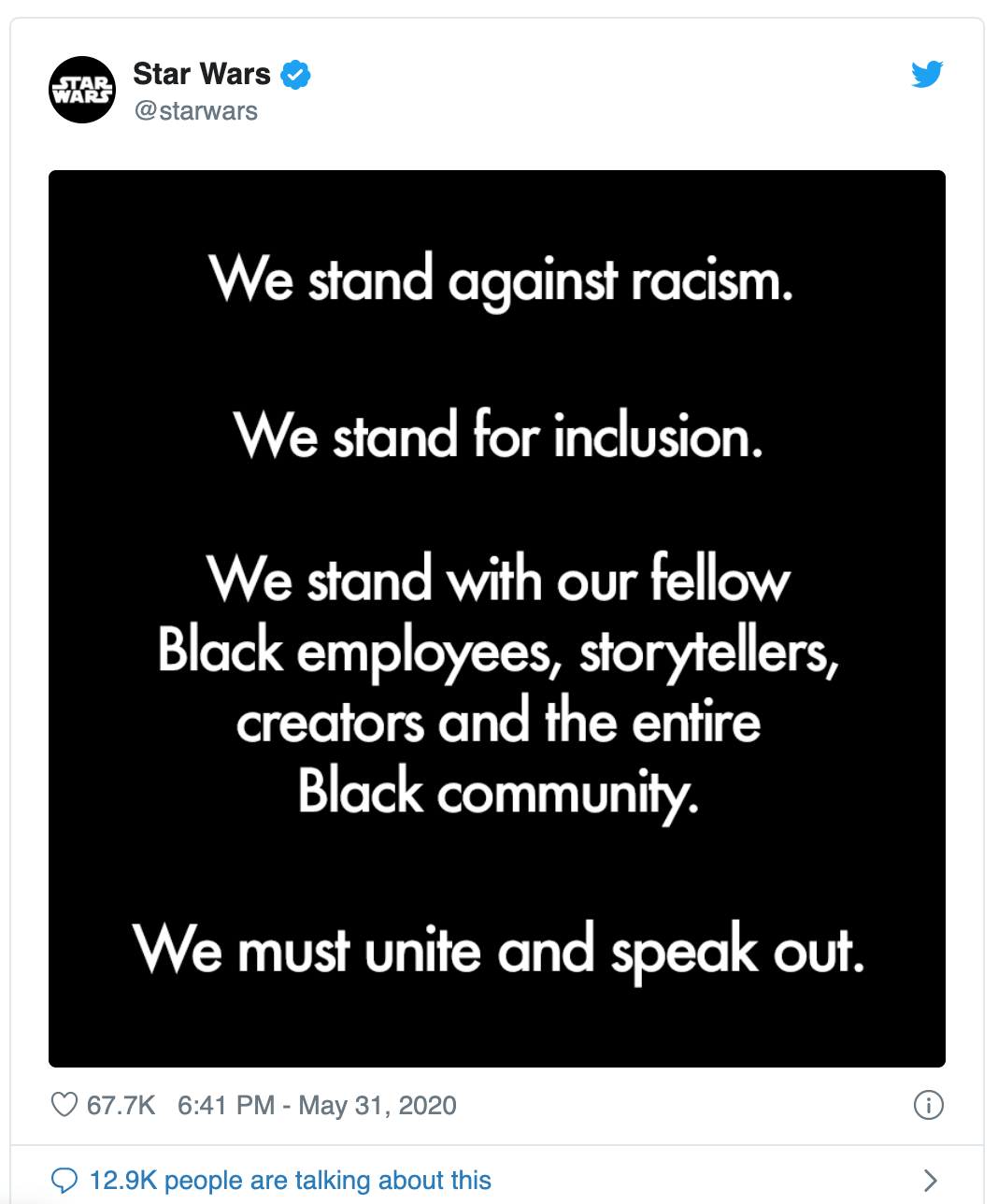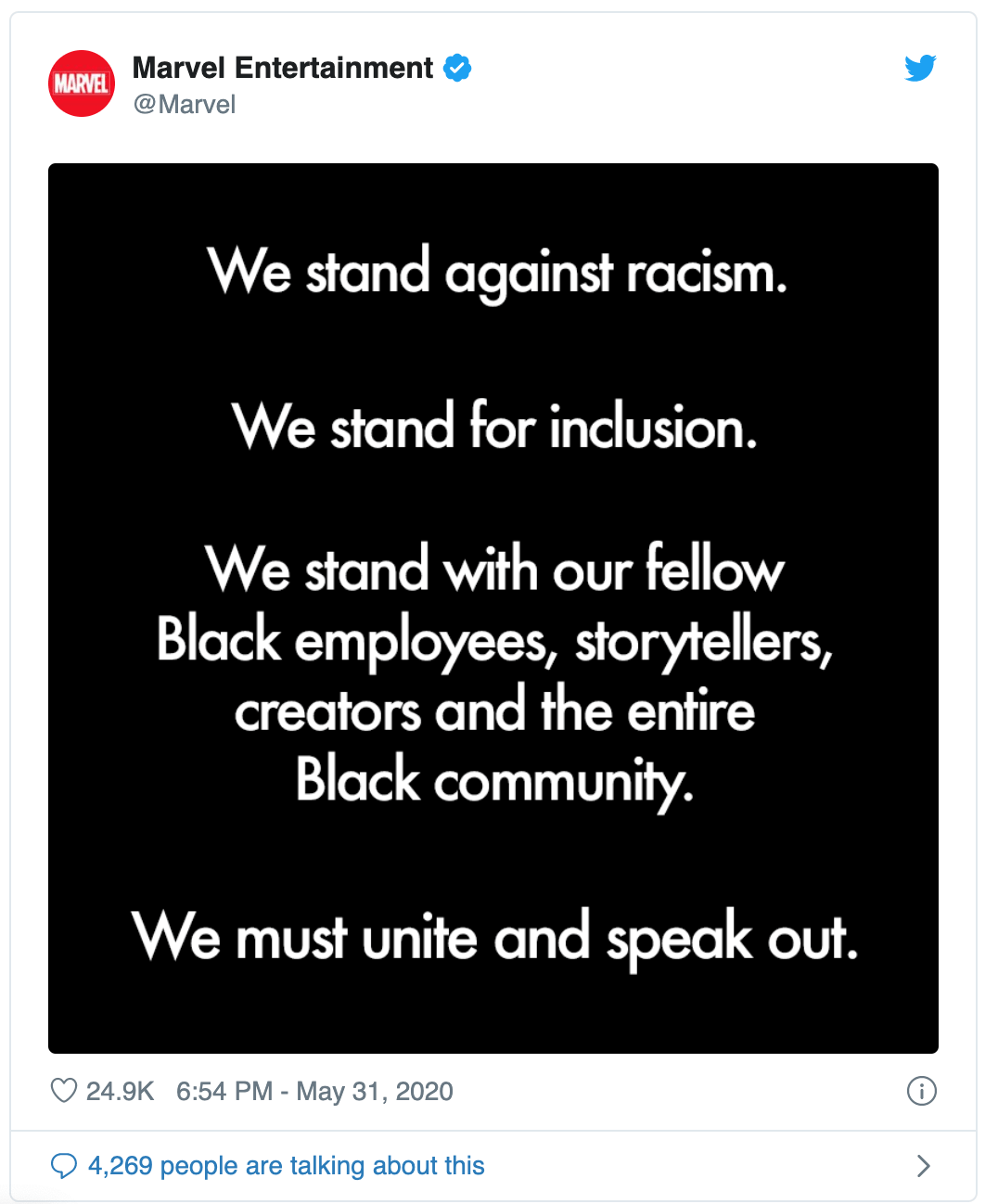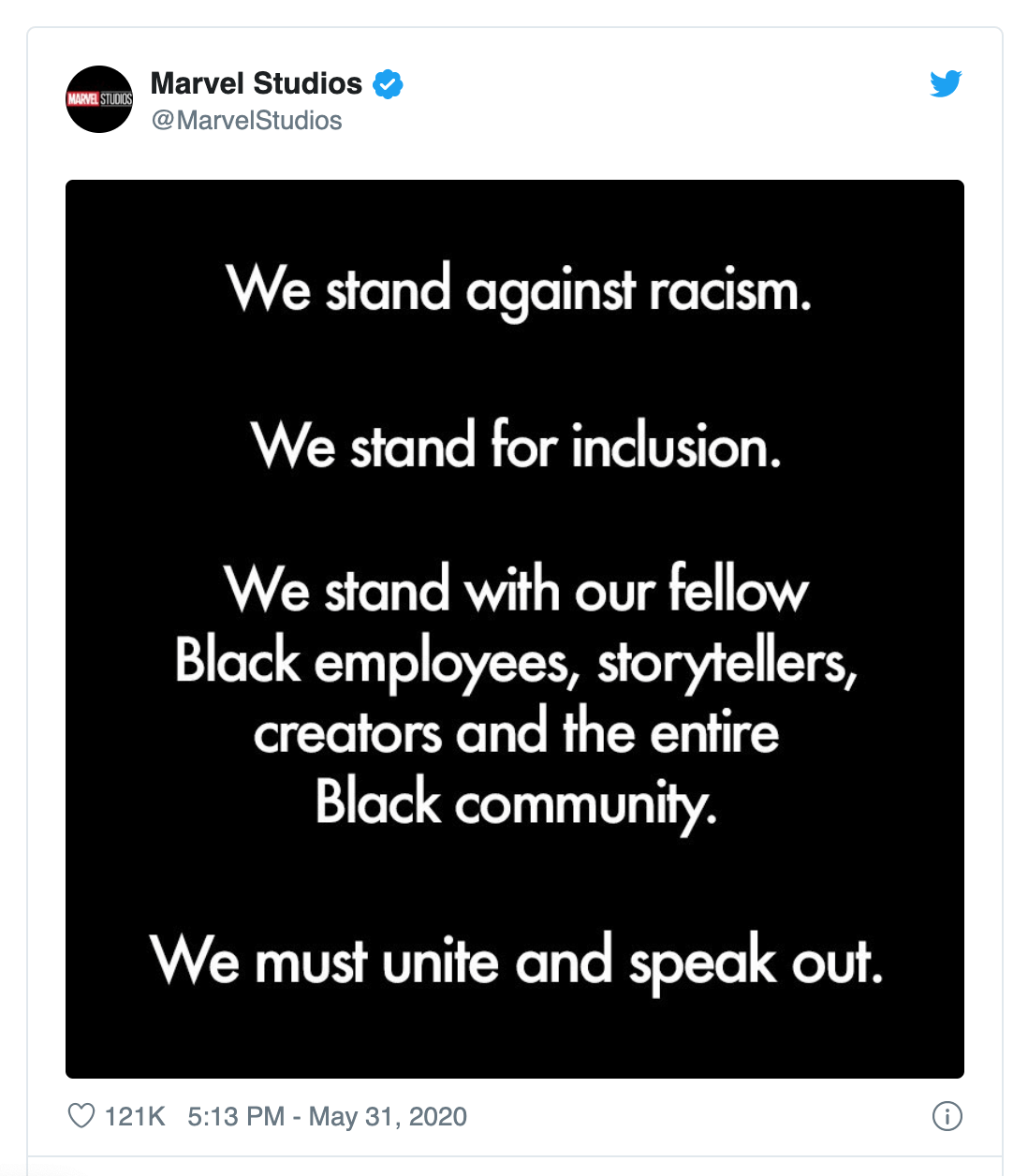 Disney elaborated further in a message sent to the inboxes of Disney employees, although it remained vague on actual solutions.
"We intend to focus our efforts and resources to compassionately and constructively talk about these matters openly and honestly as we seek solutions," Bob Capek, Bob Iger, and Latonda Newton wrote. "We intend to keep the conversation going, not just today, but for as long as it takes to bring about real change."
Disney's statement on social media can be boiled down to a couple of things: That it's speaking out against racism and that inclusion is a good thing. It doesn't mention any of the political unrest, the protests across the country, or police brutality (the last of which is only alluded to in Disney's longer statement). While the sentiment behind speaking out against racism is likely genuine, the statement is designed in a way to offend the least number of people possible and prevent more conservative backlash—people who might potentially boycott Disney, its films and shows, and its theme parks; people have threatened to do so for far less.
It probably couldn't afford to not say something, but it also couldn't afford to go more in-depth than it did; chances are, some people are perfectly satisfied with what Disney has already said.
But a statement like that doesn't absolve Disney of its past problems.
Marvel Entertainment CEO Ike Perlmutter is shrouded in controversy, which includes his monetary contributions to Donald Trump, his role as a "shadow ruler" of the Department of Veteran Affairs, and his years-long pushback on attempts to make the Marvel Cinematic Universe more inclusive up until he was no longer included in the process. (He also reportedly said that no one would be able to tell that Don Cheadle replaced Terrence Howard in the MCU, asserting that Black people "look the same.") Marvel's current editor-in-chief pretended to be Japanese in order to write Marvel comics while working as an editor, for which he's only offered a weak apology while suffering no major consequences. Lucasfilm has not made a public statement supporting its own actors who've been on the receiving end of racist messages from fans and detractors, to the point where one of them left social media because of it.
On Disney+, several animated classics feature a brief note that reads: "This program is presented as originally created. It may contain outdated cultural depictions."
It's an acknowledgment that some of its older films (like Dumbo, Lady and the Tramp, and Peter Pan) include racist depictions in them. But without using the word racist or racism, it doesn't go as far as some rival companies do. Song of the South, Disney's controversial and racist 1946 film, remains a dark spot for Disney's legacy (and isn't available to stream, even with a warning attached to it), yet two major Disney staples—the song "Zip-a-Dee-Doo-Dah" and the Splash Mountain ride at Disney's theme parks—are both strongly connected to the film.
Disney, like most companies, wants you to pay for its products and services. And what Disney's selling has widescale popularity: People all across the political spectrum go to Disney parks, buy Disney products, and watch Disney movies and shows; the loyalty some might feel toward Disney can last a lifetime.
And given that Disney is planning to start reopening its U.S. theme parks next month in a time where many potential customers might not feel safe returning to a theme park just yet, it's got a lot riding on people buying its products.
Keep that in mind when you read what it's saying.
READ MORE: