Chris Pratt is trending on Twitter (again) after a couple of his older tweets resurfaced alongside a fake tweet with a racial slur. 
The tweet highlighting some of Pratt's previous tweets was posted by @CATGRLISM, included screenshots of three tweets.
"#ripchrispratt rest in peace? definitely not," CATGRLISM tweeted.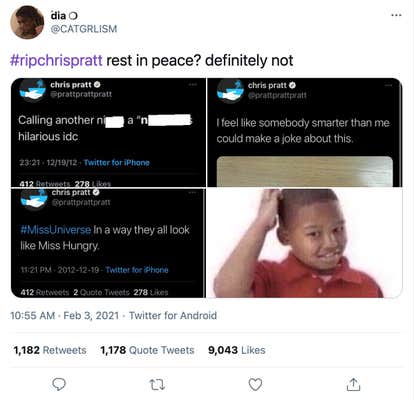 Two of those tweets, which were posted in late 2012 while Pratt was still on Parks and Recreation but shortly before he was cast in Guardians of the Galaxy, are still on Pratt's Twitter page. One of them features a photo of a Bank of America pen that says "Made in China" on it. The other is a commentary on the Miss Universe pageant in which Pratt points out the thinness of the contestants and makes a bad pun involving the country Hungary.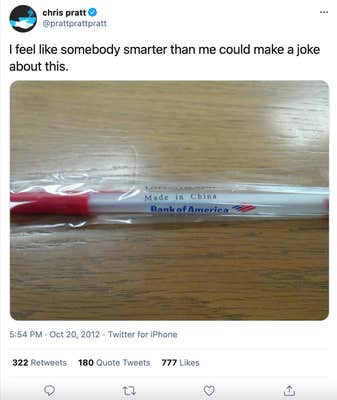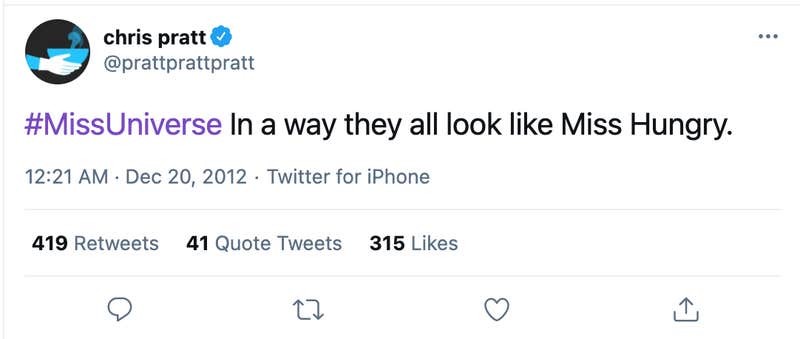 The third tweet, which doesn't appear on Pratt's Twitter page, uses the n-word twice and says that using the n-word is "hilarious idc." It includes Pratt's name, Twitter handle, and his current profile photo.
But the tweet is fake. The font used for Pratt's name is bolder than the other two tweets that do exist on Pratt's Twitter page, indicating that it might have been Photoshopped. The times on the Miss Universe tweet and the fake tweet also have the exact same date and time listed.
Despite the most offensive tweet being easy to disprove, that didn't prevent the hashtag #ripchrispratt, Chris Pratt, and Starlord (his Marvel character) to all trend on Twitter. Some people believed that Pratt actually did tweet a racial slur while others took the opportunity to criticize and express their disdain for Pratt.
As we've seen pretty much anytime Pratt makes headlines these days, he's a polarizing figure. He's received criticism over the anti-LGBTQ+ church he associates with. He's been dunked on for his views (and alleged views, since he isn't as politically active on social media as many of his Marvel co-stars) on politics and the role celebrities play in being political. Even when there's an indication that Pratt has done something sweet for a young fan, or is the subject of leaked set photos from Thor: Love and Thunder, it usually turns into a round of "Chris Pratt is the worst Chris" on Twitter, which launched discourse that lasted for several days of discourse and led many co-stars to defend him the last time it happened. 
Neither of the two Pratt tweets that are highlighted (and actually exist) is an example of a stellar tweet; they're bad jokes. But even for those who don't find those tweets offensive, there is still plenty of reasons for critics to get mad at him.