This article contains spoilers for The Mandalorian.
There's a lot of big-name content on Disney+, including most of the Marvel cinematic universe, Disney classics like Snow White and The Little Mermaid, and the entire Pixar catalog. But one particular series seems to have captured people's imagination: The Mandalorian, an original show set in the Star Wars universe.
The show's titular character is a bounty hunter, and in the first episode, he's hunting for a 50-year-old creature who, we see at the end, turns out to be an infant. An infant who looks a lot like a baby version of a certain Jedi master.
Since The Mandalorian takes place five years after the Yoda's death in Return of the Jedi, he can't actually be the Yoda, but he does appear to be the same species as him, or perhaps even a clone.
Baby Yoda memes
Still, the internet dubbed the creature "Baby Yoda" in November 2019, and we never looked back. Disney has referred to him as "The Child" in merchandise and marketing, but in season 2 of The Mandalorian, the baby's name was revealed to be Grogu.
You can check out our deep dive into who the little creature might be, but in the meantime, let's take a look at some of the memes and jokes it immediately spawned.
1) Baby Yoda inserted in other memes
Baby Yoda has been photoshopped into countless other memes, including the one of Pope Francis "holding up" objects, the "woman yelling at cat" meme, and the "Ok, Boomer" meme.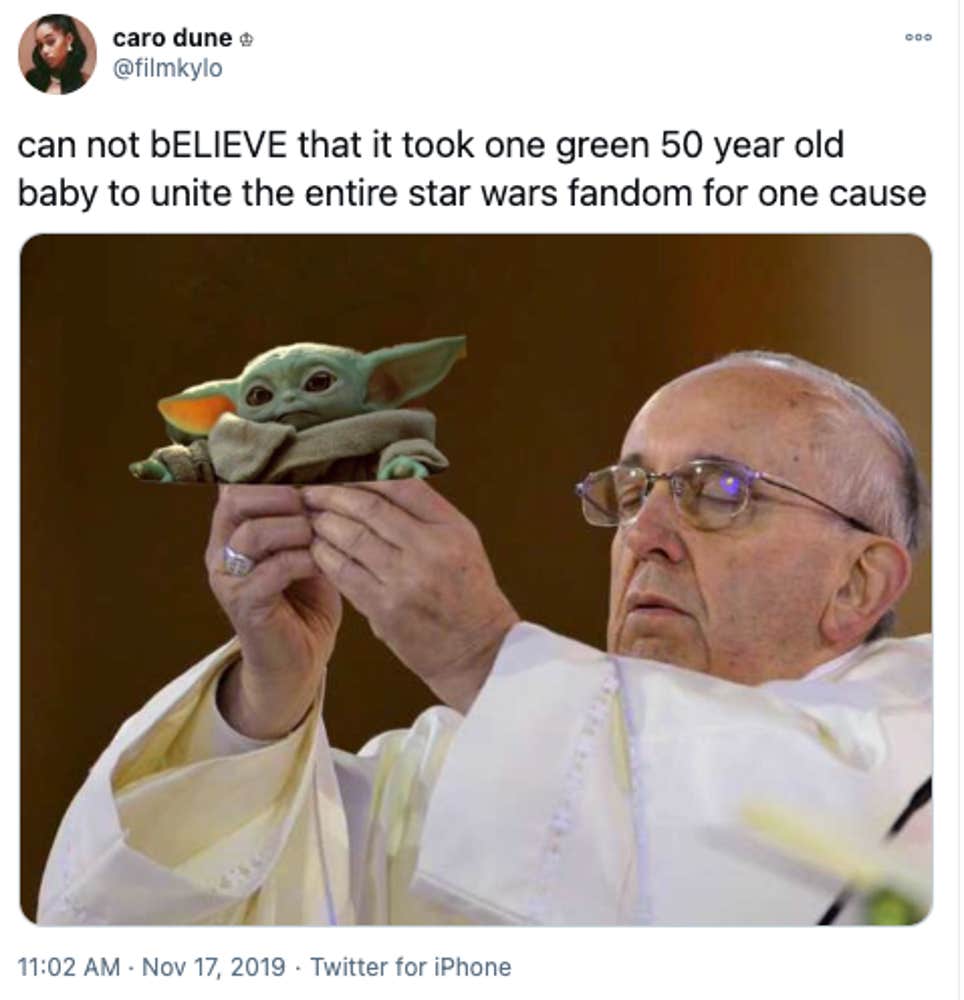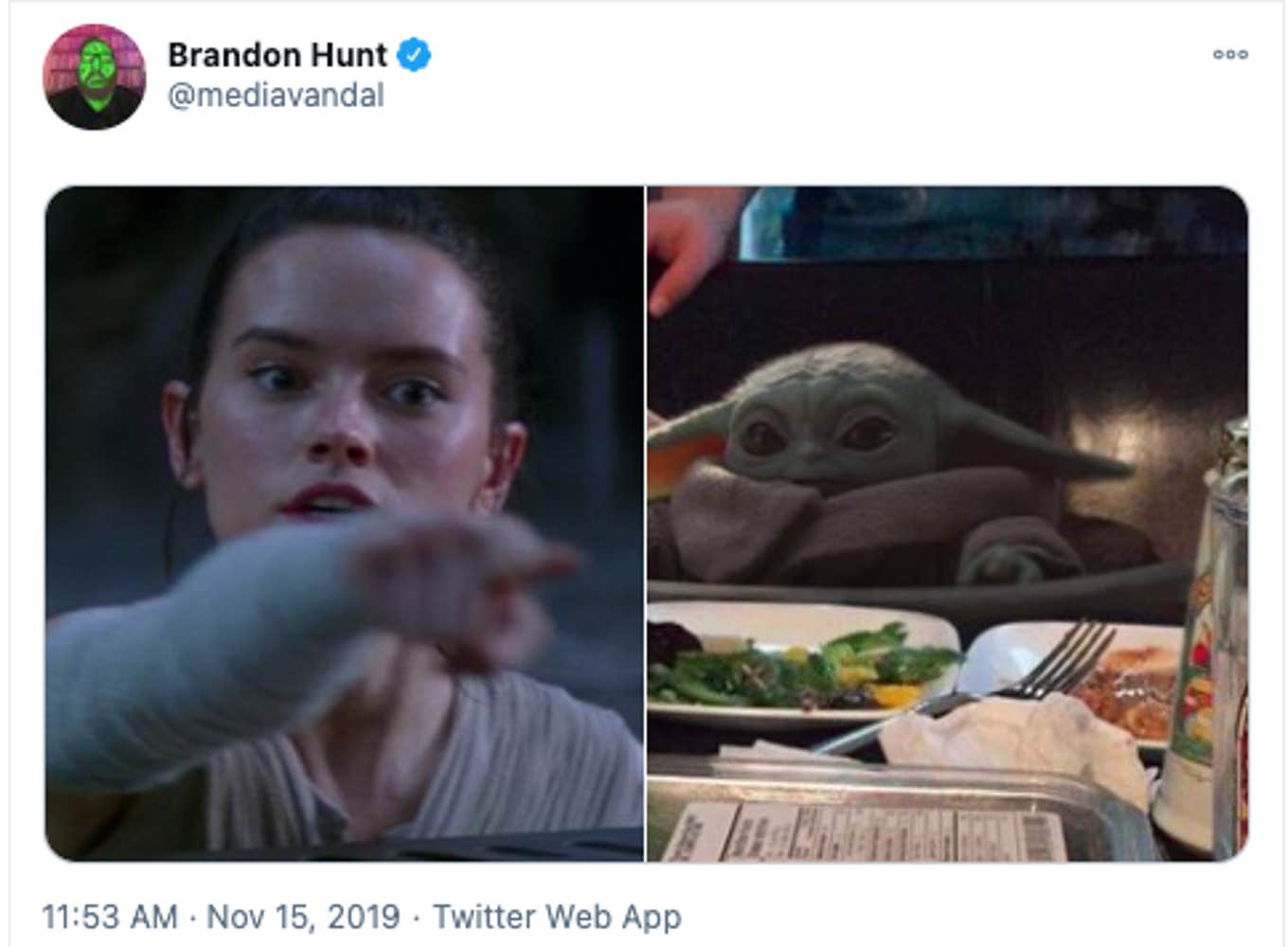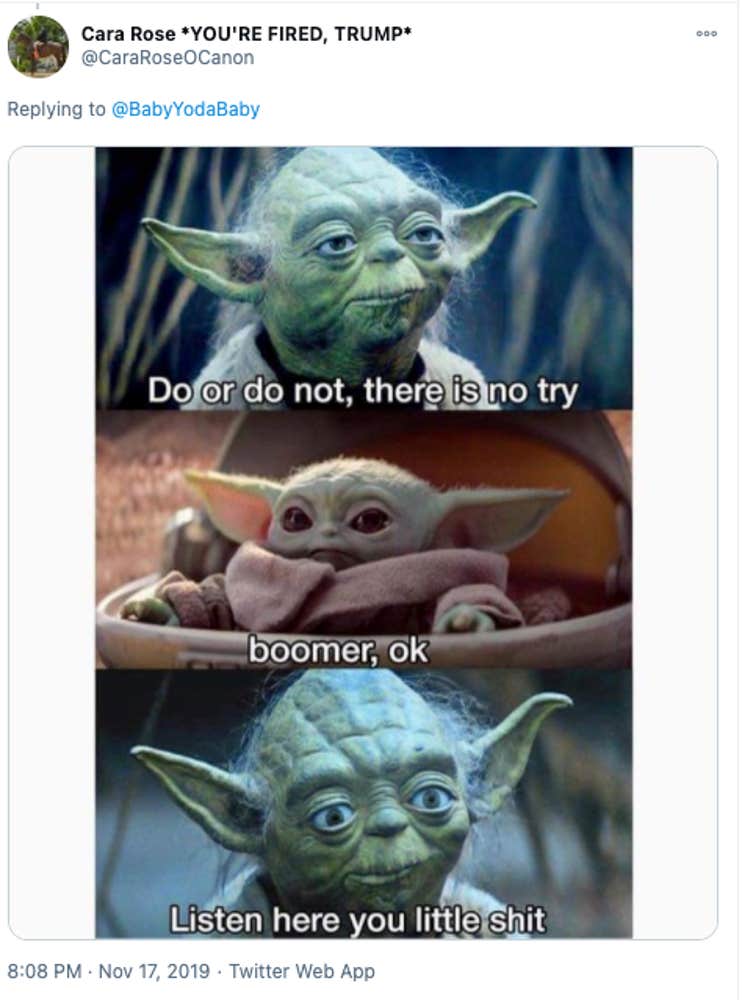 ---
2) Memes about different types of Yodas
If there is a Baby Yoda, does that mean there are other Yodas?
---
3) Baby Yoda sipping soup memes
Early on in the first season of The Mandalorian, Baby Yoda/Grogu is seen sipping from a cup of soup loudly while his dad, Mando, fights with Cara Dune. The scene created a perfect GIF and meme.
People used the meme to relate to Baby Yoda watching family members fight, while others used the meme to represent what it feels like to be cozy. And some people photoshopped out the soup to show Baby Yoda holding a different object.
---
4) 'I would like to see the baby' memes
In an episode of the first season of The Mandalorian called "The Reckoning," The Client (Wener Herzog) makes a simple request after Mando secures the Asset (Baby Yoda): "I would like to see the baby."
A screengrab of Herzog with the quote spread like wildfire as a relatable meme. Yes, we would all like to see the baby, too.
5) Grogu memes
On Nov. 27, the world learned Baby Yoda's real name: Grogu. After a year of the internet knowing him as a Baby Yoda, the internet responded to the name with memes. Naturally, fans will still keep calling him Baby Yoda.
---
13 Disney+ Hidden Gem Movies You'll Love:
---
READ MORE:
---
I watched the first 6 'Star Wars' films for the first time, in one sitting:
---