In the wake of the ruinous Notre Dame cathedral fire, Paris-based video game company Ubisoft is donating close to $565,000 toward its restoration. The company also announced Wednesday that it is letting people play 2014's Assassin's Creed Unity for free, for a week. 
"We stand in solidarité with our fellow Parisians and everyone around the world moved by the devastation the fire caused," Ubisoft wrote in a press release. "Notre-Dame is an integral part of Paris, a city to which we are deeply connected. Seeing the monument in peril like this affected us all."
You can download a free copy of Assassin's Creed Unity here until 2am (your local time) on April 25. The game is only available for PC users.
Assassin's Creed Unity is a remarkably impressive recreation of the French Revolution set in 16th century Paris. In the game, mobs of furious French citizens roam the streets demanding justice. Revolution signs and hay wagons set the scene throughout. 
One of the game's most notable landmarks is arguably the 16th century version of Notre Dame. Ubisoft went to great lengths to ensure its historical accuracy. You can see a rendering of it in the image above or with this playthrough on YouTube. 
"We want to give everyone the chance to experience the majesty and beauty of Notre Dame the best way we know how," the company wrote.
Ubisoft's recreation lets players explore much of Notre Dame. True to Assassin's Creed form, you can climb all the way to the top of the cathedral's spire (now collapsed from the fire's damage) and get an birds-eye view of the city. The iconic stained-glass windows, including the massive South Rose window, are also present.
"Video games can enable us to explore places in ways we never could have otherwise imagined," Ubisoft wrote. "We hope, with this small gesture, we can provide everyone an opportunity to appreciate our virtual homage to this monumental piece of architecture."
In a 2014 blog post, Ubisoft artist Caroline Miousse described how they worked together to bring Notre Dame to life in Assassin's Creed Unity.
"We were able to find a lot of blueprints showing us exactly how Notre Dame was constructed," Miousse wrote.
Miousse said that she used a historian, books, and Google to help her recreate the landmark in video game form. She also said that she talked to people who had visited Notre Dame in order to accurately capture its ambiance.
"That's a very important part of making sure I do it justice—getting players to feel the right emotions when they see it in the game," she wrote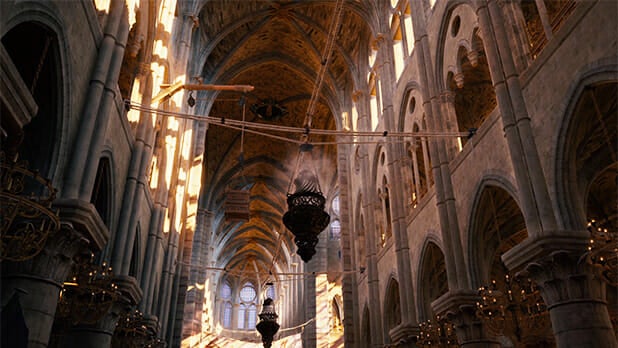 According to Miousse, the spire seen in the game isn't exactly what you would have seen prior to the destructive fire. Assassin's Creed Unity's take is collected from what little historical records there are, and it can be assumed that some artistic liberties were taken. Plenty of artistic liberties were also taken with Notre Dame's interior sections to make the gameplay more fluid.
Fox News previously reported that Assassin's Creed Unity could be used to rebuild lost sections of the Notre Dame, but Ubisoft has not confirmed whether that would be possible.
READ MORE: