Is Armie Hammer a cannibal? This is just one of the questions lodged in people's brains after alleged private sexts from the actor were "leaked."
Note: This article contains mentions of sexual assault and rape.
Over the weekend, a thread of Instagram DMs allegedly from the actor started circulating on Twitter. It's not entirely clear if these messages are to just one person, but they are explicitly sexual and include references to cannibalism and rape. They also include the sentence, "You are like the Michael Phelps of fucking."
In the wake of the leak, other accounts claimed that more women have been messaged and allegedly manipulated by Hammer, and that there are accounts "exposing" him. There is even alleged audio of Hammer discussing a previous "kink-based relationship."
Two of those Instagram accounts, houseofeffie and truths.and.facts, are now private. In an Instagram DM posted to Twitter, houseofeffie apparently claimed the messages and audio were fake, though it's not clear if that message is also fake.
Hammer and his wife Elizabeth Chambers announced last summer that they were getting divorced, and he's since been spotted out with other women. Instagram gossip account Deux Moi posted an alleged DM from Courtney Vucekovich, whom Hammer briefly dated, claiming that "All the Armie stuff is 100% true. He's about to be exposed finally."
Jessica Ciencin Henriquez, who was spotted having lunch with Hammer last September, tweeted on Monday: "If you are still questioning whether or not those Armie Hammer DMs are real (and they are) maybe you should start questioning why we live in a culture willing to give abusers the benefit of the doubt instead of victims." She tweeted in October that she'd blocked Hammer on Instagram.
While this is very troubling, some people turned their shock and intrigue into memes.
The Armie Hammer cannibal memes were plentiful, but many pointed out that even if the DMs are fake, texting about alleged kinks doesn't necessarily mean someone is actually participating in them. (In 2017, people reportedly noticed Hammer liked some tweets about rope bondage and BDSM.) There are also ways to participate in it consensually.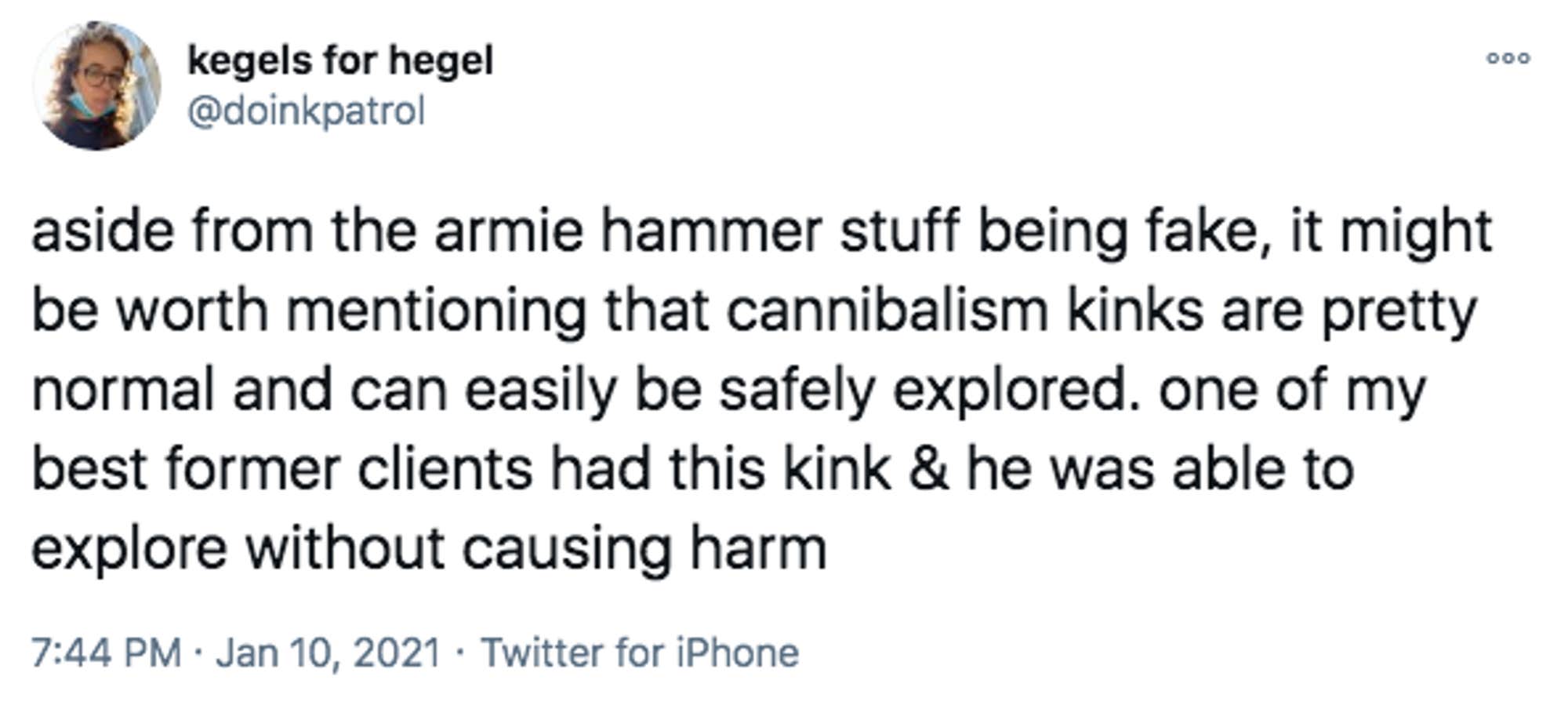 As we just saw with the Kanye West/Jeffree Star rumor, which was made up by an influencer who licked a toilet seat during the pandemic for clout, unverified celebrity gossip can quickly take on a life of its own. While enjoying kinks and sexual fantasies is one thing, in this situation, there's the added layer that manipulation, coercion, or abuse might have been involved.
Hammer has not yet commented.